renseignements supplémentaires
Carrying a casualness worthy of a Courtney Barnett, a Kurt Vile, or a Mac DeMarco type, but less cynical, Angus Stone (a.k.a. Dope Lemon) doesn't seem like an overly stressed guy. Before going solo, Stone proved his musical skills alongside his sister in the popular dreamy folk duo Angus & Julia Stone. In parallel to his work with Julia, he concocts undulating soundscapes, full of nonchalant voices, light melodies, and down-tempo grooves. During every one of his albums, Angus Stone manages to generate a soaring atmosphere in which it is easy to let yourself go. 
Since Dope Lemon began a little more than five years ago, Angus Stone's project has become a cultural phenomenon, especially in his native Australia. His albums (2019's Smooth Big Cat, 2017's Hounds Tooth EP, and 2016's Honey Bones) have accumulated over 400 million streams, and the recently released Rose Pink Cadillac is likely to generate the same kind of excitement as the first three singles have already been streamed over 30 million times. 
On this new effort, Stone quietly continues on his sunny psychedelic road with music that makes you want to do nothing but watch the grass grow (and maybe smoke it). In short, a guy who wears his last name well…

In the middle of the austral summer, while it's freezing here in Montreal, we joined the popular artist at his ranch—located in a small town on the east coast of Australia—a magical place where he has his own studio, vintage cars, animals and where memorable parties take place.
PAN M 360: Rose Pink Cadillac is your fourth solo album. Behind this title is a real pink Cadillac, which is the subject of a contest, but it is also the title of a song. Where does this pink car concept come from?

Angus Stone: It came from a dream of sorts. When it comes to the song itself, I guess it's a thing about new love and being enamored by the little things the person you admire so much does. It's really falling head over heels for someone and just loving the way they are. I guess the whole record sort of came about me wanting to put love back into the world with everything going on, the anarchy and dismay of the pandemic, and I saw it as something good to give back. The thing that I could do there is love stories with music.
PAN M 360: So did you actually fall in love with someone and did that inspire you?

Angus Stone: It'll come from personal experiences and then it'll also come from observations. And then the storytelling, it's also things I pick up along the way, you know? I think it's sort of universal, it's like a perfect storm—you're combining all the elements that make up a story. So it's creative.
PAN M 360: There are two sides to the album. One is more a day side and the other one is more a night side. Can you tell me more about that?

Angus Stone: Creating a record, you know, the whole process of being in the studio, it's a lot of work as a whole. You walk away, and it feels like you've written somewhat of a book. And it takes a lot of energy, and your heart and all your brainpower are necessary. And usually, when it comes to the finishing of a record, you're pretty tired, you sort of walk away. And then you've got to come up with the art, which is another whole element. The artist has to create something that works with, obviously, the flavour and the emotion behind what you've been creating. And I've been working with this amazing artist [Tee Ken Ng] who basically does animated vinyl. He used to do DJ mats. I called him up, I said "Is it possible to do that on vinyl?" And he's like, "I've never done it before. But let's have a look at it and see what we can do." And he figured it out. For your readers, there is an easy way to explain how animation works on vinyl. I guess it's kind of like when you're a kid and you draw, in the corner of your textbook, little stick figures on every different page, and then you crimp the book and flip all the pages and then the image moves as it flips. It's kind of worked like that on the vinyl. And working with him was just an absolute pleasure. It's a double album on vinyl, so we had this opportunity to create a different motive with where the music went. The first half starts off with two kitty cats driving around in a Cadillac on the beach. And then on the second disc, they end up in the mountains. And it's a bit more moody. And you've got the mountains moving and pine trees swaying and very it's cool. It's a really magical thing.
PAN M 360: I read somewhere that you define this record as an epic frontier. Why so? Was it a difficult album to create?

Angus Stone: It didn't take us too long. We started before everything happened in the world, with COVID kicking up dust. We were probably a month in the studio, and then we started to realize that things were sort of changing. Usually, when we walk into a studio, we throw away the keys and lock the door. And it's what we do anyway, it's basically what the world had us all doing. But we were already in that mode. So I think maybe it took us around four or five months to create this one. The length of time that it takes to make a record depends on how precise and pedantic you are. I think we're a bit of both, you know. We think there's like an ecosystem around and we're immured in a story and we try to capture that as much as we can in the moment. And then deal with all the more technical sides of things. But every song is different, every day is different, you know? Some days you wake up and it's a whole new thing and I think that's when you start to get the different styles and genres coming through the music and also the storytelling changing. it all comes down to the environment, what's going on in the world.
PAN M 360: And when you say we, who are you referring to?
Angus Stone: Me and the engineer, and then different musicians come and go. I also send a lot of the songs to people around the world. My pianist is in New York, and the guitarist is in Germany. My drummer is down in Melbourne. And another friend is in Sydney … I send all the parts out and we sort of create like that.
PAN M 360: But don't you miss, maybe the feeling of rehearsing or playing with an actual band in the rehearsal space? All this energy that you can get with live musicians…

Angus Stone: Yeah, you know, I think if anything that this whole experience has taught us is to be adaptable. Clearly, it's lovely to be able to look into someone's eyes and you feel that energy across the room… that's magic. You know, you're always going to have that but you know, it's a new age and sometimes you have to make compromises, and within those compromises, you find this new kind of magic and it's a cool thing.
PAN M 360: Like most of your records, was Rose Pink Cadillac taped at your own studio?
Angus Stone: On my ranch, I have this beautiful old barn and I've always wanted to convert it into a big loft upstairs. So we went out and fully stripped it out and made a big open area with hardwood floors and hardwood walls, and we plastered the roof and put all these magical lights in and put a sunken fire pit with marble parquetry, a big river stone rock wall with copper around the fire and glass paneling. Then we built the studio just next to this sunken fire pit and it looks out over the field with all the horses and it's a really magical spot. This album was the maiden voyage for that area and there's a lot of good energy. Just the room itself is really magic.
PAN M 360: I felt that this album was groovier and more sensual, closer to Honey Bones than Smooth Big Cat but maybe I'm wrong. Would you care to comment?

Angus Stone: Like I said, every song is different. Every record is going to be different. You move based on the experiences you're having in the world and in your heart. Things are never going to be the same and that's what I love about music—you are constantly evolving, and I've always made sure that the most important thing is that my heart is free and that I'm open to new experiences and hopefully I can push that into my music. But I don't know, I'll leave that up to the listeners to how they view it
PAN M 360: "Howl With Me" … the beginning of the song… I know I've heard that somewhere. I think I have on some record but I don't remember where it comes from.

Angus Stone: Ah yeah! So on one of the EPs we did a while ago, I did a song called "Home Soon." Maybe five years ago, I was playing Grand Theft Auto. And when you jump into different cars on the game, the radio station comes on and you can actually flick through the different channels. So I was flicking the radio stations and this song came on, I think it's called "Stories" by The Chakachas. I instantly Shazamed it and found out the band's name. And then I downloaded the song. And I just loved it. I just sat there and started singing to it because it's an instrumental, they're an instrumental band. So I started singing to it, and it just worked perfectly with what I do. And I called up the head of Sony. And then he called someone in Paris, and then they called someone in Germany, and they tried to find these guys. But all the band members, I think, had passed away, because it was an old song [from 1972] you know. But they tracked down this guy and they showed him what I'd recorded on top of his song and he said "Yeah, I love it. Let's do it!" And then I did it again, on this new record, with that band but I changed the title and the lyrics.
PAN M 360: You've also put out an album with your sister Julia this year Life Is Strange. How do you manage your different entities?

Angus Stone: Sometimes I wonder about that myself (laughs). I take breaks in between making records. And make sure that I'm looking after myself and my well-being. But when it comes to making records, it's something that I love doing. For me, it's fine-tuning my craft. It's something that I truly believe is inside me, it feels like this is what I'm supposed to be doing. And when I'm doing it, it makes me feel happy. And I get a lot out of life, the renewal of self … it sort of replenishes my soul. Just being in that style of creating something from a seed, or not even, just out of a thought that's floating around in the back of your head, and then all of a sudden, it's this tangible thing, which is music. I think it's just different with Julia, it's a cool thing. We've worked together for so long that we have a really special relationship and just a free-flowing energy when it comes to sitting down in the studio and making records. It's that wisdom and trust. And obviously, we're family and that goes a long way when it comes to getting things done. And, yeah, it feels like everything is in its right place.
PAN M 360: The record label was giving away this beautiful 1960 pink Cadillac to one lucky winner in Australia who would have pre-ordered the, aptly titled, album. So I was wondering, are you an amateur collector of vintage cars?

Angus Stone: Yeah! I collect cars. I have maybe 10 odd old cars. It's been a bit of a fun hobby along the way. When Julia and I made a record with Rick Rubin in L.A. in 2014, I bought this old 1959 Morris Mini that I was driving around and when we were done with the record, I put it on a boat and shipped it back to my ranch. I have a '71 Cadillac Limo, a '69 Beetle, a '67 Valiant… what else we got… a 70's Land Rover troupe carrier, a Ford F 100 pickup… there's a few more… So when it came to the song "Rose Pink Cadillac," the head of BMG rang me up. He said, "Let's just buy this rose pink Cadillac and we'll give it away." And I was like, "Okay, let me sleep on that." And I called him up in the morning and said "That's the coolest thing." You know, something to give back after all the years of having our fans be so loyal. It's really a cool movement.
PAN M 360: You bet. Hey, maybe you would have liked to keep it for yourself?

Angus Stone: Yeah (laughs). It's gonna be hard to let go. That's for sure.
PAN M 360: So you drove it around a bit?

Angus Stone: Yeah, I have it registered under my name so I can drive it around in the meantime. So yeah, it's one of my cars at the moment that I go down the road in and go get a coffee.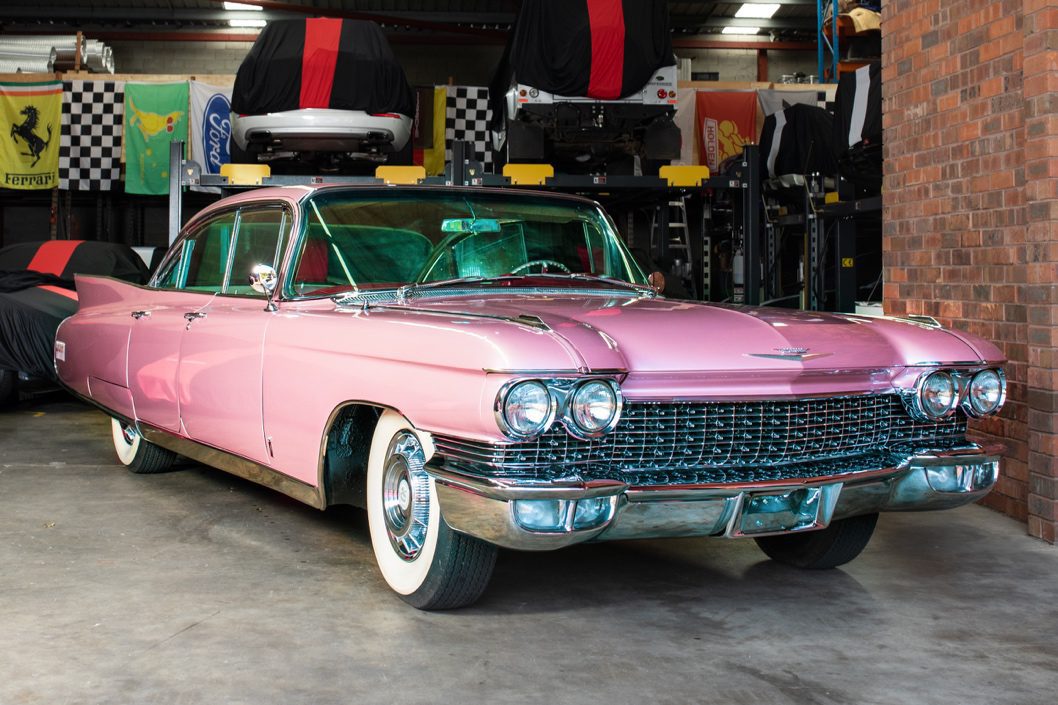 PAN M 360: Was it originally pink or it was painted over?

Angus Stone: Yes, it's the original colour. I think it had two previous owners. It's one of those cars that have been left in the shed, under a cover. I would love to be able to do this kind of contest in every country, have an iconic car drawn. What car in Canada is cool?
PAN M 360: Well, a Cadillac like this would do it! They make cars here but they are American brands. And having a classic car here is more complicated because of the winter; the car has to be stored half of the year.

Angus Stone: Indeed … So I'd say we might as well draw something solid and all-purpose like an old Jeep Willys, wouldn't that be cool?