Photos: Marie Belzil
Occupied as a filmmaker and a sculptor of bizarre toys, and the oversight of his family's restaurant Ta Chido (try the tortas!), Mexican-born Montrealer Mariano Franco still finds time to make music. He's made a lot of it over the years, in fact. Installed in Montreal in the mid-'90s, he began with the metal band Mi Santa Sangre, followed by a series of bands and projects that kept pace with the cool new Latin music wave hitting the Americas. At each stage, Franco, his constant collaborator Fernando Pinzón, and their recurring associates flew the flag for Latin counterculture in the north, while indulging in a surrealist, cinematic sensibility. Franco's latest concoction sees him adopting the moniker of Papi Chulo. Taking his introductory bow in 2017 with La tierra promitida, an electro-centric album of sexy, sinister tropical bass. Papi Chulo now returns with Ritmo de lo Habitual, a follow-up album that's anything but habitual in its sci-fi mutations of mambo, champeta, cumbia, and more. PAN M 360 spoke with Franco to find out more, and to give some visibility to his Grupo Invisible.
PAN M 360: You handle most of the vocals on the record. For listeners with little comprehension of Spanish, how would you describe what you're doing lyrically?
MF: Just like my music, the lyrics are also weird. They are images translated to words, like long haikus that talk about love, anger, passion, and metaphysical ideas in a surreal, satirical way. There's the song "Dispárame al corazón", for example, which is a love song about this guy asking his love to kill him very fast because his heart is not beating anymore. "Satánico" is like a prayer, a song about passion, sweat, and cellular fusion if that makes sense, and "El Encuentro" is a poem about two worlds colliding.
PAN M 360: There's a strong taste of Italian horror-movie music from the 1970s in a lot of the synthesizer parts. And the synth line in "Pa Que Lo Sepas" totally reminds me of the ninja-Light theme from Shogun Assassin. You're a filmmaker yourself – how much of an influence are film soundtracks on your sound?
MF: I really love films and their soundtracks, especially those from the '60s and '70s. I just bought the Planète Sauvage soundtrack on vinyl because it drives me crazy with all its weirdness and psychedelic sound. I think that what I do is somehow a soundtrack, because when you make music for film, you're creating feelings, conveying images, and you're not constrained by structure or music formulas. You're just going on a trip to enhance the visuals, and Papi Chulo's music has some of this. I don't consider myself a musician, often I don't know what I'm doing and, because of my musical ignorance, I rely on feelings and moods rather than structure, and it all results in this weird universe called Papi Chulo.
PAN M 360: Your band includes Fernando Pinzón on bass. The two of you have worked together through a succession of bands, for a couple of decades now. What makes your partnership so solid?
Mariano Franco: Fernando is a longtime collaborator. I think he really understands what I'm trying to say musically. We've collaborated in so many projects since the late '90s that I think he really knows how my brain works, and he's become some sort of an external ear for me, a way to know if I'm going in the right direction with something, he's my Jiminy Cricket. He says that I have a weird way of making music, mixing stuff that should not go together, but he encourages me to go ahead, as he thinks that is at the same time beautiful.
PAN M 360: The brass arrangements by Etienne Lebel are great, really effective and often with a strange flavour to them. The percussion work by Omar Diaz, from Panama, adds so much to the record too. What can you tell me about them and their contributions?
MF: Originally, I did program all the percs and horns, and I was going to release it as an entirely electronic music album. Then, the pandemic came and it hit the scene hard, but also created a beautiful world of artistic collaborations. Etienne and Omar, who've played with Papi Chulo in the past, reached out and say, hey let's record all that stuff and make it sound real. So they took my arrangements and made them theirs and this creates a very interesting sound. Etienne would record from his house in Montreal, and Omar all the way from Panama City! These guys are great musicians and I'm grateful to them for their collaboration and support.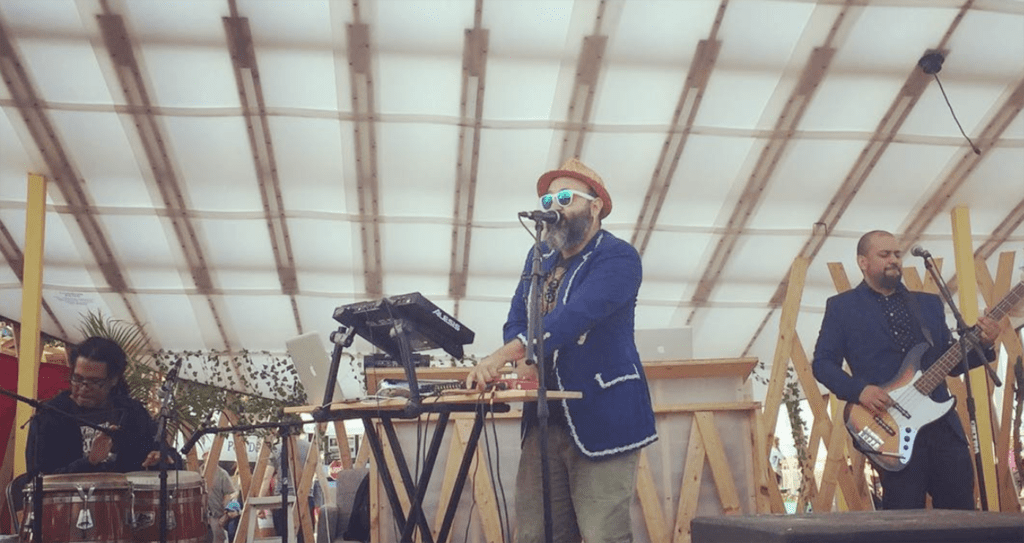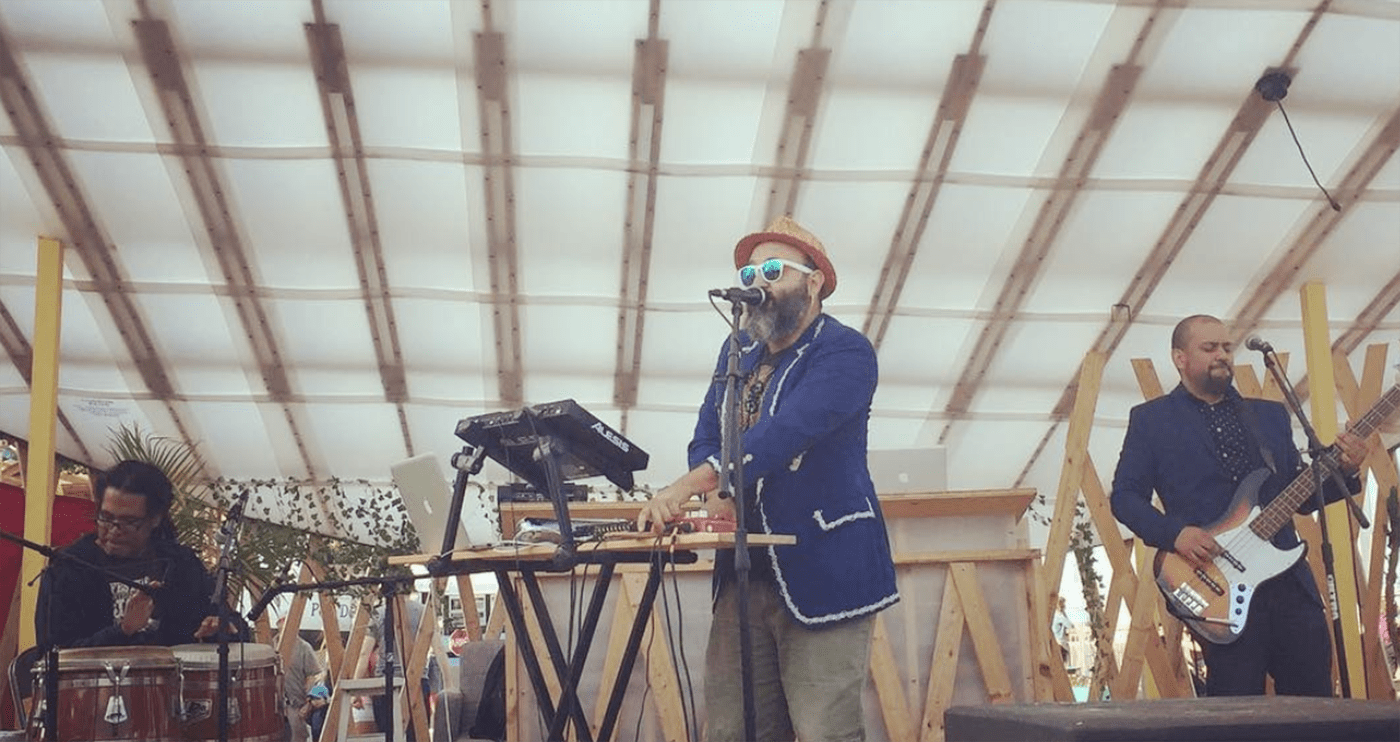 PAN M 360: You have a trio of features from guest vocalists Ultra K, Stephanie Osorio, and Nagano Morro, who sounds mad as hell on "Corriente Alterna". Could you tell us more about them?
MF: It's the first time I've invited others to sing my songs. I felt that these songs did not want me. I wanted Ultra K for "El Encuentro", because her voice is really something unique and gives the song a perfect ethereal and dark sound. For "Chispas", which is a kind of cumbia, I wanted a voice that echoes the mix of African, Spanish, and Indigenous voices, the sound of the Caribbean. Stephanie Osorio, who sings with Bumaranga, really takes us there, we can almost see the sunset behind palm trees as we listen to the song. "Corriente Alterna" is a song about being different and wild, it's a punk song. I've known Nagano for a long time and after listening to his new funk-metal project DéKorà – Tira Barrio, I knew he was perfect for this song. He really went the extra mile. I sent him the track and he sent me back about five tracks of vocals!
PAN M 360: The cover art by the Serbian artist Mihailo Kalabic is really outstanding. How did you arrive at that image?
MF: I was checking my Instagram and I saw Mihailo's crazy work, and I knew that it was what I wanted for this album. I sent him a message and the music, and he said "I'm pretty busy but I love the music and I'm willing to make a space for your cover." I sent him another message recounting a trip on mushrooms about 15 years ago, when I saw myself being reconstructed and guided by African spirits, and he sent me this sketch that magically portrays the feeling and the setup of my experience. I was in shock! It is like he'd had the trip with me. I love the cover because it truly represents my world, and reflects also the times during which the album was conceived, dark times of pandemic and dark politics, this was really my landscape and Mihailo's art truly translates that, my desire to see beyond the ordinary into an universe of magical and infinite possibilities.
PAN M 360: As I mentioned, you and Fernando have been in a series of bands and projects together, including Psychotropical Orchestra, and the Sonido Nordico DJ crew, also with Marie Belzil. You were early heralds and northern representatives of the cumbia revival that began about 15 or 20 years ago. It turns out that revival had staying power, and cumbia is more widespread and diversified. What's your read on where cumbia is at right now, worldwide?
MF: Cumbia has really reached places no one knew back then, when we were experimenting with it in the 2000s. From famous DJs and producers around the world to mainstream artists, cumbia has reached a well-deserved place in the hearts of people who love to make music and dance. When we started, we thought that cumbia would just fade away and go back to what it was for a long time, a music for the fringe of Latin-American society, but it emerged and took its place as the queen of our music, the musical gene that we share from Argentina to Mexico and that now is recognized even in Japan. I don't know what the future of cumbia is, it's been mixed with rock, with hip hop, with electronic music, it has been over-instrumented by big bands and stripped down to the minimal by experimentalists. I guess it will live forever.