renseignements supplémentaires
What happens when a painter, two musicians and a motion designer meet? Isotone, a collective of multimedia artists, and this is not the beginning of a bad joke, but rather the beginning of a beautiful adventure. A journey that has led them to collaborate with institutions such as Québec Cinéma, the Nouvel Ensemble Moderne (NEM), Moment Factory, Mutek and MAPP.
The collective will be celebrating its fifth anniversary on Saturday, May 6th, and to mark the occasion, they're taking over the SAT with an event that's nothing short of multidisciplinary. On the programme: until 9pm, an exhibition entitled Impermanences which revolves around the notion of transformation and which will become the scenography for the musical evening hosted by local DJs Ramzilla, Gene Tellem, Kris Guilty and Mok T. A few days before this great celebration, PAN M 360 spoke with the four members of the studio to review their achievements and especially to whet our appetite for Saturday.
PAN M 360 : Introduce yourselves and Isotone in a few words
Isotone : Isotone was born as a collective of artists including Hugo Fournier, Félix Bonjour, Bar Rubinstein and Lilian Guiran. In terms of creative background we are quite heterogeneous, Hugo comes from painting and mural creation, Félix and Lilian from instrumental and electronic music and Bar from design and animation. We found ourselves at the crossroads of these worlds in search of new horizons and digital arts were the trigger for all this. For five years now, we have been exploring this creative path together, questioning and inspiring each other's intentions in our joint and personal projects, Isotone is a project that makes us deeply happy every day.
PAN M 360 : How was Isotone born?
Isotone : The whole story is a bit long to tell, but if we had to sum it up in a few words, Isotone was born of such an improbable combination of circumstances that we still marvel every time we think about it. It's crazy that such a chain of happy coincidences gave life to what, today, animates ours. We didn't even know each other before we started the project, an opportunity to perform Vjing came out of the blue when we were meeting, by chance, through friends of friends. None of the four of us had any experience of it but we quickly realised that we all wanted to try it and that was enough to get us started. We tried to understand together the basics of the practice and, 3 weeks later, we performed for more than 6 hours in front of 800 people in a techno party (laughs). We also came up with the name of the project in an hour, between two tutorials, because the communication people needed to validate the design of the posters. It was maybe the fifth time in our lives that we saw each other at that moment and, as this initiative was one of the most beautiful choices of our lives, we haven't doubted it since.
PAN M 360 : How do you work together as individuals ?
Isotone : We are often asked this question but, to be honest, it is not an exact science. Since we have learned everything together and we know each other by heart, we are aware of each other's strengths and weaknesses, but what is most important is mutual help and curiosity. We dare to say things to each other, what makes us want to and what makes us afraid and, depending on the availability of each member during the project, we talk to each other to find the right formula. Of course, our creative backgrounds make it easier or harder to do certain tasks, but over the last five years we have motivated each other to diversify our practices and never stop learning. Nowadays, any of us could take on a whole multimedia project on our own if we had to, although that's exactly what we're trying to avoid as we know how much further projects are pushed when we have the joy of developing them together.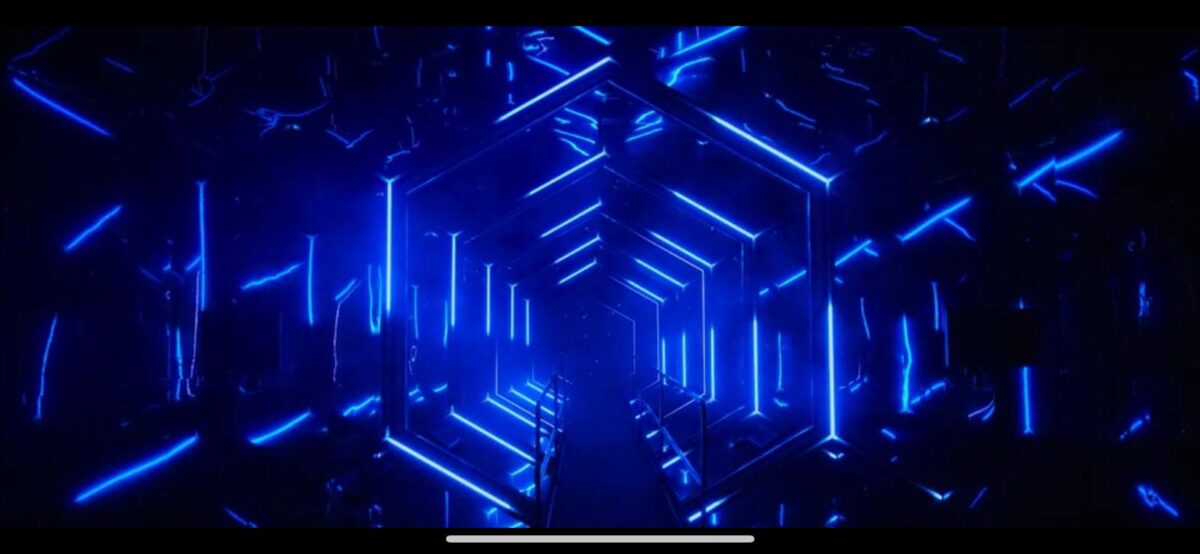 PAN M 360 : You are celebrating your 5th anniversary, an opportunity to look in the rear-view mirror. What were the encounters and important moments that allowed Isotone to become what it is?
Isotone : It's going to be hard to name all the people who have been important to us over the last few years, Isotone is above all a story of encounters, people who have reached out to us and with whom trust and esteem have been built up over the course of the projects. Of course, we can't help but think of our first Vj performances and other digital scenographies with most of the electronic music collectives in Montreal. It's a world that forged us, that we loved to explore and that continues to stimulate us. There were also the first official recognitions by people in the field such as the Moment Factor jury prize we received for our creation Prémices at the MINUTES_MAPPING 2019 festival by MAPP MTL. Of course, how can we not mention our first performances at the SAT dome, which was under the aegis of Mutek during their Dômesicle event and at the closing of their festival last year, that was deeply significant for us all. Finally, there is someone who has a special place in our hearts and whose encounter continues to have a huge influence on our studio, and that is Shandor Chury, the founder of OVVO studio who has become a close friend to all of us at Isotone.
This is a difficult question for us because we know we can't name everyone, but we sincerely hope that all the people with whom we have shared screenings, set-ups / tear-downs, nice discussions or even a few dance steps will recognise themselves and know how grateful we are for all these moments spent together.
PAN M 360 : Which of the completed projects perhaps holds a special place in your heart?
Isotone : Again, it's hard to choose just one, but with a few years of hindsight, the Ingénu.e project is surely one of the studio's strongest memories. It was at the very beginning of Isotone's history in 2018, through our friend and DJ Djima we heard about a festival organizing a residency in Val-de-Reuil, a small town near Rouen in France. We decided to join forces to create a live performance linking Vjing, music and dance. Isotone was responsible for the visual part, our friends from 3.6 Studio for the music and Ilan Gratini for the dance part with the help of Ariane Servagent. After a year of scattered work, trying to find slots wherever we could to bring together the ten or so actors present on this project and to move forward little by little, we actually found ourselves at the Les Effusions festival residency to finalise the show. After a month of continuous work on site, we performed Ingénu.e, a contemporary rewriting of Voltaire's book of (almost) the same name, in front of the festival audience. What a magical moment, even today we don't know how we managed to build such a big project (1 hour of live show!) with the experience we had at the time. It was really magical and founding for the future.
PAN M 360 : Digital art creation often calls for interactivity and immersion. How do you conceptualise these two approaches and what place do they have in your work?
Isotone : We are aware of the novelty of digital art, having access to such a plurality of forms and tools for an artist is an incredible opportunity, but we also know that this can influence creators to sometimes tend towards intentions motivated more by the technical than the artistic… We always focus on the notion of accuracy, in a reality where the tools allow us to do literally what we want without real limits, it is essential for us to differentiate what we want to do from what we can do. We are lucky enough to have a fair amount of technical experience through the combination of our know-how and experience, but we constantly try to make sure that all our decisions are made for poetic reasons. If the work calls for interactivity, we will use it, as well as immersive, monumental, etc., but this is by no means a sine qua non, and it will not be up to the budget or the material to decide on their presence in the project. We have made a promise to ourselves to always put intentionality and sensitivity first, no matter what the conditions, the whole of our approach is based on this and we never stop questioning ourselves in order to maintain this will.
PAN M 360 : Part of the collective is in France, what projects are you developing across the Atlantic?
Isotone : Despite the fact that three quarters of the studio's members have been living in Quebec for years, we are aware of the link that connects us to our country of origin, where our families live and where we grew up. Our member Félix Bonjour has even been based in Paris for a few years now and we are constantly refining our workflow to make working remotely as smooth as possible. We are taking advantage of this to do more and more projects across the Atlantic, and this should continue to increase as time goes on. We were talking earlier about Shandor Chury and his studio OVVO, and there are some great things in the pipeline for us in that area. We can't reveal everything yet, but it's clear to us that the direction the studio is taking at the moment is rather international and that France has been and will be the starting point for many things. After that, it's extremely important for us to assume our love for Quebec, it's here that everything started and it's here that everything will continue no matter what, Isotone is above all a Quebec project, no matter what the international vocations are. Of course, we wonder a lot about the method, it's too thorny a question to be able to cover in a few words, but all the members of the studio have a fairly developed ecological conscience and we are constantly trying to build a process that allows the distribution of our creations internationally while paying close attention to the carbon footprint of the studio. Artists like Joanie Lemercier are a great inspiration for us in this respect and motivate us every day to be a little better than the day before.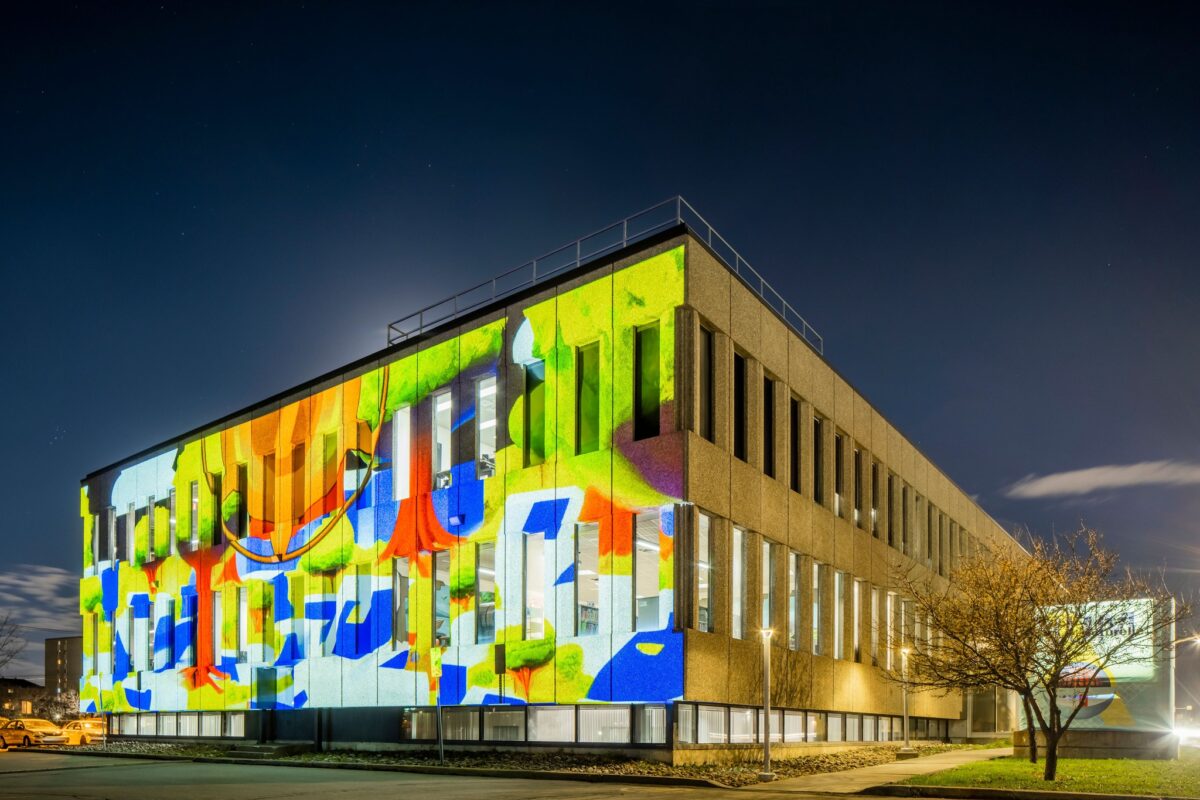 PAN M 360 : What can we expect from this celebration at the SAT and what does it mean to you?
Isotone : This celebration is an achievement. We all agree that this is our biggest and best project to date. Making original creations has always been our favourite thing to do, so to put together an entire custom-made exhibition, with no other constraints than those we set ourselves, and all in a place like the SAT, is a dream in itself. For the Impermanences exhibition, we gave everything. We did everything we wanted to do without any concession. The fact that we are all together, that we are completely free to explore the materiality in addition to the digital, to compose the music and the visuals for the four works together, to prepare performances and even to be able to invite our friends for DJ sets all night long is such a chance that we decided to throw ourselves body and soul into this project and that makes us deeply happy. We can't wait to share this with everyone, to share moments of exchange and to party with all the people there; there's not a day that goes by that we don't feel like we're living a daydream.
PAN M 360: What are the upcoming projects?
Isotone : The first project that comes to mind without any hesitation is to take a rest (laughs). The last few months have been very busy for us, but the last few weeks have been very intense. We need to take some time out together, with friends, to recharge our batteries and start again! Obviously, the other project that comes to mind is to look for other contexts for the four installations we created for the Impermanences exhibition, in order to let them live and make their own way now that they exist in our world and not only in our heads. Also, another project that is very close to our hearts and that we have been working on slowly but surely for a year is our first full live performance as Isotone. A live performance where the four of us are on stage playing in real time with all the media we have in our inventory. We hope to tell you more about it soon, but one thing is for sure, even if we rest, we will never stop experimenting and creating together and individually, all kinds of great things are on the way!
PAN M 360: What will you wish for when you blow out your candles on Saturday?
Isotone : We wish each other many things, but what stands out in particular is simply to continue on this path of esteem and tenderness to push the Isotone project as far as possible. We are deeply grateful for the life we have and we believe that the most beautiful thing that could happen to us is to perpetuate together, again and again, this quest for poetry with the same ardour that has animated us for five years now.
ISOTONE CELEBRATES ITS 5th ANNIERSARY AT SAT , MAY 6th 2023 FROM 18h30