renseignements supplémentaires
This Thursday, Indie Rootz Records will present an entire and unique, all-female sung rendition of Pink Floyd's The Dark Side of The Moon. The project is titled The Dark Side of Venus, a modern rock, and at times, RnB, remake of the classic Floyd album, featuring the Montreal-based trio of Bella Forte, NeeNee Knightly, & SLM, as well as Prestige from Woodstock, Ontario.
The project was inspired by Brian Kotler, who recently lost his sister, Donna, to Ovarian Cancer. Brian has fond memories of playing Pink Floyd around the house, somewhat forcing his sister to experience the band with him. The two even went to the Pink Floyd's mythic show together back in 1994 in Montreal at the Big O.
The Dark Side of Venus was created in memory of Brian's sister, but the launch event will raise funds for the Ovarian Cancer Society of Canada in the week of International Ovarian Cancer Day. We spoke with Brian a few days before the launch event about what Pink Floyd meant to his sister and him.
PAN M 360: So you were kind of the older brother who showed Donna Pink Floyd?
Brian Kotler: Yeah, I was the older big brother and I was a little bit of a terrorist. I used to play Pink Floyd and I used to have a locking stereo cabinet. You don't want your younger sister to be messing around with your records, y'know. So I used to play Pink Floyd and lock the cabinet and just let it play. I guess I was the tormentor. And, now, ever since she passed away, it's like, she's the one that's tormenting me. The purpose of this show is a tribute to her, and to get a little bit of closure. I mean I must have played the album a million times in her years.
PAN M 360: When did you come up with the idea to do a tribute album and show? Around her passing?
Brian Kotler: Literally ever since I got into music, doing the cover of Dark Side of the Moon was always on my bucket list. I never really explored it too hard. I started putting the wheels in motion to get to do the album a couple of months before she died. She was already with cancer already. But the tribute just came, that whole idea came afterward. I mean, I just figured that everything would be kind of perfect, like a complete circle.
PAN M 360: How did you go about finding the singers on the album?
Brian Kotler: One I knew very well. I worked with her before, and her name is Prestige. And she lives in Woodstock, Ontario. I've worked with her in the past. I've had recommendations from some of the others where I asked around because normally, we normally did a lot of reggae. And generally, reggae artists don't really vibe to Pink Floyd. It's, it's like acid and water. Even my partner, I came up with a lot of the ideas. But my partner Bobby, he actually is the musician that played every single instrument on every single track.
PAN M 360: That must have taken forever.
Brian Kotler: Yeah. And so, for example, like maybe on the song "Money," there might be like seven or eight guitar tracks on there, the drums, the keyboard, the bass—he played them all everywhere. And he hates Pink Floyd. I mean, the thing is, I wouldn't say he hated Pink Floyd, but he didn't care for Pink Floyd, he kind of just didn't like them. But then having to hear the songs over and over and over and over again, and then play back what they did. I mean, it just made him hate it. And he'll be quite blunt and say, the main reason he did it was for my sister too, because he knows how the whole loss affected me. It kind of carried him on to doing it and finishing it.
PAN M 360: What was it about Dark Side of the Moon, that specific Pink Floyd album, or just that band, that made you play them constantly?
Brian Kotler: To tell you the truth, I really don't know. I just seemed to gravitate towards that. I could listen to Pink Floyd today, especially Dark Side of the Moon, and get and get taken away. It's almost as if I'm getting high without taking the drugs. It really carries me away. It was something that I could just relate to in many different ways. I'd say it's almost a spiritual connection that I had for that type of music.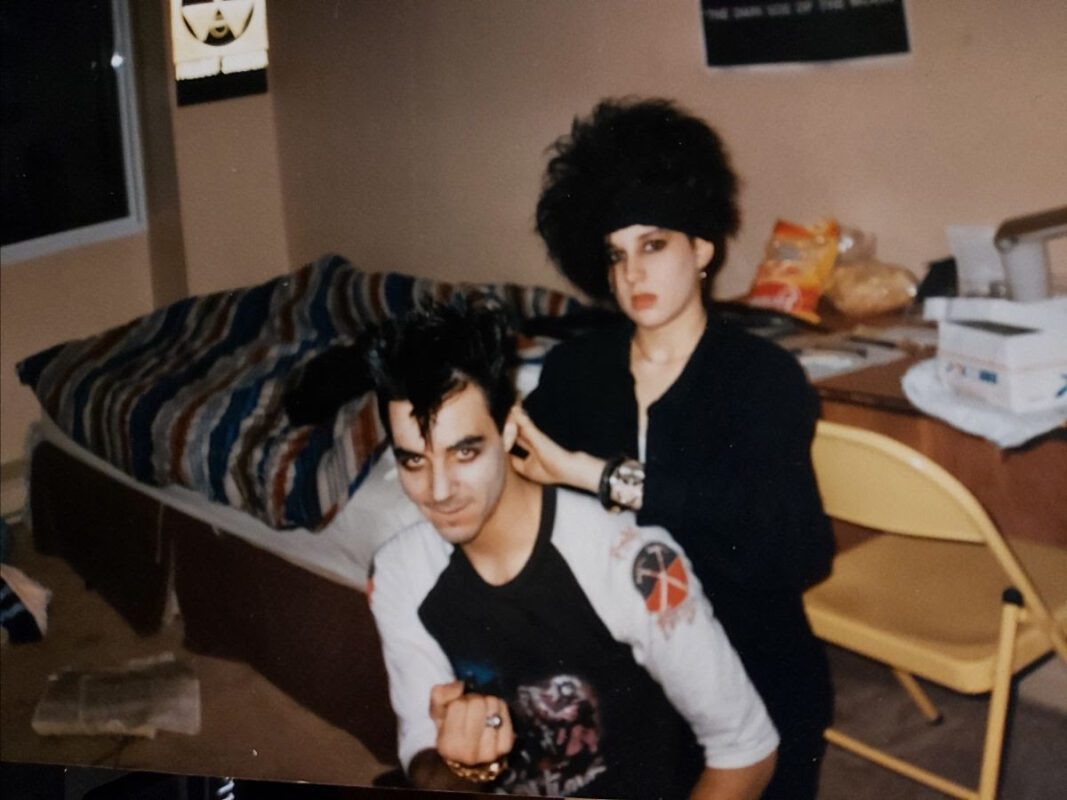 Brian & Donna Kotler in their '80s goth phase / photo coutesy of Brian Kotler
PAN M 360: And on this new covers, tribute record, some of the lyrics are more updated to reflect these times?
Brian Kotler: Yes. I wanted to update it because you know, it's no longer '73. We're in 2023, and for lack of a better word, a lot of shit is going on in this world that really needs to be addressed. Like for "The Great Gig in the Sky," which is like an opera song—which I have an opera singer singing, and she happens to have a doctor's degree—it's about the right to death. And if you listen to the ad-libs on it, or the news bites, actually, it's dealing with people that have cancer, and they're coming to the end of their life; they're in pain and they want to die. They want to die with dignity, they want to die on their terms.
And even for my sister, she actually wanted to go through that too. But unfortunately, by the time they wanted to give her the paperwork. She was already too drugged out on morphine and she wasn't able to sign the papers. And I could tell you, you'd walk into the little on the floor on the hospital wing and you could hear a bawling, "I want to die I want to die, I can take the pain no more now." That's … It's almost surreal. I mean, it's your it's your own sister. And she's almost begging to die. And then once she passes through, it's almost like a relief. I mean, knowing that, she wanted to die. It's a really, really, really wicked roller coaster ride that you go through during those times. So I just felt that those ad-libs there are so relatable.
PAN M 360: Bringing up "Money" again, SLM really adds a kind of RnB, hip-hop flair to the track.
Brian Kotler: She's an amazing young rap artist and I love what she did on that too. She really really made it her own and she did a great job with that. Giving it a very distinct I mean, she did it in her own timing. It sounds like a very bluesy type of laidback feel.
PAN M 360: So the event will be the performance of The Dark Side of Venus and then a kind of after party.
Brian Kotler: Exactly. I want to give people more for their money. The album is around 45 minutes so we actually filmed a music video with NeeNee Knightly, the opera singer. She's in a theatre alone, well actually I'm there for a bit, but she performs "The Great Gig in the Sky," and we have a drone that ends it going into the sky with a picture of my sister. So we have that we will show and then some more music from Drew Edghill, DJ Lady Savage. and more surprises.
The Dark Side of Venus Fundraiser is Thursday, May 11: TICKETS HERE