renseignements supplémentaires
This week Montreal will be vibrating to the rhythm of two major events for the artistic and cultural nightlife scene: MTL Night Summit on May 17th and 18th at the PHI Center and NON STOP 24/24 from May 19th to 21th at the Pavillon du Grand Quai of the Port of Montreal.
The former will be of interest to the curious who wish to learn more about nightlife cultures and the international initiatives that support their development. Guests will include Burning Man co-founder $teven Ra$pa, former Amsterdam night mayor Mirik Milan and renowned night studies researchers Luc Gwiazdzinski and Will Straw. Several activities are free, including two documentary screenings, on Detroit techno and on Montreal by night. The Summit is also marked by the presentation of the Creative Footprint Montreal study, produced by VibeLab and Penn Praxis.
The NON STOP event will delight fans of electronic music, with 36 hours of non-stop music. Headlining: the "First Lady of Wax" DJ Minx, the ambassador of high energy techno VTSS, and the excellent Jacques Greene. They will be accompanied by a well-stocked local set with dileta, Lis Dalton, GLOWZI, Lia Plutonic, or Ramzilla. A free outdoor scene will be accessible Saturday during the day, Place des commencements.
A few hours before the kick-off of the 2023 edition of MTL Night Summit, PAN M 360 met with Diana Raiselis, lead researcher of Montreal's Creative Footprint study, to discuss the results of this year-long fieldwork.
PAN M 360 : What brings you into nighttime research?
Diana Raiselis: I spent the first few years of my professional life in Chicago, working in the theatre scene. I heard about the work of night mayors and nighttime policy around the same time that I saw spaces in Chicago and elsewhere in the US threatened by policy pressures, gentrification, displacement, and other issues—topics that I now work on. From there, I began to realize how urban factors control how much theater, performance, and music club cultures exist in a city. I have a double background in theater as well as public policy, and urban affairs, which brought me to Berlin to look at what the Berlin Clubcommission was doing, as part of a research fellowship. I thought it would last maybe a year and a half. Four years later, I'm still there. 
PAN M 360: What do you do today in Berlin?
Diana Raiselis: I wear several different hats. I freelance with various organizations, but as one of those hats I'm the research lead for VibeLab, a purpose-driven consultancy focused on nighttime, nightlife, and the cultural industries; based in Berlin, Amsterdam and Sydney. So VibeLab produces the Creative Footprint research project in collaboration with cities and civic nighttime advocacy organisations. I'm happy this fifth edition, Creative Footprint Montréal, is out today! 
PAN M 360: Can you tell us more about the methodology you are using to produce the Creative Footprint?
Diana Raiselis: This data-driven study maps nightlife spaces and communities to understand the cultural strength and impact of a city's music and nightlife ecosystem. This report works qualitatively, quantitatively, and with geographic and spatial data to bring all those things together and hopefully get a holistic picture of where nightlife is in the city, and how it interacts with all these various urban factors—cost, transit, policy. Since I also came up as a theater director, for me, alongside data, there is always a need to tell the story. So talking to folks, understanding the challenges that they face, the things that they value the most about their city… that brings the numbers to life, for me.
PAN M 360: How can Creative Footprint help the nightlife advocates?
Diana Raiselis: One of the most significant issues is that nightlife advocates often understand things to be true in their practice and experience, but don't have data to advocate for what they see. Policymakers often want to see evidence-based data, pilots, and so on. Creative Footprint provides the beginning of a baseline. We use scores here, but it's not necessarily about comparing cities to say that this one is better or worse than that one. It's more about, OK in 2023, this is the score. Montreal did very strongly on aspects of Community and Content and Space, and didn't do nearly as strongly on what we call Framework Conditions, which are policies, transit, access to information, governance, and so on. As Montreal puts this nightlife strategy into place for the next years, that section is where the "score" can be increased.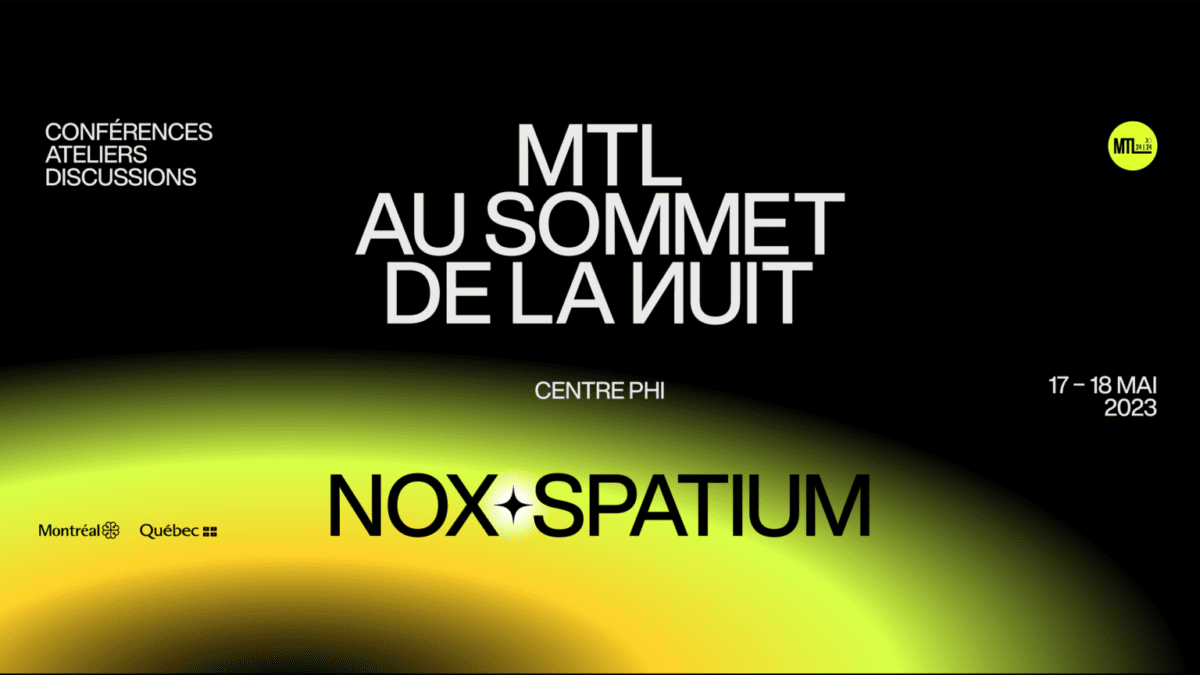 PAN M 360: You were giving some information about the score for Montreal, can you elaborate on the parameters and indicators you are mobilizing ?
Diana Raiselis: We work with these three different areas: Framework Conditions, which are the "hardware" and "software" that affect how easy or difficult it is to put on nightlife events, create venues, and so on. Community and Content are all the aspects of what's created in these spaces, how interdisciplinary or multi-use spaces are, how they support community, and their emphasis on creative output. And then Space, we look at more tangible factors of how large venues are, how long they've operated, their multiple functions, and how they reach their audiences via social media and other channels. 
PAN M 360: What kind of data are you collecting and what are your collecting strategies?
Diana Raiselis: We work closely with an organization called PennPraxis, which an applied research and practice nonprofit attached to the University of Pennsylvania's Weitzman School of Design. They lead the project's urban data analytics, for which they're pulling in census, geographic and other data, then superimposing that data on the information we gather. We create a list of venues as comprehensively as possible. Then we use focus groups and interviews with community members to gather more of their input on these indicators and dive deeper into the dynamics that come up in the city.
PAN M 360: You already talked about the results and were saying Montreal was pretty strong on everything that was connected to the community. What does it mean?
Diana Raiselis: One of the things that stood out to me was that more than half of Montreal's venues have multiple uses, so in addition to presenting live music, perhaps they're also functioning as a studio or for visual art or cinema uses. That's higher than many other cities we've looked at. On average, these spaces have more uses too. Those multi-use venues also tended to rate higher on those community and content variables that we spoke about—things like community focus, creative output, and experimentation—suggesting that these spaces can be more resilient, they can reach a broader audience in many ways. Especially when we think about the pandemic, these last years where many venues had to be resourceful or pivot or try out new business models to survive, spaces that can do that well are maybe more robust.
One of the other things that I also found interesting was that folks were telling us that despite these many multi-use venues, people didn't necessarily feel that there were many clubs. Suppose they want to create an event that runs after 3:00 AM. In that case, they often have to look to rental venues, which require organizers to start from scratch every time, to bring in equipment, and do a lot of setup that wouldn't necessarily be done in a dedicated space… You know, we often think of those multi-use venues as making for a stronger venue ecosystem. Still, there's also a real need for dedicated club-type spaces that are big enough with the appropriate set-up, for folks not necessarily to have to start over every time.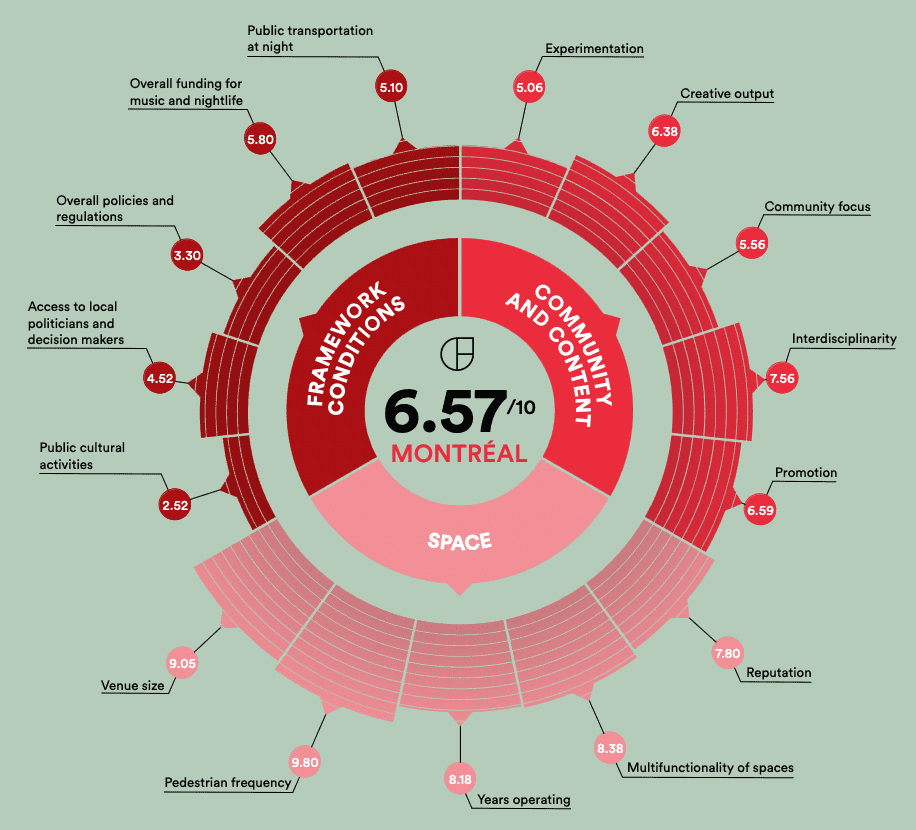 PAN M 360: Is there any recommendations or ideas that this study wants to pass to decision-makers?
Diana Raiselis: This is also good timing that this is happening right now because the city is preparing its nightlife strategy for the following years. Our recommendation section in this report is grouped broadly into three big themes: 1) to protect what's already here. Strengthening policies that allow venues to stay where they are, whether that's financial support, whether that's policy support, mediation in neighborhoods, and so on; 2) to build trust. To build stronger relationships between the folks in the scene, folks making decisions, and public safety; 3) to grow. To think about how we can expand not just the space for nightlife, like city-owned areas that could be activated, but also expand the time for nightlife. In the last year, several pilot events have begun to lay that groundwork [for later events], and I think MTL 24/24 did amazing work in making it possible to show that late-night can happen, that there aren't dire consequences associated with it.
For one example, we suggested reevaluating how soundproofing is approached. A soundproofing fund already exists, but is limited to places holding performance hall licenses. Yet we saw that many important spaces for music might be differently licensed, like bars with a dancefloor. So we need to ensure those spaces are eligible for soundproofing support because they are often near residential buildings, and they experience the same conflicts that a licensed performance hall might have.
So that's one. Creating a dedicated city liaison is also essential, which takes many different forms in cities worldwide. That person in government must can work closely with folks creating nightlife. And finally, the report recommends looking at the possibility of 24-hour licensing in terms of event permitting and moving towards 24-hour venue concepts. I think what's also interesting to note is that we saw that Montreal's nightlife is very concentrated in 4 boroughs. 4 boroughs have 89% of the venues [Le-Plateau Mont-Royal, Ville-Marie, Le Sud-Ouest, Rosemont-La-Petite-Patrie], two of those have 75%, and so working closely with the borough level government can have a lot of impact. 
PAN M 360: Yeah, you said you were from the theater, but nightlife is often associated with music, do you have any interest in music ? 
Diana Raiselis: Oh, absolutely! Thinking as a director and event producer, I'm fascinated by the immersive worlds inside the electronic music and club culture scene. Fiona Buckland describes "club time" as a time-space without clocks, where you're able to sort of disappear into this alternate reality. I think this is what so many theatremakers want to be able to create. So when I go out, I'm paying attention to that. The gestures of world-making that happen inside a particular club, from its built environment—is it sort of like a maze, or do you come in and see the whole space—the music… Those aspects all influence the journey throughout the night, as a conversation between the DJ and the crowd.
PAN M 360: And during the fieldwork, did you discover a venue or a place you really liked in Montreal?
Diana Raiselis : We happened to walk into Coup de cœur francophone at Quai des Brumes and l'Escogriffe during a research visit in November 2022—both the acts, and the contrast between these two very different sounds in spaces right next to each other, was something unique. It felt like an absolute joy to discover that. 
The author of this interview is also a member of MTL 24/24 Night Council. She wrote this interview as a journalist.