renseignements supplémentaires
In contact with electronic music (Drum N Bass, Jungle, House) since her teenage years, Denise Rabe has followed a creative path marked by stages and encounters that have, as a DJ and producer, gradually led her to find her place in the techno world. Since then, the German has played in the most famous clubs in her country and has collaborated with figures of atmospheric industrial and abstract techno like producer Rrose and Shxcxchcxsh. The uniqueness of Denise Rabe's work is illustrated through the subtle blurring of the boundaries between experimental and pure dancefloor-oriented techno, as evidenced by her latest EP Blame Me—featuring remixes of The Advent, TWR72, and Cri Du Coeur.
PAN M 360: Can you introduce yourself through two/three events or encounters during your career that shaped you into the artist you are today?
Denise Rabe: The most important encounters were when I was 16. My friend Exzeme taught me turntablism. I loved it and bought my first Technics turntable. My first little experience on stage scared me so much that I never wanted to do it again in public. 10 years later (2011) when I moved to Berlin [which has another whole universe in it, why and so on, but we wanna keep it short] I changed my mind and wanted to go for it and recorded my first Soundcloud set. Here I met the boys from Legotek and played shows in About Blank, Sisyphos, GoldenGate, Tresor … 2014 I met Emmanuel from ARTS through a Tresor gig, we hung out afterward and I showed him my first productions, he liked it and this is how my first EP with the incredible Rrose Remix was born.
PAN M 360: What can you tell me about the creative process and inspiration for the Blame Me EP?
Denise Rabe: This is always the hardest question for me to answer. It starts with a recording and then takes me to a place I had no idea I would end up. But I remember I wanted to work with some ACID sounds. It turned out sounding definitely not like the usual ACID tracks, not even close I would say. But that's completely normal for my process I start with an inspiration and in the end, even I can't hear the connection anymore. But I like that it's so surprising and that's important for me in a creative process. Find your way and sound. If I wanna do something specific I end up frustrated most of the time. I need to go with the flow.
PAN M 360: About the art of remix in general, is this something you like to do? What's your approach to this specific exercise?
Denise Rabe: It depends, if the sounds are interesting it is easier to work with and it's more inspiring. It is definitely more challenging when the track has a hi-hat, a clap, a kick, and one or two sounds only. The last one is tougher for sure but also a good challenge and practice to work on your skills. Making a good track with not so many elements is not so easy. But yes most of the time I enjoy doing it.
PAN M 360: When I listen to your music, I feel there is an interesting balance between dancefloor-oriented and more contemplative/experimental musical elements, does one side influence the other, and if so, how?
Denise Rabe: I am always in the middle of you must do some dance floor stuff and the other half is more on the artsy side of things. I want it to be danceable cause every (Techno) producer wants to hear their tracks played by others. I try to find the balance between artsy and what works for the people in the clubs. Music should come naturally because it is something very personal and I would say my music is and mostly I have the best flow on breakbeats, it comes more naturally. No idea why. So I would say the experimental one is influencing the dance floor music.
PAN M 360: How do you organize your working time between production and DJing? How do you manage your pace that I suppose goes crazy quick in Berlin?
Denise Rabe: Usually I do my DJ stuff the week before the gig but then I can't do anything else. Depends also on how many gigs I have and how much time is in between, if I play more regularly—the prep for the shows is quicker. When there is a bigger gap it needs more time again, to recall the music and my organization of it. It helps to do podcasts so you have some stuff to go through as well. The digital is a blessing and a curse at the same time. You don't have to carry all the records anymore but the amount of music to choose from is too much. That is what overwhelms me sometimes. And I do sit in the studio when it feels right. Not every day is a day to be creative. I recently figured I am not a machine, and I have to respect that. The more pressure I put on myself—the less music comes out. "No pressure" is my new mantra.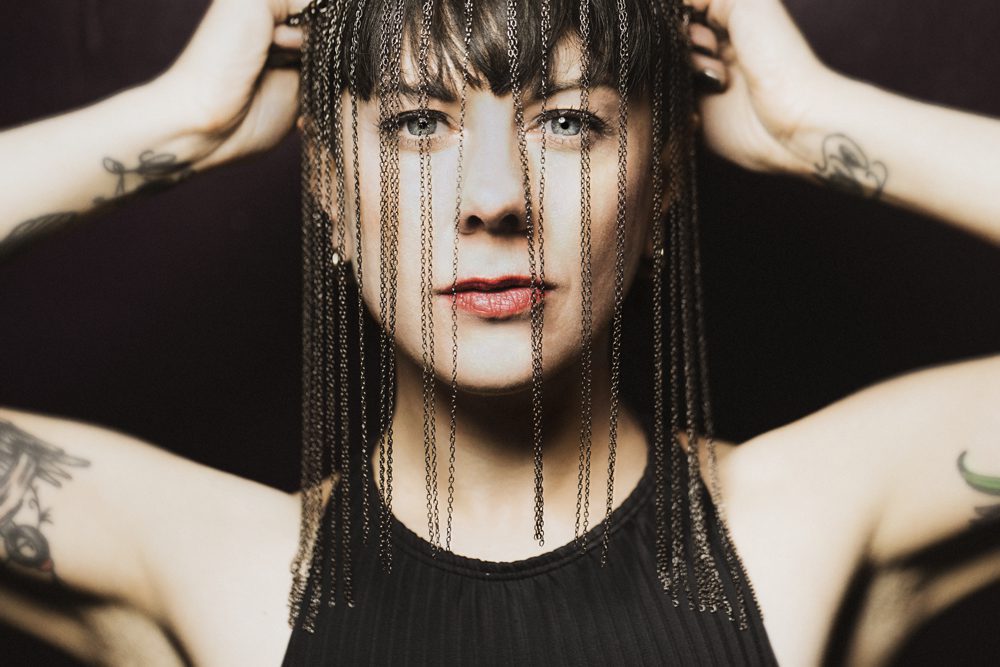 PAN M 360: How did the collaboration with Arkham Audio happen? Do you have ties with the Belgian techno scene?
Denise Rabe: I met Jerome (Cri Du Coeur) through my good friend Sammy one of the CYRK guys who is from Belgium and manages the label.
PAN M 360: You are also managing your own label, Rabe. From your experience, what are the biggest challenges in distributing music nowadays?
Denise Rabe: Definitely in Germany, Deutsche Post became the biggest enemy for Bandcamp sales. They changed the size and price of the packaging worldwide. On the other hand Triple Vision is doing the job of distributing. Of course, the environmental aspect, the time it takes and the costs make you think twice to press and what to press. That's also why I started the digital-only series now Rabexxx.
PAN M 360: Will you be featuring other artists' work on Rabe in the future?
Denise Rabe: For now I am focusing on the digital side of the label to work with other artists in collaborations. The first one was with Ricardo Garduno. I am definitely open to opening up the Label in the future, but not yet. We will see I want that it happens naturally.