renseignements supplémentaires
Photos: Eldad Menuhin
Time heals all wounds. This includes the excruciating heartache and howling void in the auditory canals of retro synth-funk afficionados, who've had to wait eight years for a new album from Israel's Group Modular, following their fascinating debut, The Mystery of Mordy Laye, in 2012. The core of Group Modular is Jerusalem's Markey Funk, founder of the Delights label, and Tel Aviv's Harel Schreiber, AKA Mule Driver, mastermind of the Confused Machines imprint. The two busy musicians, producers, and DJs share an intense enthusiasm for the strange and wonderful sounds of obscure (and often anonymous) soundtrack and library music from the glory days of vinyl. This they've channelled into the Group Modular project, which now presents its new album, Time Masters, created with contributions from numerous friends. PAN M 360 corresponded with the pair to talk about Time Masters, and everything else they've been up to lately.
PAN M 360: Group Modular is a celebration of older-generation, analog electronic musical instruments. There's still so much love out there for the sounds of those devices – so familiar, yet exceedingly strange! Why do you two appreciate them so much?
Mule Driver: When I started on my way with electronic music, VSTs or software synth sounds weren't as good, and were too heavy on the CPU, and midi controllers with assignable knobs were not as available as today. So in order to have real-time control over the instrument – I always liked to play live – and have more decent sound, I bought my first synth, a Roland SH09. Back then, vintage synths were less expensive than nowadays. I also like the limitations in some of them – it allows you focus and squeeze more from the machine. As for that old-school analog sound – today it can be achieved with digital or modern instruments (or software), so the most important thing to me is an intuitive instrument that I could start playing straight away.
Markey Funk: I think that to me, it's a matter of a certain aesthetic that I gravitate to. And yes – a certain amount of nostalgia too. There's something very unique about the sounds of the Space Age era, this romance and anticipation of how far the technology is going to take us in the not-so-distant future. Besides, I tend to believe that there's still a lot of unrevealed potential in all these instruments. I mean, over the last 60 years, a lot of great ideas, sound- or genre-wise, had been abandoned long before they'd been fully explored – just for the sake of progress and changing trends. And now, we can take a few steps back and follow those old paths again a bit further – and from a very different, broader perspective.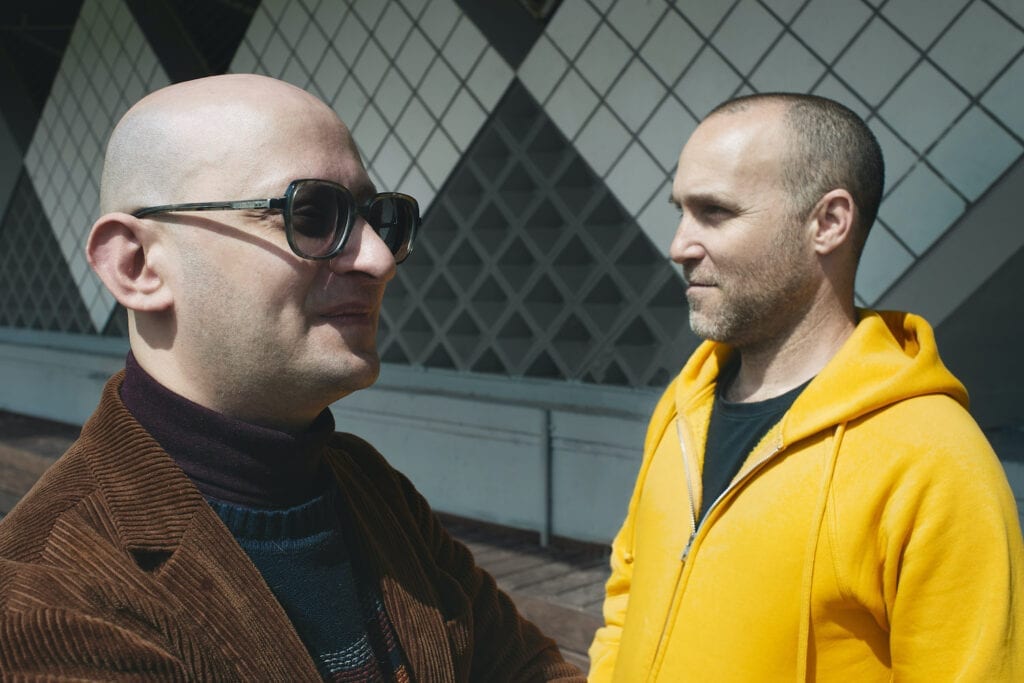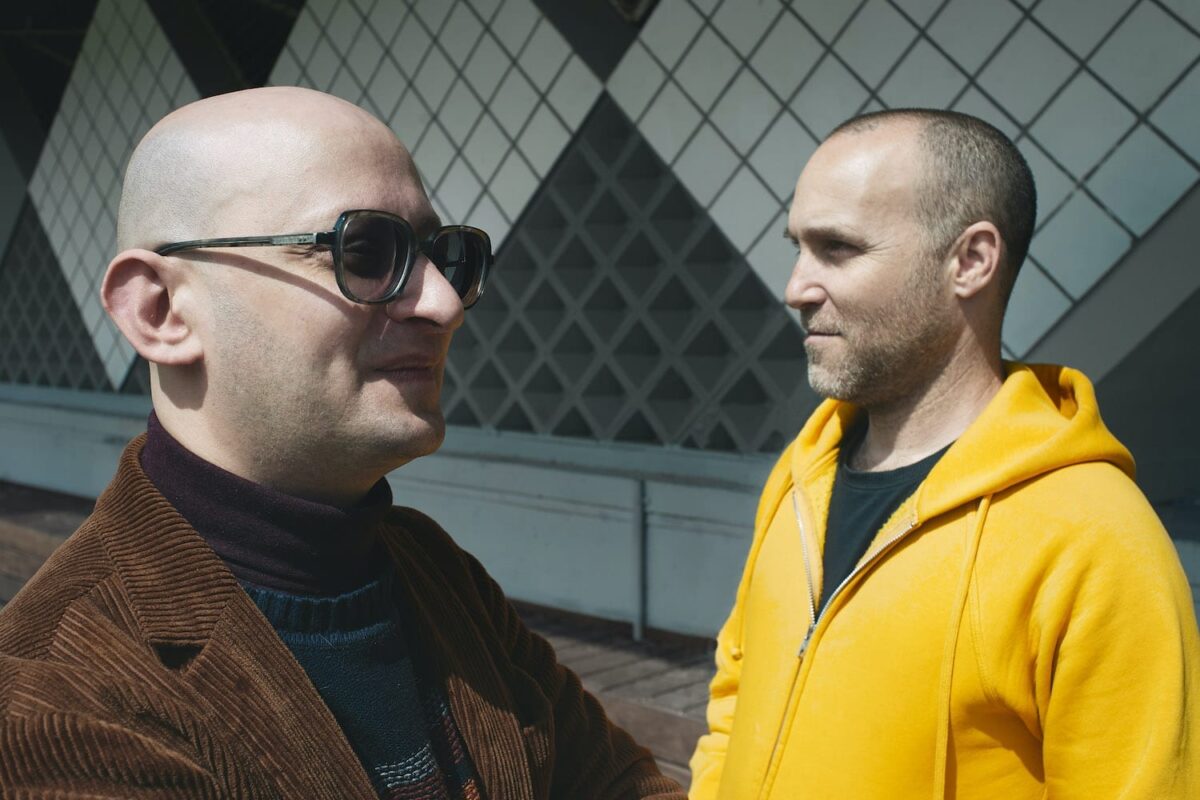 PAN M 360: Even though this is an album about retro electronics, the key element is the drummers – the "time masters" of the title – who build the foundations of the pieces. They include Matan Assayag of Afrobeat powerhouse Hoodna Orchestra – who hits hard, as expected! Tell me about that creative strategy, and what the different drummers brought to the table.
MD: Since you've mentioned Matan, I must admit that I wanted to work with him for a very long time. I met him at a dinner with his brother and we had an interesting talk about polyrhythm, African and electronic music. So, although we still didn't get to play together in the same room, and only created tracks based on his drumming, it's great to finally release something in collaboration with him. For the main question: each drummer brought his own feel, energy, and style – which later had an effect on what Markey and I overdubbed in the studio.
MF: After finishing the Mordy Laye album, we realized that drums are very much a driving force behind our creativity in the studio (both cuts on our 45 started off as a drum recordings by our friend, Sagi Sachs). Now, given the Audio Montage connection, we were literally surrounded by the crop of Israel's finest groove drummers – that's how the idea of working with more than one drummer on the next album came along. We didn't have particular parts to record, only a small bunch of genre references that didn't really impact the recording. After all, every player just brought his distinctive style, picked the BPM for each take and played along with the metronome (and sometimes, without it as well).
Everyone approached the session differently. For instance, Ori Lavi was switching patterns every few bars within the same take, Sagi recorded a lot of five- to six-minute loops, and Matan had come up with a very clear song structure in each take – A and B parts, a solo/drum-break part, a beginning and end – all made up in the moment. So yeah, every stickman had his own unique character, which was setting a backbone not only for our playing, but for the whole arrangement.
PAN M 360: In addition to the drummers, you have a vocalist on just one track of the otherwise instrumental album. No lyrics, just celestial atmospherics on the final part of "The Phantom Mazone", care of Zohar Shafir. I think that's my favourite moment on the record.
MD: Thank you! Zohar, AKA Nico Teen, is a very interesting and talented singer. I would recommend checking out her releases, and if possible, her live shows. Over the years, I had worked with her many times – from releasing her music on my label to mixing and playing live – but I think it's the first time we've been actually recording something together. It was Markey who suggested that she do the vocals on "The Phantom Mazone", and apparently it turned out good.
MF: As we were making progress with this tune, Harel suggested adding vocals – and Zohar was my immediate candidate! I had no doubt it would turn out good and I'm glad she agreed. I guess we're both big fans of her work.
PAN M 360: The title is a tip of the hat to French animator René Laloux, whose films were so representative of a certain psychedelic science-fantasy sensibility of the late '70s and early '80s, which goes hand in hand with the sonic aesthetics of that era's electronic music. Any thoughts on that – and on your amazing cover artwork, by Nick Taylor of Spectral Studio in the U.K.?
MF: Actually, the project got its codename "Time Masters" at the very early stage, when we were still scheduling recording sessions with each drummer. The title refers to two different films: first, of course, is René Laloux' 1982 animated feature of the same name, Les Maîtres du temps, which deals a lot with the topic of time travel. And the other one is the 2000 documentary by B+, Keepintime, which focuses on the drummers behind classic hip-hop breaks. So basically, our "time masters" were the drummers, because they set the time for each track – but also the leading rhythm behind our own journeys in time, exploring sounds of the past.
As much as library and early electronic music is a meeting point between us, it's also clear that we both grew up with certain sci-fi references, which include plenty of animation. In fact, more than half of the track titles on the album are taken from the 1970s and '80s animated films and series.
Both Harel and I are strongly attached to visuals. Harel is a full-time designer, while I'm more of an amateur with a strong aesthetic vision. We've been both fans of Nick Taylor's work for years, so when Polytechnic Youth, whom Nick often works with, offered us a deal and confirmed that he would be doing the artwork, our excitement was through the roof! Working with Nick was a pure joy – it took us a few days of ping-ponging references until he came up with two options, the second of which is what you see on the cover. Our sync was immediate – it was like finally meeting someone else who speaks the same obscure language as we do.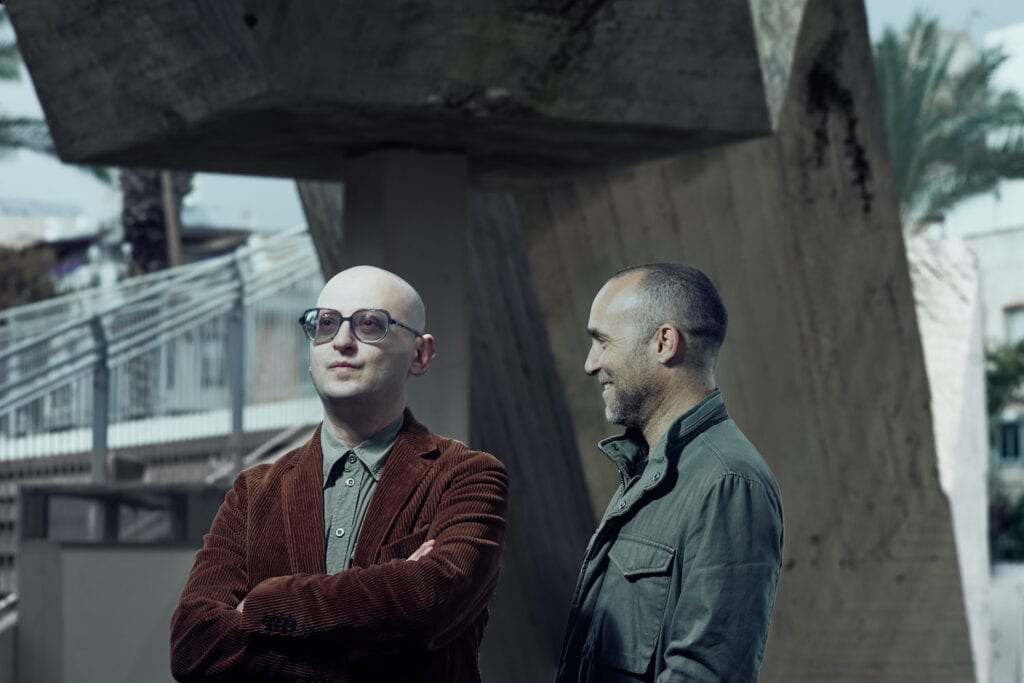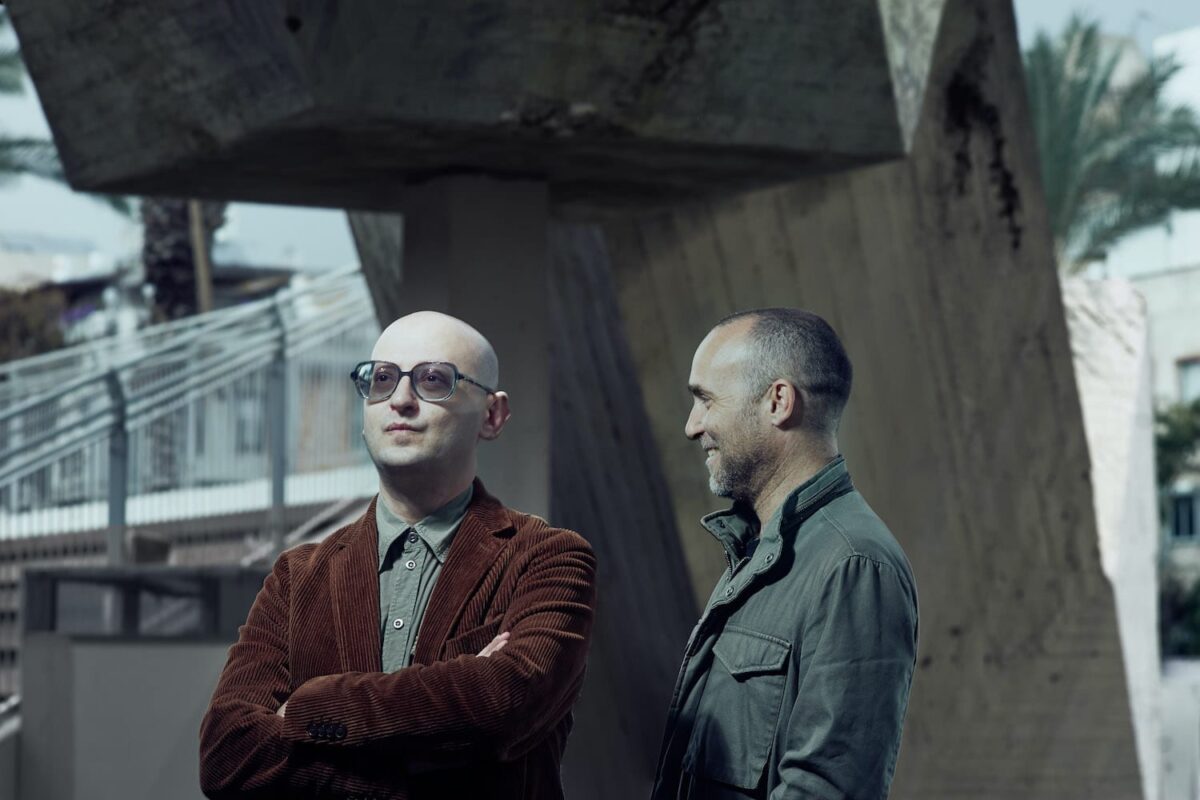 PAN M 360: Sticking with the theme of time, it's been eight years since Group Modular's first album, The Mystery of Mordy Laye. Since then, you've only released one single, on Markey's Delights label, for International Synthesizer Day 2018. You've both been busy with other things, of course – what are some recent projects of yours that PAN M360's readers might dig?
MD: Eight years is really a long time… we've been working on Time Masters for the last few years. Since The Mystery of Mordy Laye, I'd done quite a lot – played a lot and released an album with my industrial band, Mujahideen; launched a label called Confused Machines, which focuses on the raw side of electronic music, from less functional club music to other electronic experiments; and had a few releases (and many live shows) under my Mule Driver moniker, including an EP on the infamous Creme Organization last April. Recently, I've also dropped an album under the name Max Schreiber, which is more about experimental and improvised electronic music
MF: As you've already mentioned, I'm running my own imprint called Delights, where I release 45s by contemporary artists inspired by '60s and '70s film and library music. This year, we've dropped the second seven-inch by London-based Project Gemini, which was followed by SimfOnyx (my own collaboration with a super-talented artist and good friend from Haifa, Shuzin), and a new title is dropping right now, featuring two of my remixes for local bands. In general, 2020, with all its madness, turned out to be my collabs year: besides SimfOnyx and Group Modular, I've also released a limited cassette of a library-themed improv session with two friends in Berlin, called Aquasonic Research Society, and a whole bunch of other collaborations is in the pipeline for 2021 (fingers crossed!).