Rich in Symbols II is the Canadian jazz equivalent of Mussorgsky's Pictures at an Exhibition. While the first album was broad in scope, this synesthetic second opus (Doxas spontaneously associates images with music in his head) focuses on his native country. Featured here is the Group of Seven, the Canadian collective of early 20th-century painters who brought the country into pictorial modernity and are perhaps Canada's leading ambassadors in the visual arts world today (along with Riopelle and Borduas).
The sober and bare landscapes of the seven chosen paintings are transformed into intimate and melancholic sound spaces, sometimes even threatening, even if the light always manages to slip through the interstices of the worst darkness. One senses the coldness inherent in these Nordic canvases that are both smooth and mineral, contemplative and imposing, solitary and universal.
Atonal tingles skilfully rub shoulders with sinuous lyrical moments to create an atmosphere of pervasive sensory modernity. Doxas has made a heartfelt and lasting tribute to his homeland, having been exiled to Brooklyn for the past few years.
One must admire the works of A.Y Jackson, Frank Carmichael, Lawren Harris, as well as Tom Thomson and Emily Carr (two artists who were not officially part of the Group but who are frequently associated with it) to fully feel the thrill of the frost, the bliss of the great spaces and the solitary infinity to which these masterpieces call us. Masterful.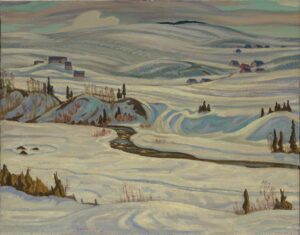 Doxas (sax, clarinet and soundtrack) is brilliantly accompanied by Jacob Sacks (piano and mellotron), Joe Grass (pedal steel, guitar and banjo), Zack Lober (double bass) and Eric Doob (drums and sound programming.) Sam Roberts narrates a text by Doxas himself, inspired by the painting "The Front of Winter," by J-E-H MacDonald.