For Rufus Wainwright, Unfollow the Rules is a return to pop music after a long neoclassical hiatus. In 2015, Deutsche Grammophon released the recording of the opera Prima Donna, composed by Wainwright in 2009. The following year, the German label released Take All My Loves: 9 Shakespeare Sonnets, a unique reinterpretation of the famous sonnets that the great American director Bob Wilson incorporated into a play of his own conception.
Four years later, Unfollow the Rules was born at the end of a loop initiated and completed in California. Well established in the world of composition for musical theatre, why did Wainwright return to more pop forms?
"I was still in mourning for the loss of my mother," Wainwright begins. "I was ready to compose another opera after Prima Donna, I'd adapted Shakespeare's sonnets and so I went off into the classical world. I had an incredible time, and I will return as well to opera, down the line… if we still have a planet."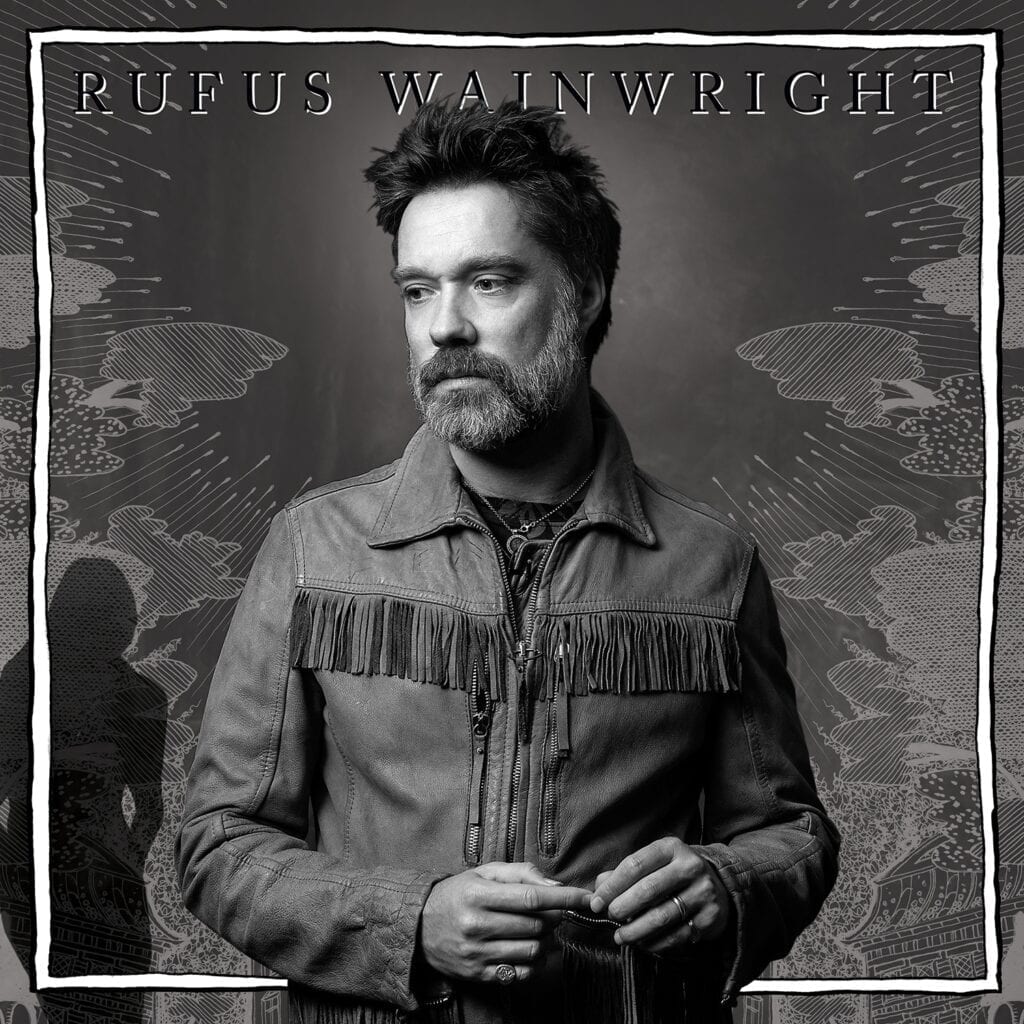 More precisely, Wainwright has seen the curve of his passion for song oscillate over time.
"All along my journey," he explains, "I kept writing songs and I developed over time a profound appreciation for where I came from. Maybe I have been a little jaded about that, but after I'd taken a bit of distance and done my classical work, I was able to reevaluate where I came from. And then I wrote a lot of songs, quite enough to make an album. I replenished my enthusiasm for the world of pop, where I've spent most of my life, and enjoyed it a lot."
This return to pop music coincided with his migration from Toronto to Los Angeles.
"I spent time with my daugther in California, we bought this house in L.A., some anniversaries started to occur – the 20th anniversary of my first album that I did in L.A., the 76th anniversary of Joni Mitchell that we celebrated here, and me returning to California – with that kind of end of a chapter, there was a tale to be told."
To frame this formidable story segmented into twelve songs, Wainwright set out in search of the ideal producer.
"There were discussions with several producers and then, when I sat with Mitchell Froom, I knew immediately he was the guy for the job. The album started to get made. One of the things about Mitchell was his work with Randy Newman. I know Randy, I spent a small amount of time with him, but I did not immerse myself in Randy Newman until then. I listened to his records and it really did blow my mind – in a good way! I'm now a huge fan of his, I kind of admire him at the moment. Then, working with Mitchell Froom brought me close to that ideal. Thus this album was born in respect for the tradition of music-making in California."
Mitchell Froom isn't just anyone. Apart from three albums with Randy Newman, he's done three with Crowded House, four with Bonnie Raitt, not to mention Bob Dylan, Paul McCartney, Tracey Chapman, Richard Thompson, Cibo Matto, American Music Club and Suzanne Vega, to whom he was married. Remember also the Latin Playboys, an avant-roots group he formed with Chad Blake and two members of Los Lobos in the '90s. What was his approach with Rufus Wainwright?
"Mitchell wanted me to continue this tradition of 'fabulous Rufusness', to stage these grandiose and very elaborated characters I've imagined over the course of my career. On the one hand, he didn't want to temper me. On the other hand, he wanted clarity, directness, simplicity. He wanted to highlight my eccentricity, to respect my knowledge, but he also cared about what people want to listen to or not.
"He was very attentive to what was going on at the heart of the songs, he wanted everyone to understand them. Yes, I've worked with a lot of producers over the years and they've been fantastic in one way or another, but I have to say that Mitchell is the best at exploiting the full spectrum of my music. I've made records that are so amazing, but you don't want to listen to them all the time (laughs). But this record appeals to you, you really want to listen to it."
Wainwright takes a moment to summarize a few of the album's tracks.
"'Alone Time' is the least produced song, probably the greatest elegy of California, heavily based on Brian Wilson's techniques, the last song time to capture this sunny melancholy that the state has so much of. Right now, this song is so poignant and meaningful!"
"Damsel in Distress", he says, "is an homage to Joni Mitchell, whom my mother very much disliked, and kept saying she was a kind of a fraud. My mother was a real purist, she loved the real folk music. She had a valid opinion but she was also very jealous (laughs). So Joni Mitchell was fobidden in our house. And then years later, Jorn [Weisbrodt, his husband] became a huge fan, he celebrated her 70th birthday at the Luminato Festival – where he was the artistic director. We became friends with Joni, and I discovered her world for the first time at an older age. And so came my homage to her, musically. This song isn't about her, but about her vibe."
"This One's For The Ladies (THAT LUNGE!)", Wainwright explains, "is one of those Mitchell Froom moments, it's what he's done for years in his production. It's not Laurel Canyon at all, it's more '80s Ohio or something (laughs). But I'm so happy that we got that in. Mitchell worked really hard on that background.
"Unfollow the Rules is an epic journey which I take the listener through. It's one of those incredible panoramic journeys of this music inspired by Laurel Canyon in the '70s, through which, with this piece of music, you can be totally carried away to this fantasyland, you can be transported into your own imagination. There is depth and also darkness in this music."
Here's another bridge between classic pop and chamber avant-pop, between generations and styles, between pop and classical music, courtesy of Rufus Wainwright. We know him to be a prodigy of creative pop, a sort of Cole Porter for our time, and one that is also based in a great family tradition.
"My new album is a continuation, but also the final product of a long process. During all these years, I didn't struggle or play too much with words and sounds, but… I sometimes caught the tiger by the tail, or found myself in an imaginary and crazy country. Some people have been there and some haven't. But it was always an effort for me to get there, and this time I landed. The journey is coming to an end, I am not necessarily confident but I am at peace. Musically, a little more. I am at the end of an era, I also consider it the beginning of a new one. So watch out! I have to get to the very end to get to the beginning!"
Unfollow the Rules, a title of circumstances? The very opposite of Trump's base, which is resolutely anti-quarantine as we know, Rufus laughs even louder at the end of the phone.
"More seriously, this does not mean breaking the rule, but to examine it carefully before acting. Every morning of this pandemic, we wake up and feel very strange. It is hard to imagine anything more dramatic than this. And with this horrifying president, we thought this mandate would end by an election, and… it ends by a plague! Fortunately, some state governors in America, I think California or New York State, make the best of people."
As for live concerts in front of an audience, they are obviously postponed for the moment…
"We're assessing the situation on a daily basis. When I come back, however, with my group of five musicians, I will insist more on music than on theatricality. Having said that, I might become exasperated after five months of touring and we'll do more eccentric and exuberant things again. I can afford to stop in this context, it's not ideal but it's important.
"There will be much more to do. When I start the next cycle, a French album will be important in this process. I'd like to make an incredible album, off the beaten track, and for now, Unfollow the Rules is the end of the first act of my career. I hope to have three of them!"