renseignements supplémentaires
A third of a century ago, in 1985, four greasy, sneering, badly behaved Montreal teenagers ("with no previous musical experience", as their Wikipedia page politely puts it) started out on their long journey to the pinnacle of the global garage-rock scene. With matching black turtlenecks and bowl cuts, and a band name borrowed from the creepy neighbours on The Flintstones, The Gruesomes howled in homage to the forgotten fuzz lords of the 1960s, bands that they would before long stand alongside as peers.
Back in the late '80s, The Gruesomes were veritable trailblazers for the protean indie-rock tour circuit, crisscrossing Canada and rattling the roofbeams of countless sweaty little show bars. They broke up in 1990 and reformed a decade later, only to discover that they'd become global icons of the garage-rock revival. Live sets from these self-appointed "tyrants of teen trash" have become less frequent as the years have passed, and their rare reunions are a big deal to the Beatle-boot set.
New recordings are likewise rare. In fact, the band themselves had no reason to believe they'd ever do another. A bunch of superfans in Spain insisted otherwise, and the result is a super-cool combination comic book and seven-inch single – the ideal Gruesomes artifact.
PAN M 360 got in touch with Gruesomes guitarist and songwriter Bobby Beaton, to find out more.
PAN M 360: The Gruesomes recently returned from Spain. What were you guys doing there?
Bobby Beaton: Believe it or not, we were over there playing garage music. We had originally agreed to just play at a festival, but the promoters started offering more shows and it turned into a mini-tour of northern Spain. We didn't know it, but Spain is crazy for rock 'n' roll. Garage music in particular represents a larger niche than it does here. They have show-bars dedicated exclusively to the genre, and many more that feature it regularly. So everybody knew our songs and all the shows sold out and they had no problem filling opening slots with local garage bands. They even put us on Spanish national radio for an hour-long interview exploring our music and influences! I am not making any of this up. Spain has an appetite for garage that apparently cuts across all demographics.
PAN M 360: Apparently, you came back with something highly contagious… that's right, your catchy new 45 single! What's the scoop on that?
Bobby Beaton: The single was a suggestion from the Spanish promoters. It's a collaborative effort from a new label called Calico Wally, a record company called KOTJ Records, a comic studio called Palmeras Y Puros, and the Wachina Wachina Festival in Zaragoza. The angle they went with was, "legendary garage band is back with a Spanish tour and new single!" People were genuinely happy to buy it and we signed tons of them at shows. We thought it was weird making a new record, but it seemed very important to these folks – they took it seriously and did a great job with the artwork, pressing and promotion.
PAN M 360: Spill the beans on the single's two tracks. What gives?
Bobby Beaton: The A-side is a band original called "Someone Told a Lie". I was listening to a lot of Swedish garage at the time and wrote a song in that style. The B-side is a cover of "Make Up Your Mind" by Los Mockers, the Rolling Stones of Uruguay in the '60s, a band that we have always loved. The original version is just so crazy good that we had to change it up a bit, give it our own sound, to even justify recording it. We actually got to meet the songwriter, Esteban Hirshfield from Los Mockers, in Spain, and he liked our version.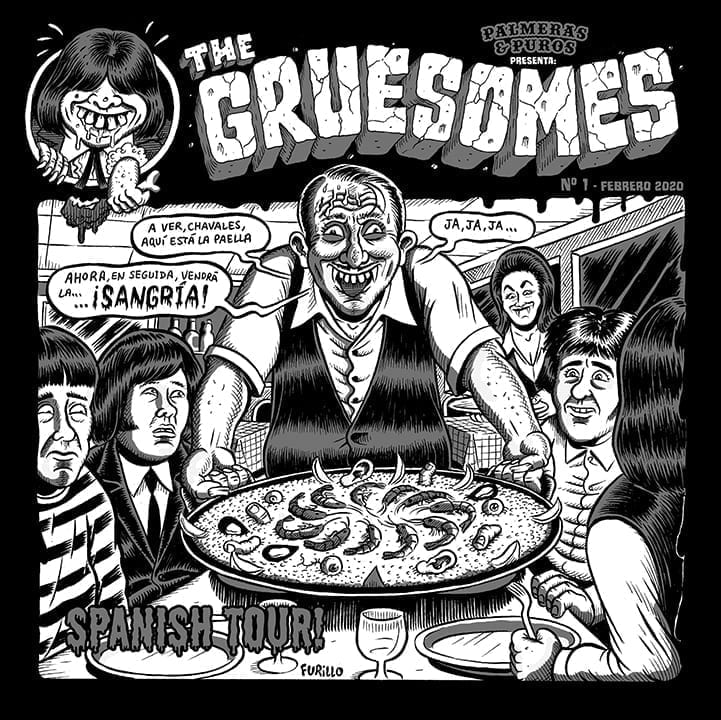 PAN M 360: If roughly five and a half minutes of greasy Gruesomes garage rock weren't enough, the single comes with a special bonus… a comic book! Better yet, an EC-style horror anthology comic book, in which the Gruesomes get the supernatural comeuppance they so richly deserve!
Bobby Beaton: Finally! In the first story, we're portrayed as paranoid idiots who misinterpret the hospitality of the well-meaning Spanish locals as some sort of evil Scooby Doo plot. The second story pays homage to the Hammer horror film Dr. Terror's House of Horrors, in which the band is cursed for playing a forbidden song. It's an eight-page comic book by artists Furillo and Jorge Rueda. They have a company called Palmeras Y Puros and are both quite well known over there. They are big fans of the Gruesomes and quickly found the right tone for our band. They were as enthusiastic as we were about the project. We actually met the artists in Zaragoza and got a chance to hang out together. Very cool people.
PAN M 360: Where would you place this seven-inch, on your ranked list of The Gruesomes' Greatest Contributions to Human Culture and History?
Bobby Beaton: We would compare it to a lost episode of Gilligan's Island – of extreme cultural significance for some dedicated people, an interesting distraction for others. We are extremely proud of it. The cover art, the songs, the comic are all better than we could have hoped for. We had never thought that we would record again, so it's just as surprising for us as anyone else.
The digital download of the "Someone Told a Lie" single can be purchased at the Bandcamp page at left. For the real-deal, vinyl version with comic book included can be ordered from Ricochet Sound.