renseignements supplémentaires
After "Free Grillz", a noticed single released last April, Magi Merlin continues her rise with the Gone Girl EP, her most accomplished project to date. For this second EP, the singer-songwriter skilfully and creatively picks from R&B, soul, hip-hop, and house music of the 1990s. The lyrics that the Quebecer puts on it are full and direct. Originally from Saint-Lazare, a white suburb, she addresses her identity as a black woman, ordinary racism, and the anger it arouses. This EP sounds like an emotional discharge (catharsis) allowing the artist to assert herself. On the EP as on stage, the energy of the rapper is explosive.

We spoke with Magi Merlin as she was on tour in Europe. After a European tour with several sold-out dates, Magi Merlin will delight the audience at the Montreal International Jazz Festival (July 8) and the Quebec Summer Festival (July 16). Two dates not to be missed.

PAN M 360: With Gone Girl, you don't hesitate to reappropriate some hip-hop codes, your energy transpires assurance and confidence, "Free Grillz" and "Children of Fate" both sound more raw: the people who know your previous releases will certainly see an evolution, musically and aesthetically speaking. What (or what encounters in life) led you to take this artistic direction?
Magi Merlin: When it came to this project, I was interested in fully embodying a self-assured, confidently unapologetic character. It started with tracks like "Pissed Black Girl" where I was writing from a perspective of anger instead of sadness (which was my go-to emotion for while) and there was a lot of power in that. For the rest of the songs, "Free Grillz," "Children of Fate," and "Milkweed" all have this unapologetic tone. Being able to just write without fear was something that was really inspiring.
PAN M 360: I understand the idea of contrast (opposition even) between music and lyrics is central to "Pissed Black Girl." Why this choice, and what does this creative approach bring to the track?
Magi Merlin: I really loved the fact that the message and music of the track don't initially feel cohesive with each other but they actually complement each other quite well. At the end of the day, that song is about taking power and using it to speak your mind. expressing discontentment or disappointment doesn't have to be negative. I liked that the instrumental of "Pissed Black Girl" has this carefree energy. Voicing our anger is step one after that the job we have to do is to let that anger go. To hold onto anger and sadness amongst other heavier emotions weighs yourself down, you can feel angry but after a while, it's time to dance.
PAN M 360: It's true Gone Girl feels like a mixtape (short tracks with strong identities, interludes), was it intentional? How did you build this EP?
Magi Merlin: I wanted Gone Girl to live within its own universe. I wanted that character that I was trying to embody to live somewhere that I could access easily and that became the Gone Girl project! I suppose I always want my projects to feel cohesive and purposeful the way long-form musical projects often feel to me!
PAN M 360: Funkywhat (producer) and Walid Jabri (director) are longtime collaborators, what can you tell me about your work relationship with them?
Magi Merlin: What really defines the relationships for me is the effortlessness when working together. There is never a point where I feel unheard of or misunderstood. I'm also quite close with both guys on a personal level I think that also plays into things as well. I am able to communicate with them both outside of work and I think that aids in how we communicate as well.
PANM360: On the cover of the EP and in the clip of "Pissed Black Girl" you wear a splint on your middle finger, this detail caught my eye. What's the story behind it?
Magi Merlin: Haha! well, for the PBG cover art I really wanted to have the title of the song written in flames on the front lawn. The only place that was feasible was at my mother's house in St-Lazare, outside of the city. I had to borrow my partner's car to be able to get the team out to St-Laz for the shoot so I took it the night before and had the WORST luck finding parking. The only place I was able to find required me to move the car by 7 am. The next morning I woke up early to move this car, mind you, I don't drive often especially in the city so I was a bit stressed and stress makes me very distracted. I hopped in the car, looked for the keys, and found the keys (amazing) I'm ready to go. I go to close the door to leave without noticing that my entire ass hand was still outside of the car. So I slam the car door onto my hand. I looked and my finger looked pretty funny. It was kind of stuck in this bent forward position.
I waited another hour or so for everyone to get to my place, which was also around the same time my local Familyprix opened. I went to buy a little splint and the colour ended up matching my makeup. I had convinced myself that it was just a sprain or something it took another two weeks before I finally took myself to the hospital to check if it was actually broken (I was in denial) it was broken, my nail fell off, and everything.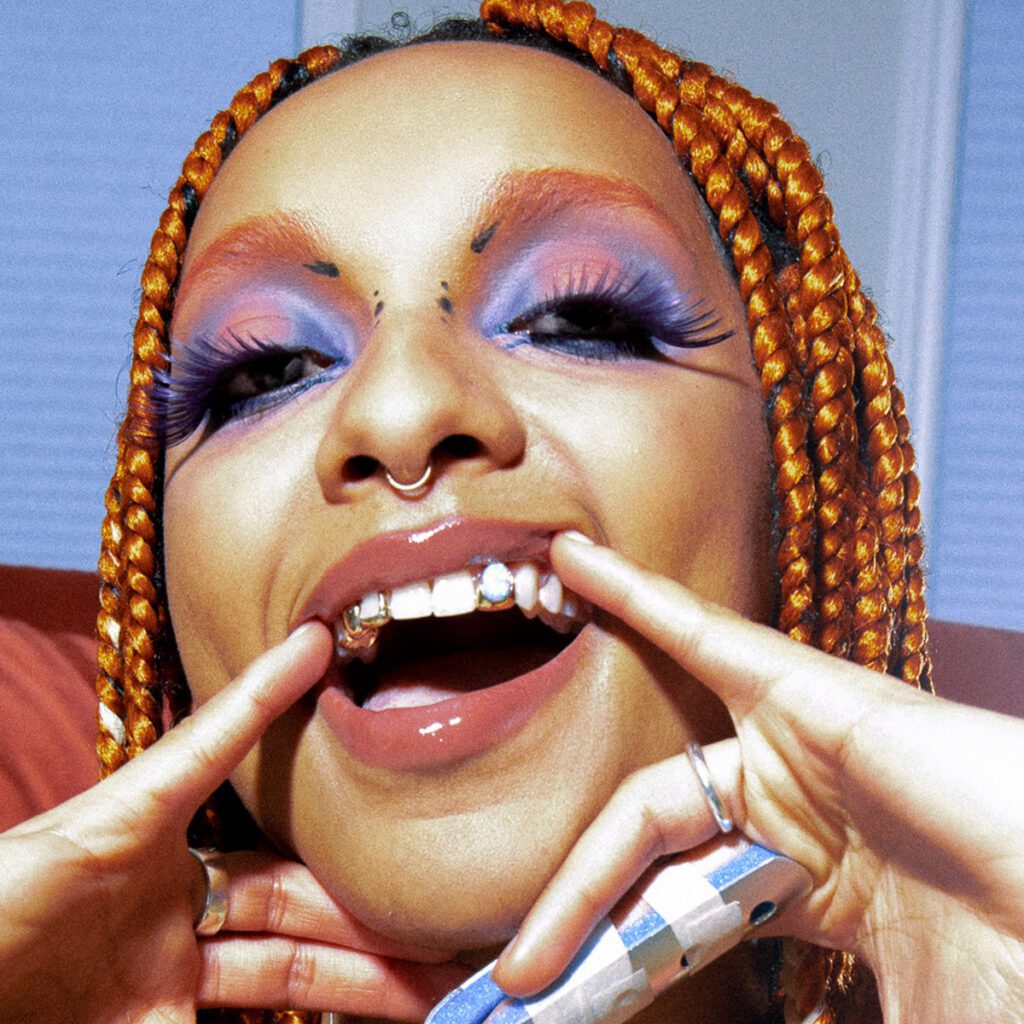 PAN M 360: How do you feel about ending the Gone Girl tour in Montreal? How would you describe your relationship with the city and your audience here?
Magi Merlin: I'm always happy to be home, to be able to play for the people who have been supporting me and my music for years. Honestly, it's always a surprise to come back home, play, and hear people singing my lyrics with me. It's a shock every time!! I can't wait for the next show!
MAGI MERLIN AT MONTREAL JAZZ FESTIVAL, JULY 8 , CLUB SODA
MAGI MERLIN AT FESTIVAL D'ÉTÉ DE QUÉBEC, JULY 16, PARC DE LA FRANCOPHONIE, 17H50