Yesterday afternoon was back-to-school day at the Chapelle historique du Bon Pasteur. Oh, of course, not at the Chapelle historique. Repairs to the building following the fire on May 25 haven't even begun yet. Instead, programming and administration for the 2023-2024 season (at least) will take refuge in the Canadian Centre for Architecture's Salle Paul-Desmarais. And so it was yesterday that this season "in exile" was inaugurated with an exceptional recital by an artist also in exile, Ukrainian-born pianist Olga Kudriakova.
Kudriakova arrived in Montreal in August 2022 with her (Russian) husband and luggage, fleeing the war and repression in Ukraine. The young lady was already at the height of her career when the Russian invasion began: a teacher and concert performer, she already had several competition prizes up her sleeve and a reputation that was beginning to spread. She had to leave everything behind when she fled, but not for long. As soon as she arrived in Montreal, she was noticed quickly and decisively began to take her place in the cultural metropolis' artistic ecosystem. So much so that, barely a year after settling into her new home, the lady is admired by an ever-growing number of music lovers and has been invited to give the inaugural recital at la Chapelle, a noble cultural institution if ever there was one here. She even graces the cover of the autumn season program.
Radio-Canada did an interview with Olga Kudryakova and her husband Maxim Chatalkine shortly after their arrival in Montreal (in French).
What's more, she is extremely dynamic: she has set up a foundation to support the musical education of young Ukrainians who had to interrupt their studies because of the war, and she has just helped to create a new recital space called Dissonances Studio, which will offer renewed classical concert experiences by subscription. In the style of friendly 19th-century salons and in an unconventional space, curious onlookers and music lovers will be able to bring their own food and drink and attend concerts in a relaxed and open atmosphere. The small size of the space means that contact between artists and audiences will be very intimate. The initiator of the project, Mathieu Baribeau, has been dreaming of this for over 20 years. So he invested his own money to put the place in order and buy a beautiful Bechstein D282 piano. In short, Olga Kudriakova knows how to surround herself and get noticed!
Two exiles, then, la Chapelle and Olga Kudriakova, whose destiny made them partners in resilience in a concert that was utterly memorable. As regulars of the Chapelle, we were initially delighted to enter the Canadian Centre for Architecture's Paul-Desmarais hall, a room of beautiful classical rectangular configuration, with a beautifully wooded stage and a warm amber colour. The Fazioli piano, rescued from the fire, sits proudly and, from the very first notes, sounds magnificent (meticulously restored by the indispensable Oliver Esmonde-White).
And let's talk about the notes! An all-Romantic program, a reservoir of delicate textures and powerful sonorities, was in the spotlight. Schubert's four Impromptus D.899 got the ball rolling. My concert companion, a connoisseur of the work, was taken by surprise by the limpid, almost Baroque vision of the interpretation, stripped of too much roundness. I'm already under Kudriakova's spell because I know that this clarity of discourse is a particularity of the young pianist and that she never forgets the emotional charge of the music. Then the miracle happens: a musical architecture drawn with a fine point is imbued, subtly, with a delicate blanket of emotions, simply because we understand perfectly where each phrase is heading and what it wants to express. There are very few (extremely rare) technical flaws in the newly Montreal-based artist's fingering, so much so that it's a delight to listen to all those superb pearled notes percolating through the auditorium's sound space. Especially since the acoustics are so good. We applaud warmly.
This is followed by the Prelude from Wagner's Tristan und Isolde, in a transcription by Ernest Schelling, an appetizer that serves as a textural buffer between the preceding Schubertian flutterings and Franz Liszt's monumental, tempestuous Sonata in B minor, S.178. Once again, Kudriakova's technical clarity and her remarkable mastery of the discourse of the works she plays transform a musical performance into a moment of communion, where even the most profane of spectators would manage to follow the Lisztian convolutions without getting lost! With her perfectly balanced skeleton, the pianist inserts a spiritual substance, sonic muscle and palpable emotional flesh that amaze the senses of the large audience (the hall was packed, even almost twice as big as the Chapelle).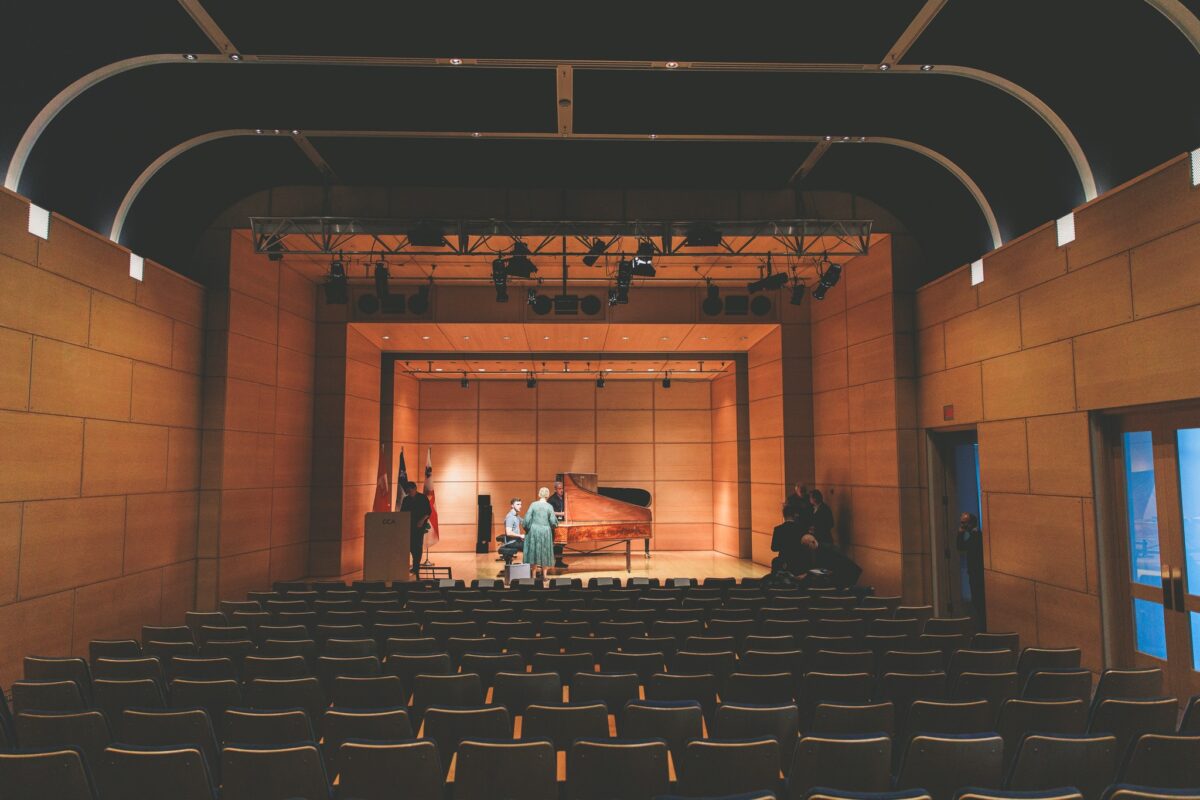 I predict that the hall in question will quickly be adopted by the public. In fact, once the Chapelle has returned to its usual quarters, we can only dream of regular seasons of chamber music in due form, as a legacy of this new collaboration! Up until now, it has mainly been used for conferences. I think this use will have to be musically fleshed out for a sustainable future.
If I were morbidly cynical, I'd say that Olga Kudriakova's presence in Montreal is perhaps the greatest gift Vladimir Putin and his stupid war could have given us. Otherwise, what possible reason could there have been for such a great and beautiful artist to move here? But now that this has happened, let's give her immense talent our unstinting support and help her reach her full potential. Olga Kudriakova is one of the great new-generation pianists on the planet today. I dare to declare it. I put my reputation on the line. That's just the way it is.