Without much fanfare, a new concert hall was inaugurated in Montreal last night. A concert hall, that's a quick way of putting it. An intimate space reserved for music, but also for private events, launches or conferences would be a more appropriate description. The Espace Kendergi, a tribute to Maryvonne Kendergi, musicologist, broadcaster and central figure in Quebec musical life for more than half a century, is a rectangular room with a capacity of around 30 people seated (excluding the musicians) or around fifty standing (at a guess, which is in no way scientific, that said). 
On arrival on this Tuesday evening, you get the feeling that the place is brand new. The smell of paint wafts through the air, the space in question is immaculately white, the otherwise bare walls are adorned with beautiful mouldings and the piano, a small Fandrich & Sons grand, sits at the far end.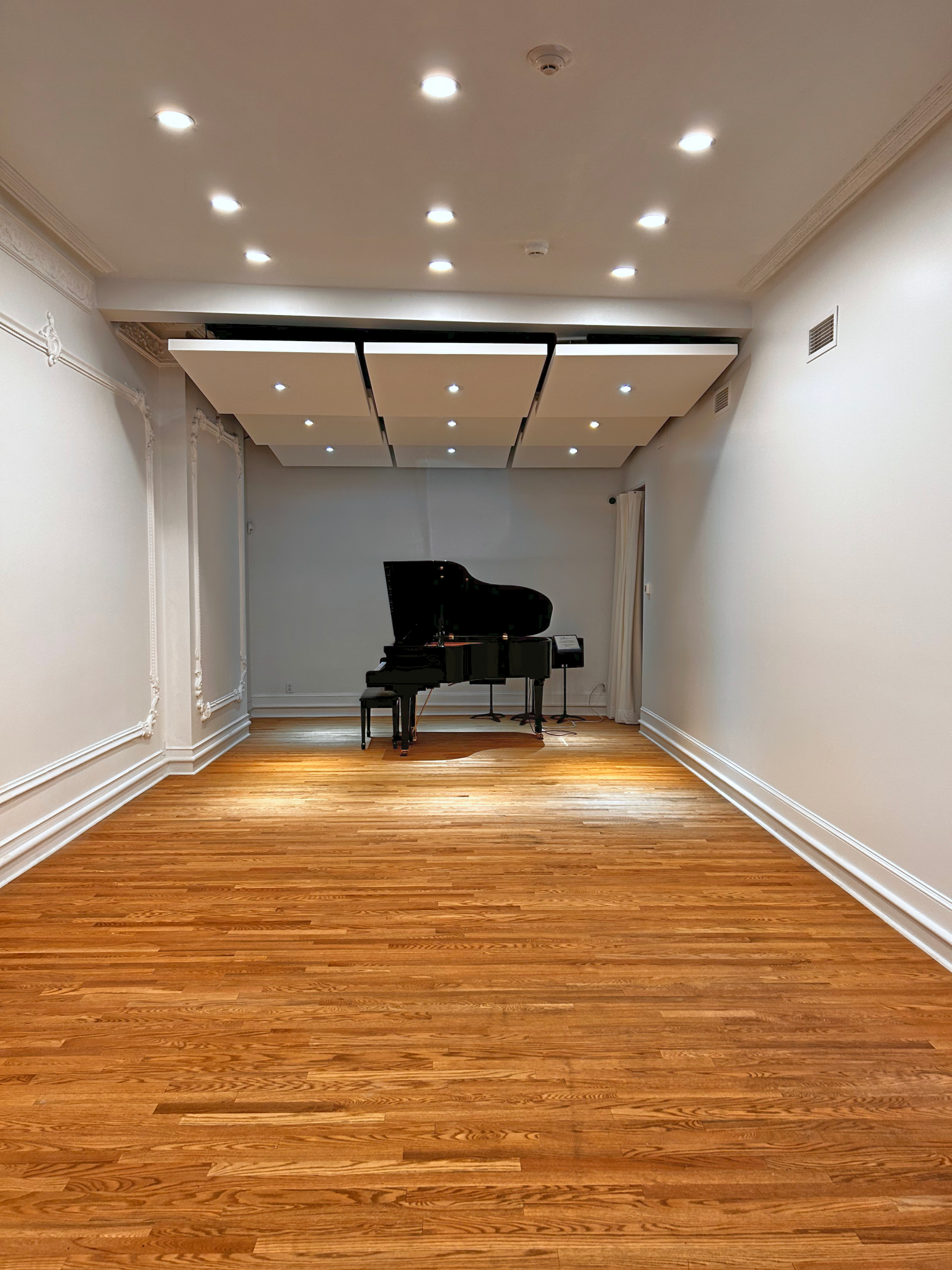 The reason we're here tonight is to hear, on this very piano, a rarely-played live monument of contemporary music: Morton Feldman's Triadic Memories, the "largest butterfly in captivity in the world", according to its creator. The artist, Isak Goldschneider (whom I recently introduced to you in an interview published here), is another important figure in Montreal's contemporary music scene, as much a musician as a composer and, above all, artistic director of Innovations en concert (whose 2023-2024 season was launched with this concert). 
Read the interview with Isak Goldschneider about Innovations en concert and its 2023-2024 season.
On the musical side, a moment of communion has been achieved thanks to this work, massive in length (around 90 minutes, non-stop!) but as musically delicate as a veil of transparent silk. Feldman's music is atonal minimalism, simple and complex. The simplicity lies in the rhythmic and melodic formulas and motifs, while the complexity lies in the evolution and transformation of these cells through a slow but irremediable process of repetition and superimposition. With Feldman, you have to take the time to listen. An aural dip of 2-3 minutes is contraindicated. It is only at the end of 90 minutes (in the case of this piece) that the finality of the whole, which easily surpasses the sum of its multiple parts, will become apparent to us, and we will then be able to understand the meaning of the experience. Morton Feldman is like a Rothko painting, but if you can imbibe the spirituality proposed by the American painter in a single holistic glance, it's impossible to take the full measure of a work by Feldman without, as I've just said, taking the time. And even taking the time to take the time.
Feldman is a minimalist, but in a completely different league to Glass or Reich. Unlike his two compatriots, Feldman rejects the marked pulse. It exists, but it is insinuated, suggested. He also rejects the ecstatic, feverish haste of the other two (and their disciples). The musical experience Feldman provides probably has more to do with the 'mystical' minimalism of Arvo Pärt or John Tavener. But furtively, because he maintains the link with atonalism, unlike the two Europeans. In the end, Feldman is unique and difficult to imitate. Technically, it would probably be easy, but to get the kind of transcendent immersion that his music provides, I think you'd have to work hard. Where imitators would end up being unbearable and seem endless, the 90 minutes of Triadic Memories seemed much less so. That's because Feldman manages to turn this long aural march (like the others in his catalogue) into an object that envelops the entire listening experience in an aura of emotional and spiritual embodiment. A sense of totality that encompasses the music itself, the sound, its resonance in physical space and the human presence in relation to that precise 'moment-space'. Morton Feldman's music is one of the most humanistic to be heard in the 21st century.
Isak Goldschneider seemed nervous before sitting down at the piano. It's understandable. If the technical demands are nothing like those of a virtuoso concerto, the emotional, intellectual and spiritual plunge in this kind of music must be total, sincere and deeply felt. He seemed to be exhausted after the last note, and with good reason. He had just delivered a masterly exercise in communication, imbued with infinite subtlety, where the intimacy demanded by the work must be of a rare force of penetration towards the listener. This is music that constantly balances on a tenuous thread, made up of delicate "scratches of silence", as Renaud Machart put it in Le Monde, but which, once successfully traversed, leaves an indelible mark on the memory.
The audience warmly expressed its approval. It was well deserved.
Read A question about rhythm in Triadic Memories by James Pritchett, pianist, on some of the secrets relating to this masterpiece
The hall's acoustics are very good, but it has to bare with the Montreal street, here Crescent, the new home of the Canadian Music Centre (CMC) in Quebec. We're used to this urban dynamic, thanks to Bourgie Hall (just a few steps away!), where it's not impossible to hear the occasional police siren or the din of a dump truck during a Schubert sonata or a recital of French melodies. The difference between this concert hall and the Espace Kendergi is that there are clubs and discotheques nearby the latter. So, for the first thirty minutes or so of the concert, a vague tapestry of "beats pumps", coming from who knows which neighbour, could be made out in the many musical gaps of silence dear to Feldman. The occasional siren is to be expected, but the continuous hubbub of a dancefloor can become irritating. This was the case for me. Fortunately, it stopped at some point. But it was a Tuesday night! What it will be like on Thursday, Friday or Saturday, we can only guess.
Perhaps we should consider the programming in this light. A recital of Mozart arias can hide the background noise. But as long as the silences, or quasi-silences, of much more delicate pieces are more present, there will be a risk. We'll have to wait and see what happens, as Claire Marchand, the CMC's General and Artistic Director, has announced that a full programme will be unveiled at a later date.
That said, let's not deny ourselves the pleasure of seeing a new player in the network of venues for the dissemination of chamber music, and a contemporary Canadian one at that (Feldman is American, but a few noble exceptions like that are quite tolerable)! For that reason alone, I think we can overlook the few drawbacks caused by the surrounding urban environment.
And above all, we can guess that Maryvonne would have been happy and honoured to be associated with it.