Parc Jean-Drapeau was transformed into a music fan's paradise last weekend during the 15th anniversary of the Osheaga Music and Arts Festival. Depending on your musical tastes, the lineup for Osheaga 2022 was a mixed bag, featuring a lineup of yes, touring international artists like Idles, Dua Lipa, Yeah Yeah Yeahs, and hometown heroes Arcade Fire, but it also featured a few artists who have found fame on Tik Tok like Tai Verdes, Pink Pantheress, 100 gecs, Crawlers, etc.
This seems to be a new trend for festivals; having artists that go viral on Tik Tok for one song that is shared millions of times and landing a spot on an international festival, so I can't fault Osheaga for jumping on the aforementioned bandwagon. 
Sometimes these new musicians can surprise you, like Crawlers who put on an interesting show, and sometimes the lack of live experience can bite back, as with PinkPantheress' set, which ended early because of technical difficulties and her lack of voice. She was quite timid and needs more stage presence practice.
Either way, the weekend was enjoyable with a melting pot of great music and the weather was thankfully, not sweltering. So without further ado, here is PAN M 360's day-by-day coverage of Osheaga 2022.
Day 1
The day for me started with some brief 90s shoegaze meets coldwave Americana, brought by Liverpool's two-piece King Hannah. Their set was brief for me at the Sirius XM Tree Stage as I had to make my way to grab a spot for Charli XCX on the main stage, but the live renditions of their 2021 album I'm Not Sorry, I Was Just Being Me were sublime. There is a special magic to the two-piece, backed up by a drummer, and their chemistry on stage was pretty mesmerizing.
I arrived late for Charli XCX to check out Parcels, an Australian indie pop band at Verte Stage. They were fine, but I feel like I've heard many bands with the same disco indie vibe and style. The crowd was also clearly waiting for Turnstile at the adjacent stage.  
Charli XCX was already in full swing on main stage, scantily clad in a red crop top and tight yoga pants, singing and dancing to her heavy hyper pop production songs on Crash. I'm not a huge pop music fan, at least not this generation of pop, but Charli XCX is a pro. She knew how to get the crowd to jump, sing a long, and cast a pretty intense spell over them for an hour. I left early to go check out Turnstile, another sensation, this time in the punk/hardcore realm.
Turnstile was tight with the instrumentation and had a good energy to them, but I expected them to be heavier and more hardcore, especially since the guitarist had a Jackson metal guitar and looked like he was in a speed metal group. Maybe it's the Jane's Addiction-esque vocals that threw me off, although it was good to see a genuine mosh pit be created. And Turnstile clearly had fans at the stage, as much of the crowd knew their lyrics right down to a tee. Still, for me, it seemed more pop punk/alt-rock than hardcore punk.
Next was Yeah Yeah Yeahs, who frankly killed it on main stage. They're old hats at festivals and know how to use a bit of pageantry and dance-punk and pop to get a crowd going. Lead singer Karen O came out bedazzled in a spiked old-school biker's helmet and dressed in a colourful one-piece jumpsuit that looked like a Jackson Pollock painting. There were colourful, fringed streamers attached to her shoulders and mic as well.
It was hard to control the excitement from her outfit alone. The rest of the band looked too cool for school and let Karen O lead every song. They played lots of old material including the hits, especially "Heads Will Roll" to finish their set. It was going to be hard to top. But next was our hometown legends, Arcade Fire, fresh off the release of their We album.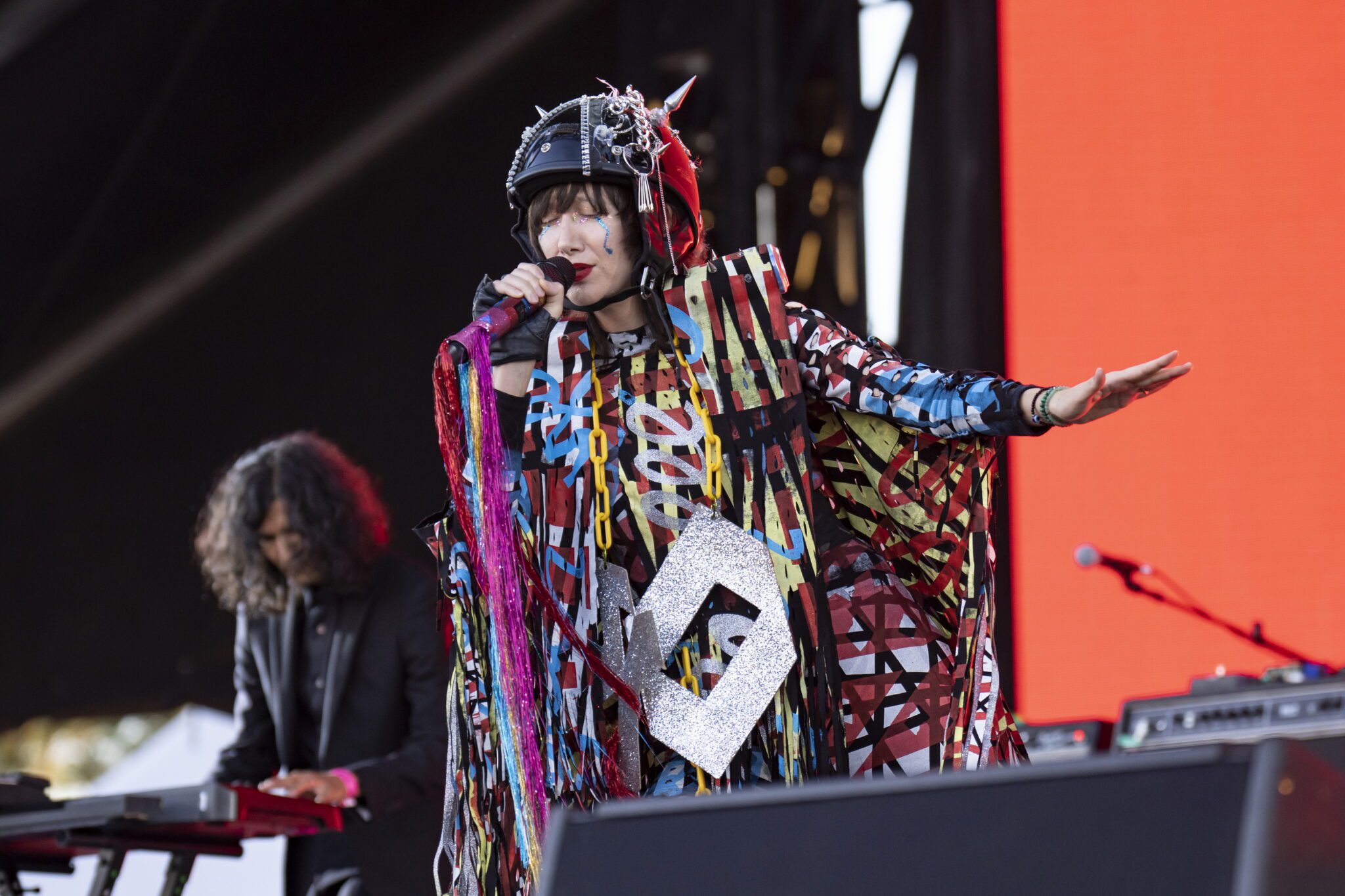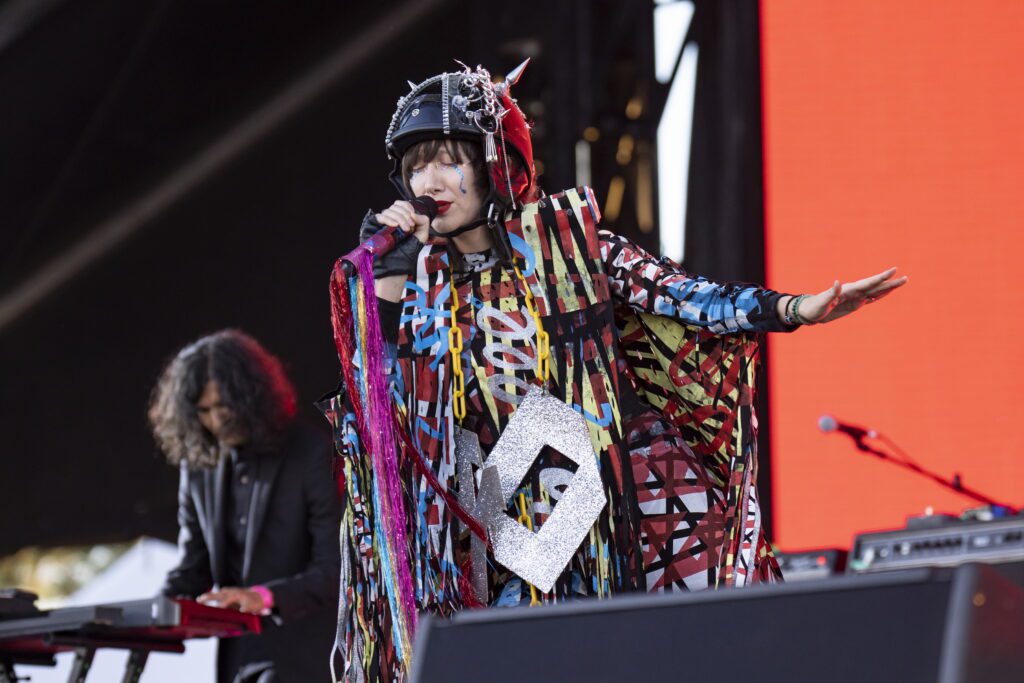 Arcade Fire played close to 20 songs during a two-hour set and I was surprised to hear a few songs from Funeral, my personal favourite album from them. It's insane to me how big this band is now. They used to play tiny clubs and now they tour with a giant disco ball that overhung from the rafters of the main stage and had a psychedelic light show, ala Pink Floyd.
At one point during "Sprawl II (Mountains Beyond Mountains)," which always sounded like a Blondie cover to me, singer and keyboardist/keytarist Régine Chassagne had lights reflecting off her shining belt buckle. I guess you can expect that from a band with an album called Reflektor. I will say that when they played the older songs, they felt as present and current as they did when they came out. Though Arcade Fire is a band built on nostalgia for a simpler time, they're fantastic musicians, so good on Osheaga for giving them a headlining spot after Foo Fighters had to cancel.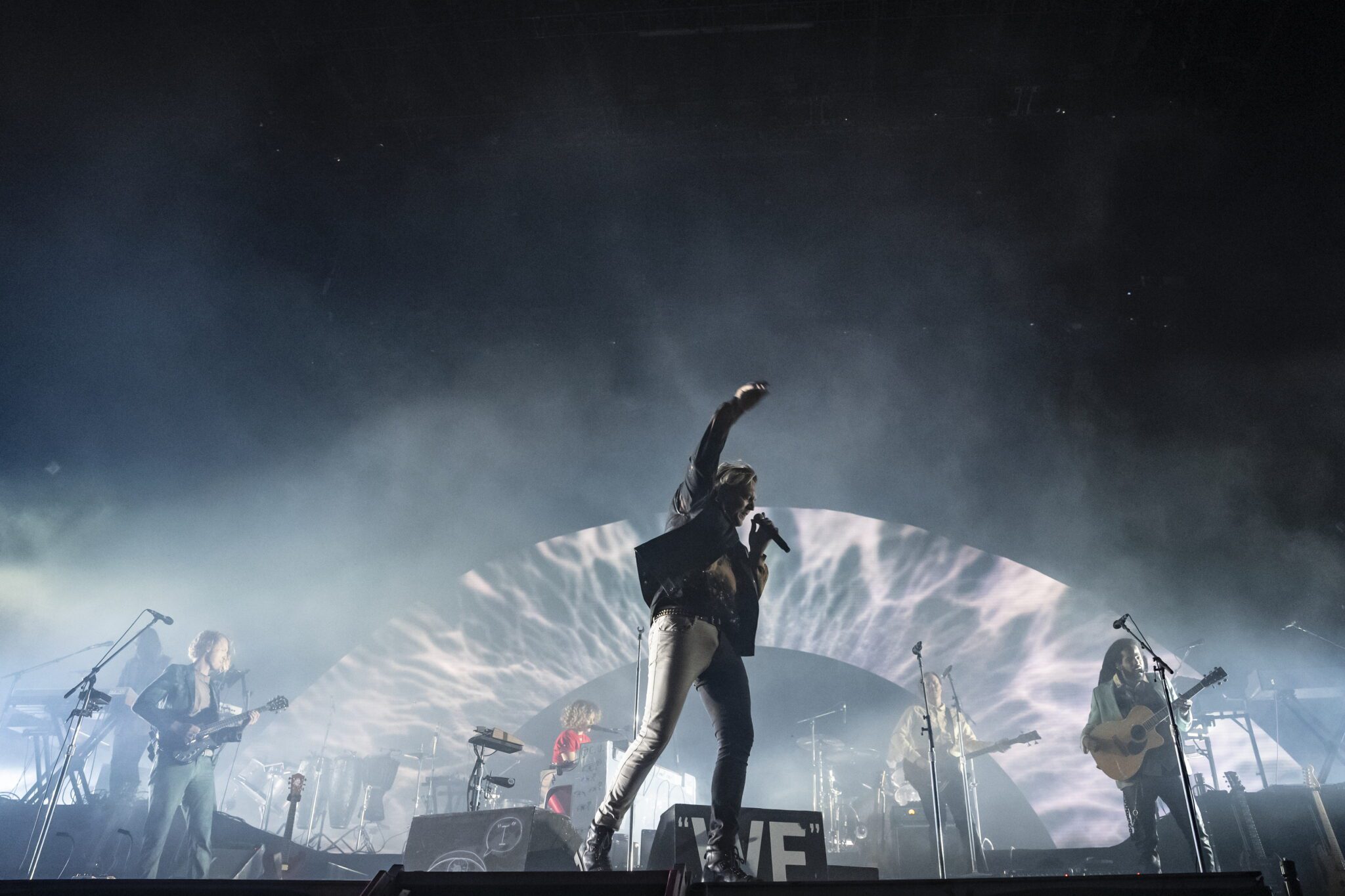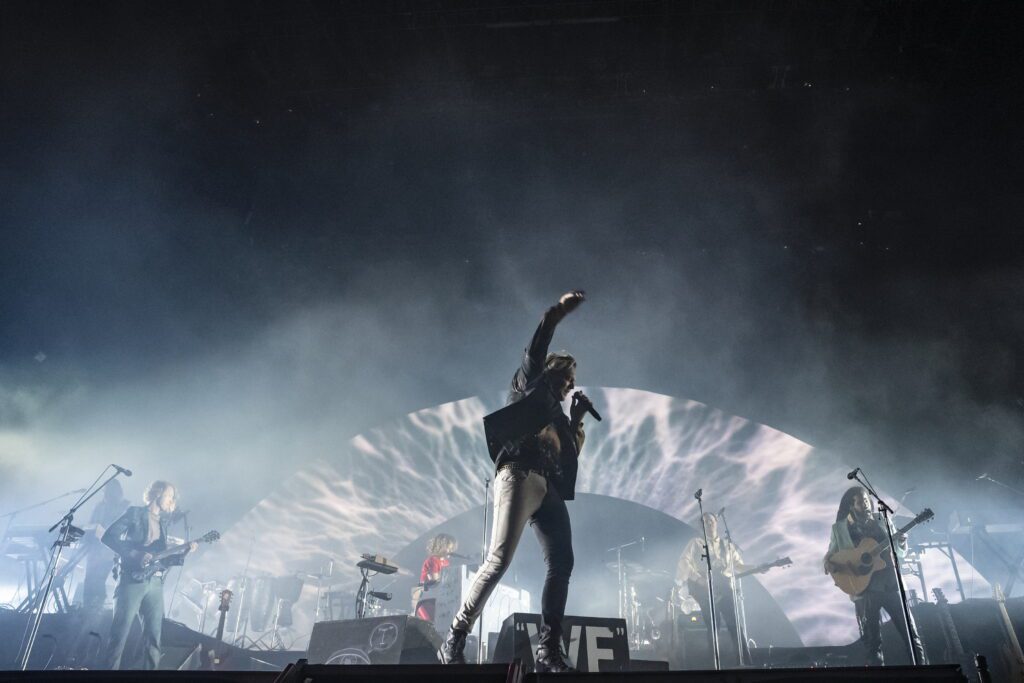 Day 2
The second day at Osheaga seemed to be more hip-hop focused with Freddie Gibbs, Skiifall, Slowthai—who inadvertently offended a bunch of people after they mistook his "Destroy" swastika symbol shirt as a hate crime (more on that below)—Burna Boy, and Future, after replacing ASAP Rocky's spot, who apparently originally replaced Kendrick Lamar's.
Shemar Mckie, who goes by Skiifall, is a St. Vincent-born local performer and he and his DJ were excellent. Skiifall is also hilarious as he called out the crowd for being terrible at cheering and helping him with his new song "Pistol Whip."
"You guys are terrible I'll have to do it on my own," he laughed.
At one point he asked a fan in the crowd to get up on stage and rap with him and he did OK, but Skiifall had to stop the song after he rapped over him.
"You're killing me bruh," he laughed. I'm not sure why they put him at the smaller Sirius XM Tree Stage, because he easily could have opened for Freddie Gibbs, but hey, I'm not a festival programmer.
Another local act, Men I Trust (who we interviewed here) was also playing at the same time. Their easy laid back jazz indie rock/pop was the perfect accompaniment to an overcast afternoon.
Tai Verdes took the stage next and I just couldn't get into his mesh of pop rock and hip hop. At times it sounded like a dad rock cover band and it didn't stick. I wanted to see some weird artsy post-punk pop from another local artist, Bonsound's, Sophia Bel, but there seemed to be some technical difficulties with her sound and she had to go on late, cutting her set in half I'm sure. She was dressed in a tutu like a manic pixie dream girl and I'm sure the set was great (and I'll make sure to catch her live set in Montreal), but I had to get a spot for Freddie Gibbs—his collab album with The Alchemist, Alfredo is one of my favourite hip hop albums of the last five years.
Freddie Gibbs was one of my top performers at Osheaga, even though at times, the mix and his vocals seemed to be quieter than usual. His quickfire verses and lyrical precision are right up there with the greats for me. He also got the crowd to chant "Fuck POlice," quite a few times in order to keep the set fresh and humorous. As he pulled out "Scottie Beam," the weed smoke consumed the crowd and there was even a mosh pit.
"Shit, these guys up here are moshing. I love that shit right here," he chimed in. "Let's give them a heavier beat," as the MC put on the beat for "Crime Pays."
Freddie also had a two-person crew who just stood on stage looking cool and it looked like one of their jobs was to be his own personal blunt roller. Just straight gangster.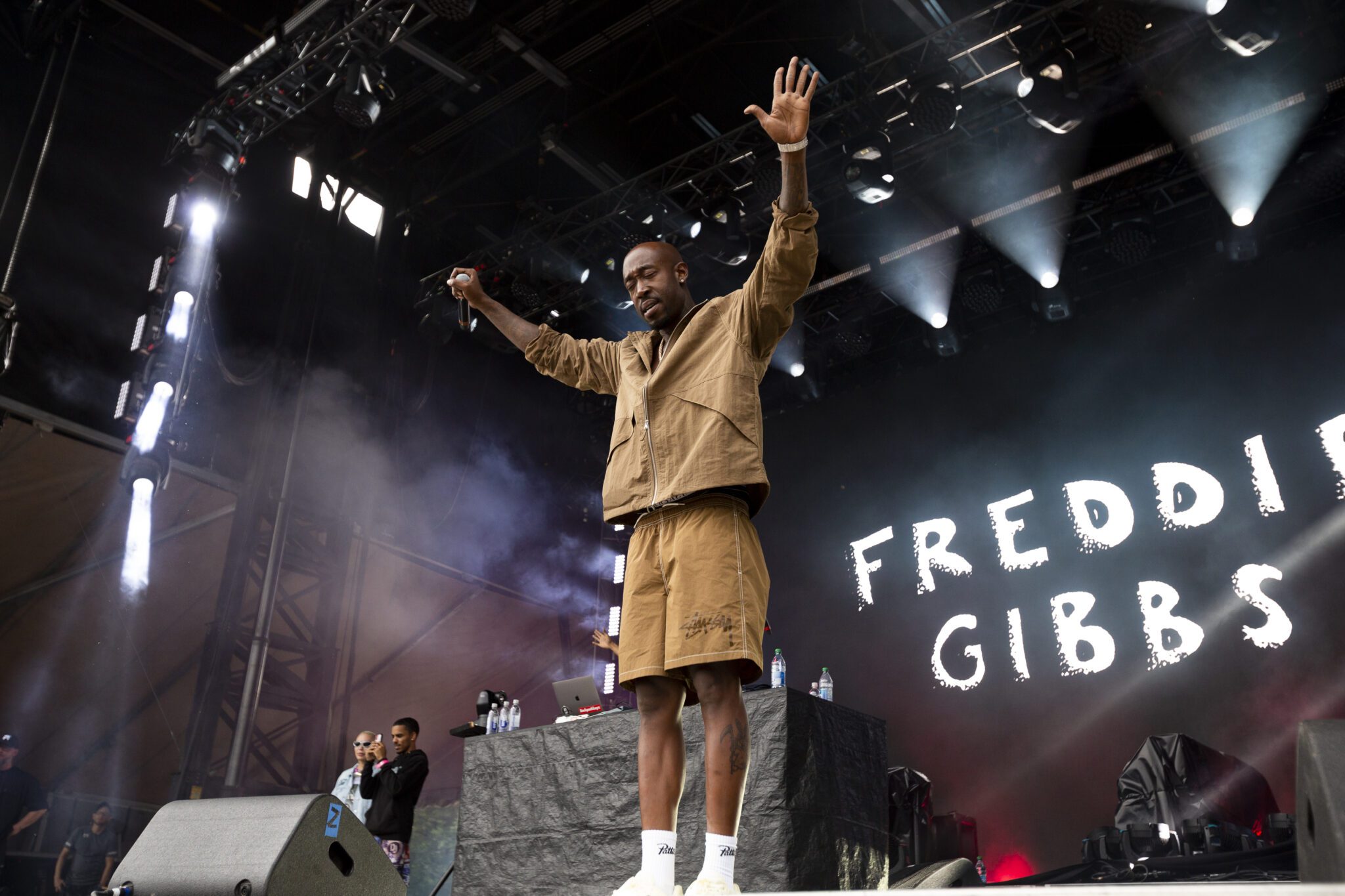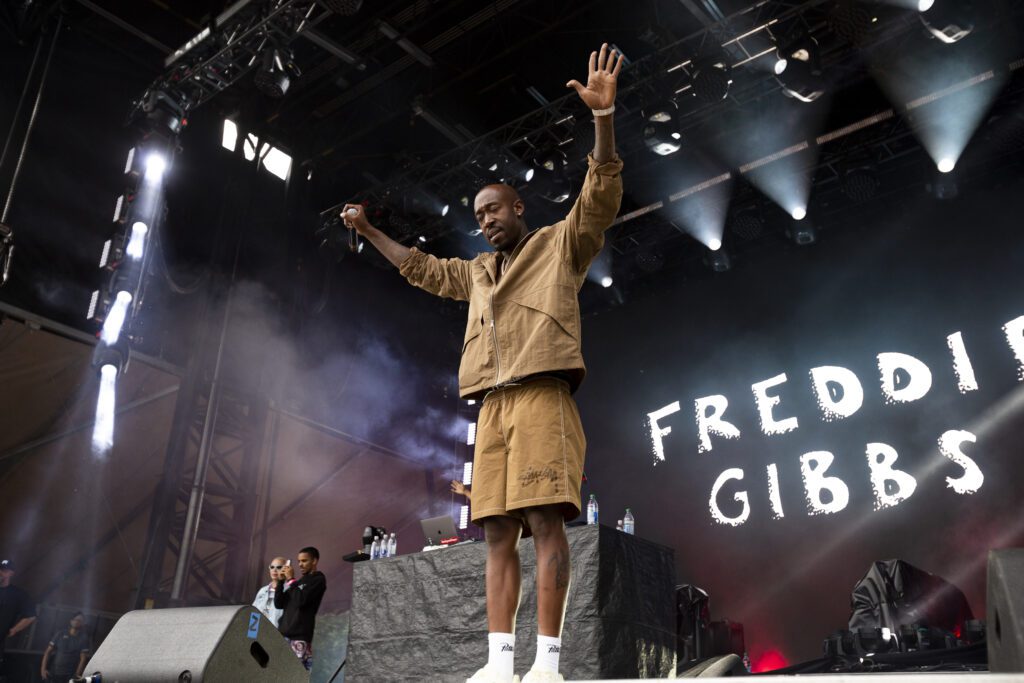 After Freddie Gibb's set was slowthai, an angry Brit rapper who loves controversy and rose to prominence for his politically-charged lyrics in Nothing Great About Britain around the time Brexit was popping off. His music is abrasive and loud, kind of using aspects of grime and dirty trap music. Not really my cup of tea and his violence all seems like an act. He seemed to want to get a rise out of people. He also came out wearing that shirt with a swastika on it and the festival had to formally apologize for it a day after his set.
"Anyone who disagrees with you will end up in a body bag," slowthai shouted over the mic as he took off the shirt to reveal a canvas of tattoos. I'm sure slowthai is actually a quiet British boy in person, but who knows? He also got a fan from the crowd to rap with him on the track "Inglorious," and she did pretty well. I can't imagine the rush you get from something like that.
I was excited for Khruangbin, a psychedelic rock three-piece that has served as my background writing music since I discovered them during the first lockdown of 2020. Osheaga put them on main stage which seemed like a weird move considering they're mostly a trippy instrumental band and for some reason, no one was dancing. The music was great, the sound pristine, but maybe people wanted more hip hop. I however loved every minute of it. The visuals on the big screen, featuring the members of the band shifting, phasing out, and melting were a nice touch and I could listen to Laura Lee on bass and Mark Speer on guitar jamming for hours. At one point they played a medley of covers, some that made sense like "Miserlou" and others that made no sense like Elron John's "Bennie and the Jets."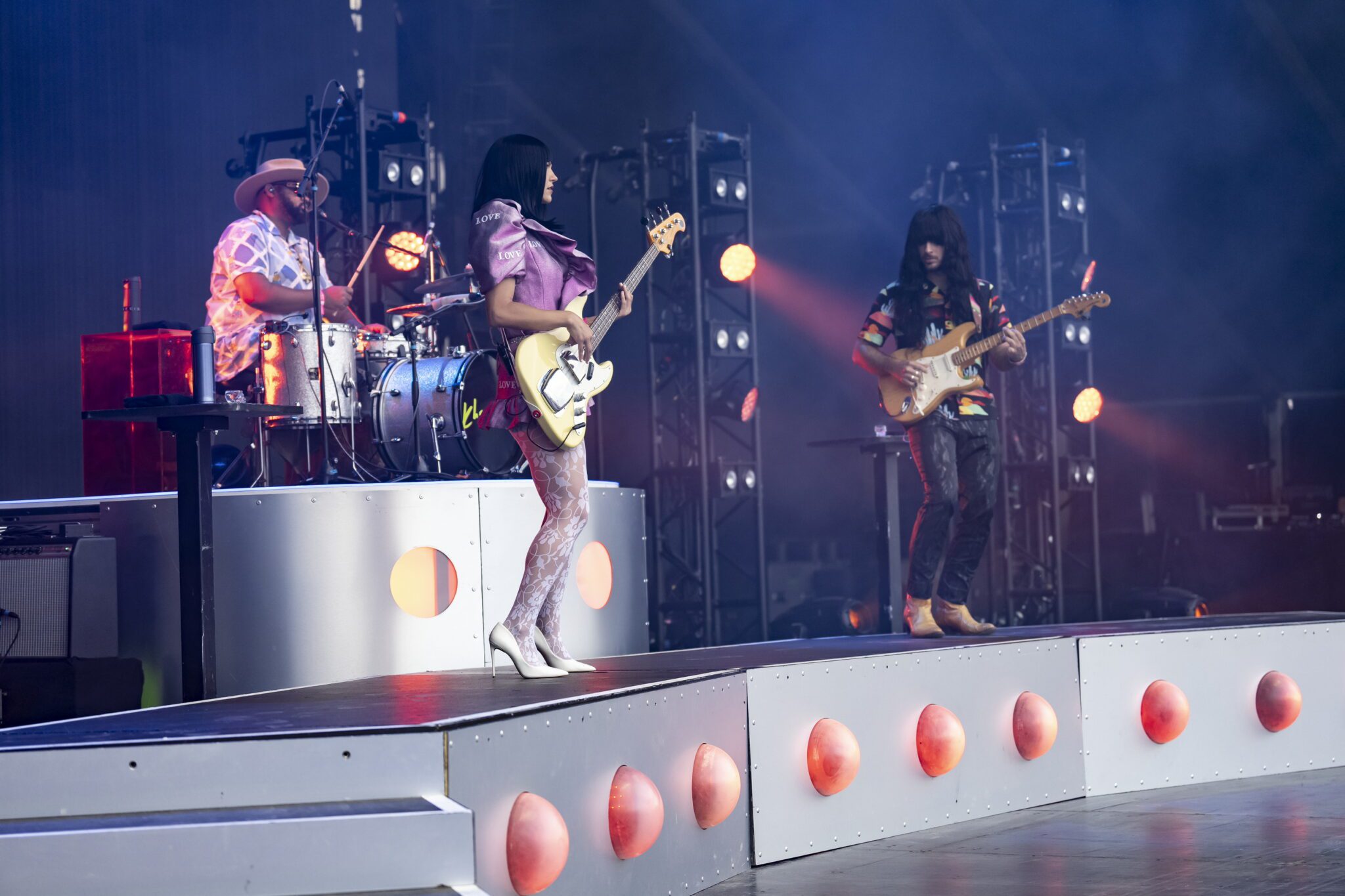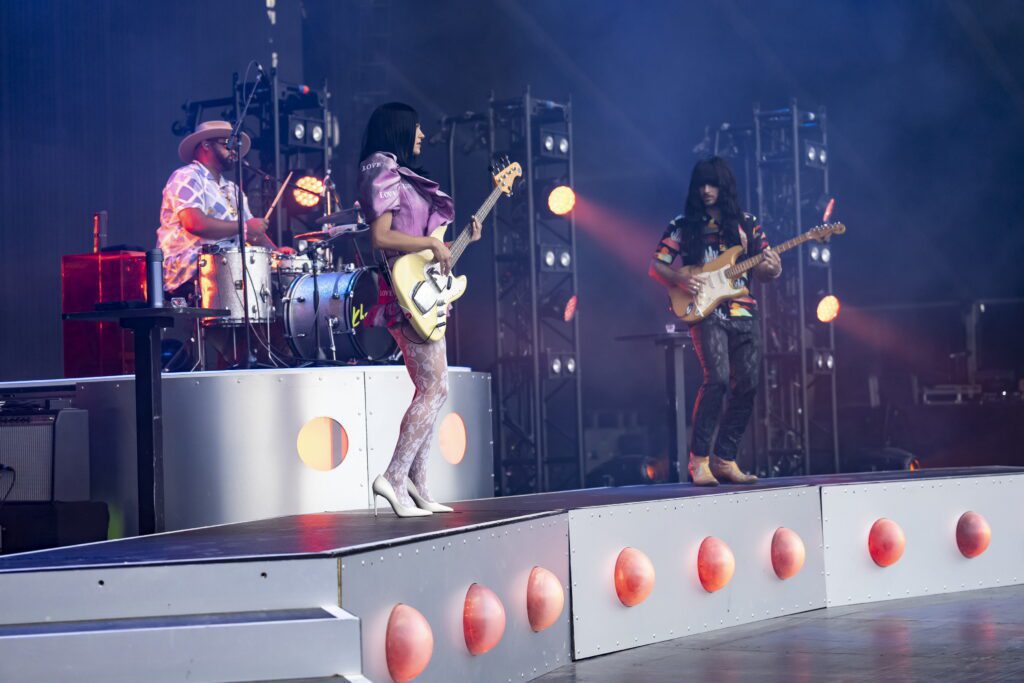 After Khruangbin, I checked out 100 gecs, and I still don't really know what I witnessed. One guy is dressed as an anime character and the girl is screaming garbage into an auto-tuned mic. Maybe it's my age catching up to me but I don't get the hype with this internet-famous band. I personally can't stand auto tune and 100 gecs is all about that, fusing hyper pop (but not the same way as Charli XCX, which I would call, well, music) and production of god knows what else. I guess I'm not young enough to understand or care about 100 gecs, but to me, this was horrid 
I needed a pallet-cleanse and that came with Polo & Pan, an electronic dup from France who are whiz masters at creating calming dance pop. The visuals on the stage reminded me of when I went to electronic festivals many years ago.
I caught a bit of Burna Boy and I'll probably have to check him out now when I want music for madness. He had a 15-piece band and looks like a Nigerian prince on stage. His blend of dancehall and reggae rap was off-putting at first, but I can say that I was pretty hooked by his showmanship.
I didn't really care about Future and never have so I went for a bit of Caribou which really surprised me. I expected a backing track and DJ, but he had a full band and blew me away with his mix of folktronica and soft dance. My only gripe was with the crowd who was looking for mayhem, I guess I would too if I was at the same EDM stage consuming drugs for eight hours.
Day 3
I came later on day three burnt out. I heard the heavy riff tunes of Royal Blood as I biked through a sunny backwoods path in Parc Jean-Drapeau. I saw a tail end of their set many years ago when they opened for Queens of the Stone Age and they seem to be doing well.
I caught a few minutes of girl in red, who sounds as if Billie Eilish fronted Blur, and wish I saw more. At only 23 years old I expect great things from this Norwegian singer-songwriter.
Lucy Dacus was playing a quiet set at the same time and the crowd was tiny. It's a shame because her Montreal show was packed and the sound was a million times better. Still, she killed her set and ended it with the indie rock fav "Night Shift," having even the older crowd singing along. I would recommend checking her out next time she comes. She's a more personal Phoebe Bridgers in my opinion and you can't judge an artist based on a festival set.
My serotonin was depleted by the time Glass Animals were on so I caught one or two songs that were great, but again, I was devoid of energy. I needed to find a pick-me-up for Wet Leg. It turns out that pick me up was a bit of weed, a few Coors Banquets, and Wet Leg themselves playing their Canada debut at Osheaga. This young band that gained virality with their quick-wit post-punk and indie rock on songs like "Chaise Lounge," was a marvel live. Their stage banter was hilarious and you could tell they were having the best times of their life. I've never seen so many smiles from a band. One of the tops of my Osheaga, easy.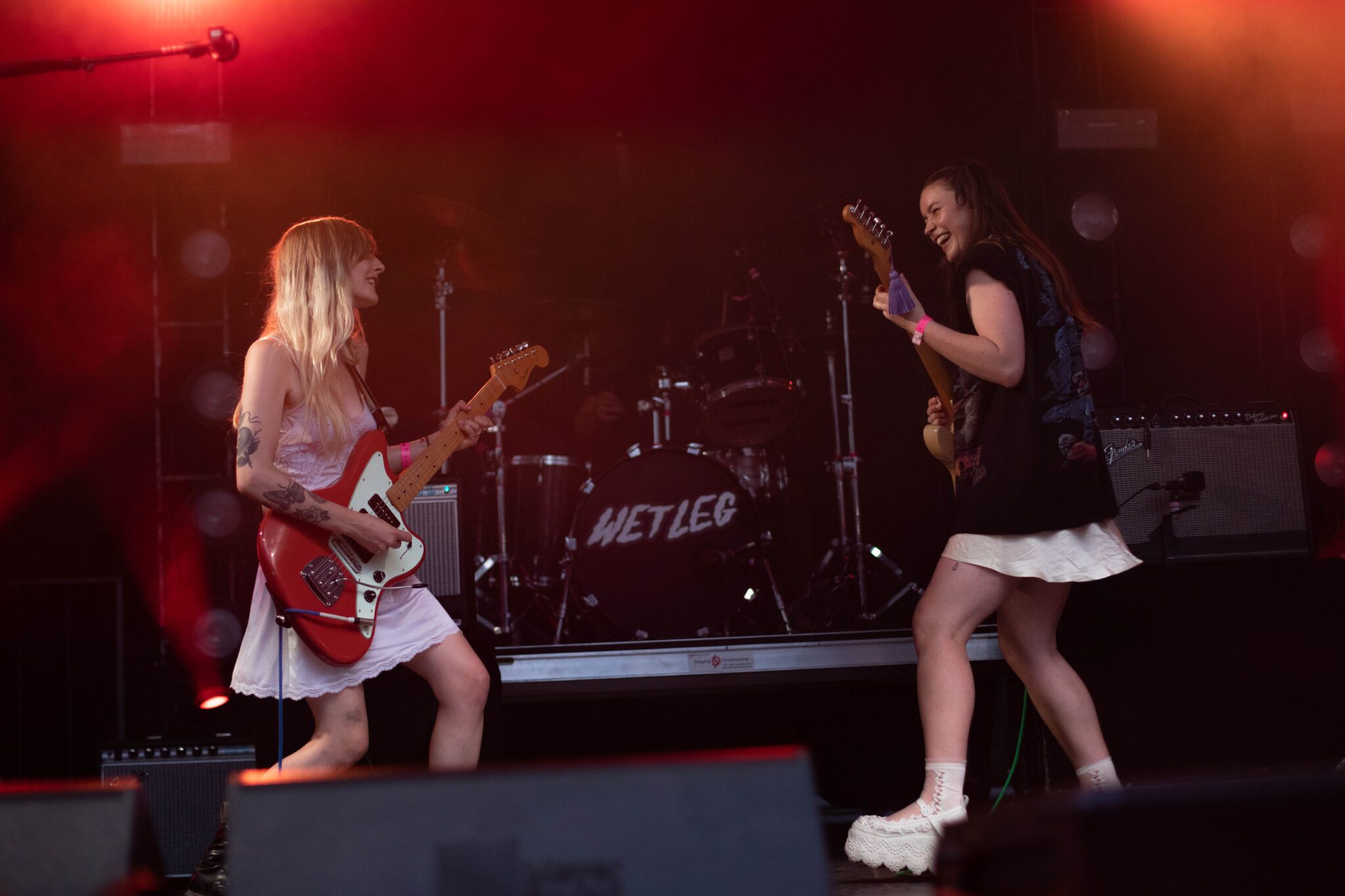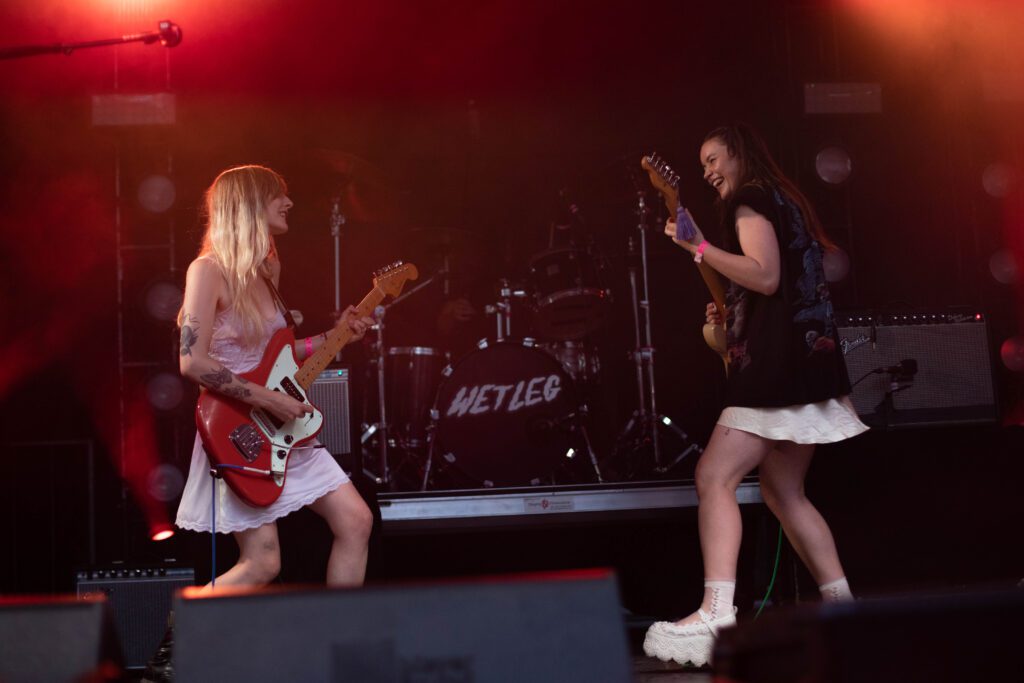 I couldn't give two shits about Machine Gun Kelly. All I know is he's dating Megan Fox and plays some form of pop punk and hip hop. He came out looking like an ad for Pepto Bismol and man is his music just awful. I hate really hate how influencers are faking their way into playing live music. Again it could just be age, but I don't get it.
Luckily I left early to get a good spot for Idles, the post-punk stooges from Bristol who sound like a rock n' roll curb stomp on record. I work out to their music all the time and their debut LP, Brutalism is still one of my favourite albums. They unleashed an onslaught of songs before saying "Hello" to the crowd and I craved more. And more I got as their guitarist Mark Bowen ran around like a madman in a flower dress during "I'm Scum." Bravado, intensity, satire, these lads have it all.
"Who here is scum bag?" asked vocalist Joe Talbot. The crowd screamed and the band played on. At one point, and I'm still not sure if this was for theatrics, it seemed like someone in the crowd wanted to fight Talbot and tried to keep getting him to come and confront him in the crowd.
"Everyone shut up. This guy has something important to say," Talbot said. "No mate, I'm not coming into the crowd 'cause I like it up here."
They launched into "The Wheel" off the latest album Crawler. This song sounded so good live with its chimerical chord structure and Talbot's off-the-cuff lyricism. He's an angry pacifist on the mic and it's a splendor to witness. They closed with the pro-immigrant song "Danny Nedelko" and that was that. Nothing would really top my night.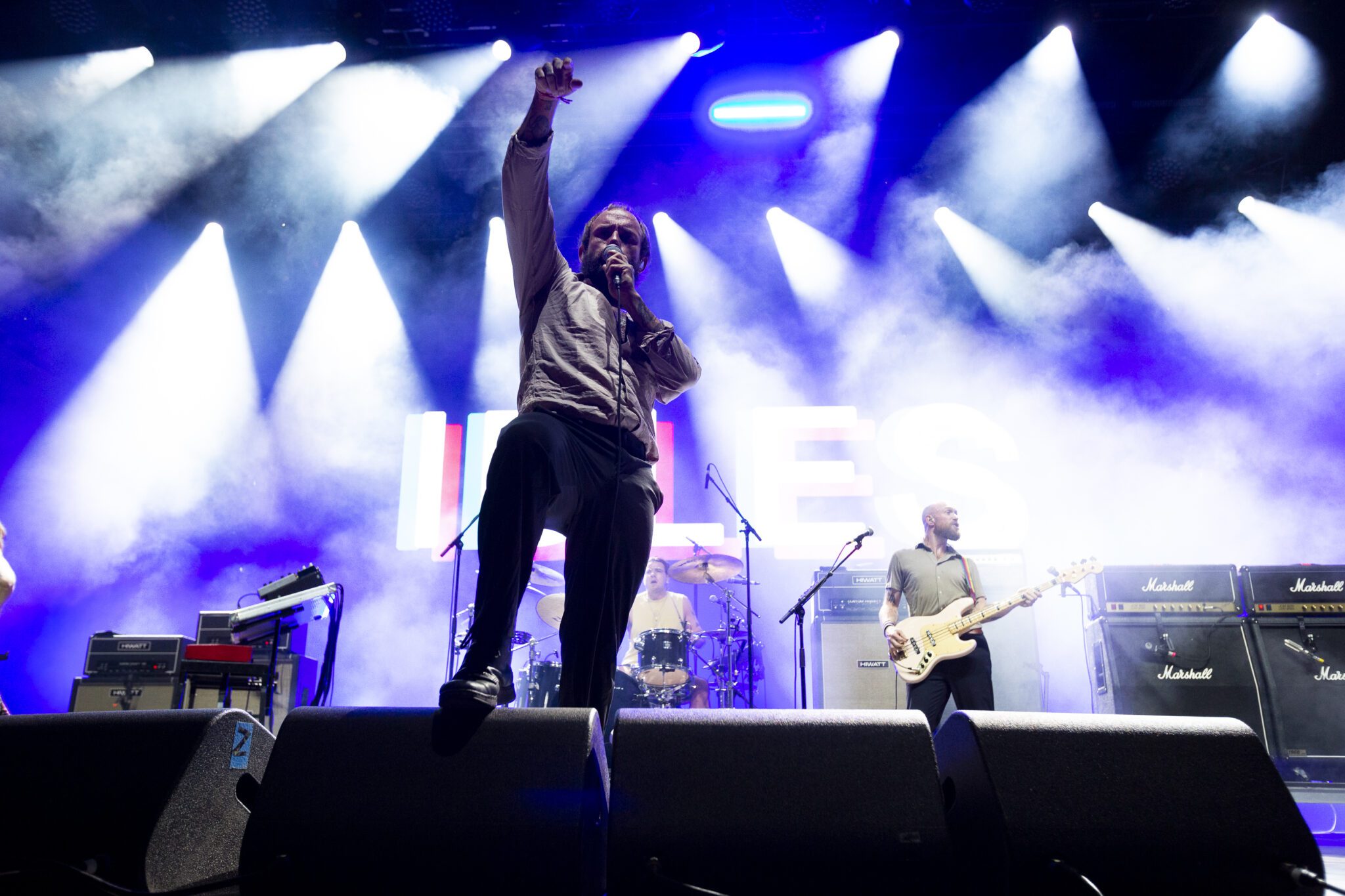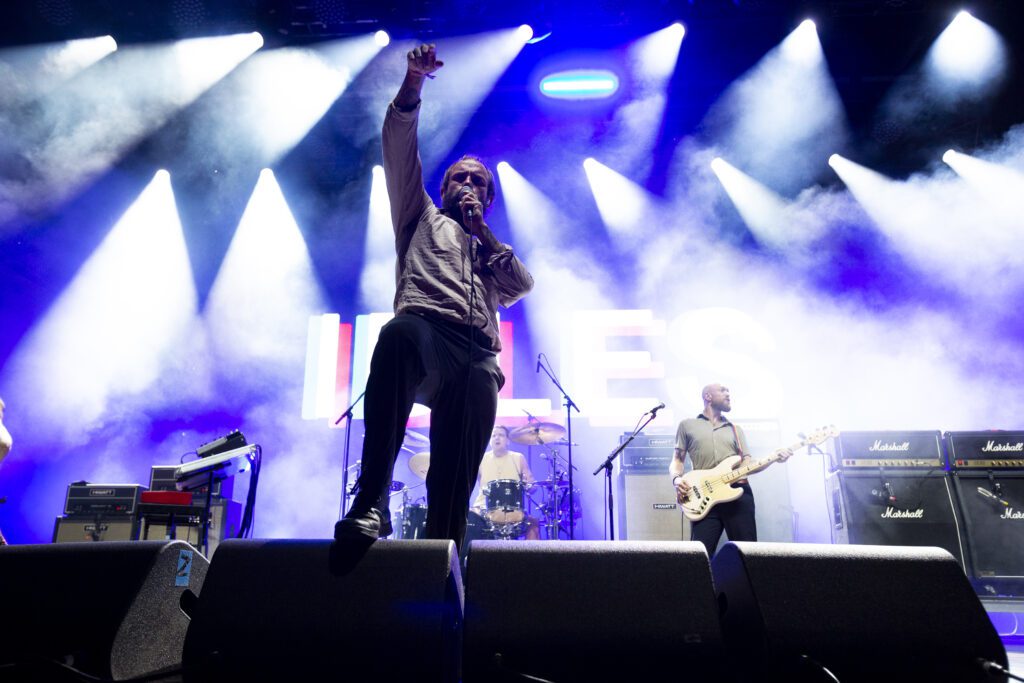 Although as I walked to the VIP area to drink the night away, I caught a few songs by Dua Lipa, who is basically this generation's … Madonna I guess? She had more than 10 backup dancers and her disco pop was quite enjoyable. She also has a terrific voice and only uses a few vocal tricks here and there. When I listen to modern pop music, it's hard to know what's genuine anymore. Dua Lipa is a genuine megastar.
And with that, my first Osheaga was over. Who knows what's in store next year.
Photos courtesy of Osheaga Festival