Dark Disco and Flowery Sea Monsters: Our account of the Distorsion Théâtre Plaza Takeover series
This past weekend in Montreal was host to a number of shows within the heart of the city's music scene, but none stood up to the spirited passion and wild experimentation of the Distorsion Théâtre Plaza Takeover series. Essentially a mini version of the beloved Distorsion Psych Fest, each night of the mini-festival had its own vibe, down to the projections (thanks to the wonderfully talented Anthony Piazza)—more on him and his work later—music, dress code, and for this writer, alcoholic pairing.
The venue choice of Théâtre Plaza was also perfect—with its ostentatious chandeliers, half-circle floor bar, and exquisite art deco ceilings, juxtaposed by metal railings and hundreds of psych-rock lovers in jean jackets and fashionista outfits. This venue used to be the premiere theatre for watching 35mm films in the '60s and '70s until it shut down and was reopened in 2003 as a multi-cultural arts venue. It's basically Montreal's mini version of The Beacon Theatre in New York. The timing of the Distorsion takeover also aligned with the historic theatre's 100-year birthday.
Day 1 (Crabe, Editrix, Deerhoof)
Are you even a Montreal live music fan if you haven't seen Crabe live? The band has been around in some way shape or form for the last 15 years (with eight albums and a few EPS) and is a staple in the Quebec experimental music scene. I arrived a little late and missed most of Crabe's set, but from other shows I've seen, I can tell you they are one of the most surreal and ridiculous local bands in recent memory. Their sets are visceral, complex, and satirical, laying down what they call "present-punk," with a concoction of bouncing guitar hooks and breakneck drumbeats. They no doubt played tracks from their latest album Sentients but also spliced in the Nintendo Wii console theme and a cover of "Baby Annette" from the Sparks musical film Annette. The perfect way to open a festival.
Next was a band called Editrix, a three-piece from Easthampton, Massachusetts, that could be described as a female-fronted Primus. Their music was a ferocious blend of psych, prog, noise, and jazz. We all watched and heard the angelic falsettos from lead singer Wendy Eisenberg as she played complex math-rock guitar scales that could make your head spin. Editrix was tight and the projections of old black and white science how-to videos, mixed with superimposed images of neon green beakers and Edison bulbs added to the psychedelic hilarity. They certainly found more fans after their Distorsion set.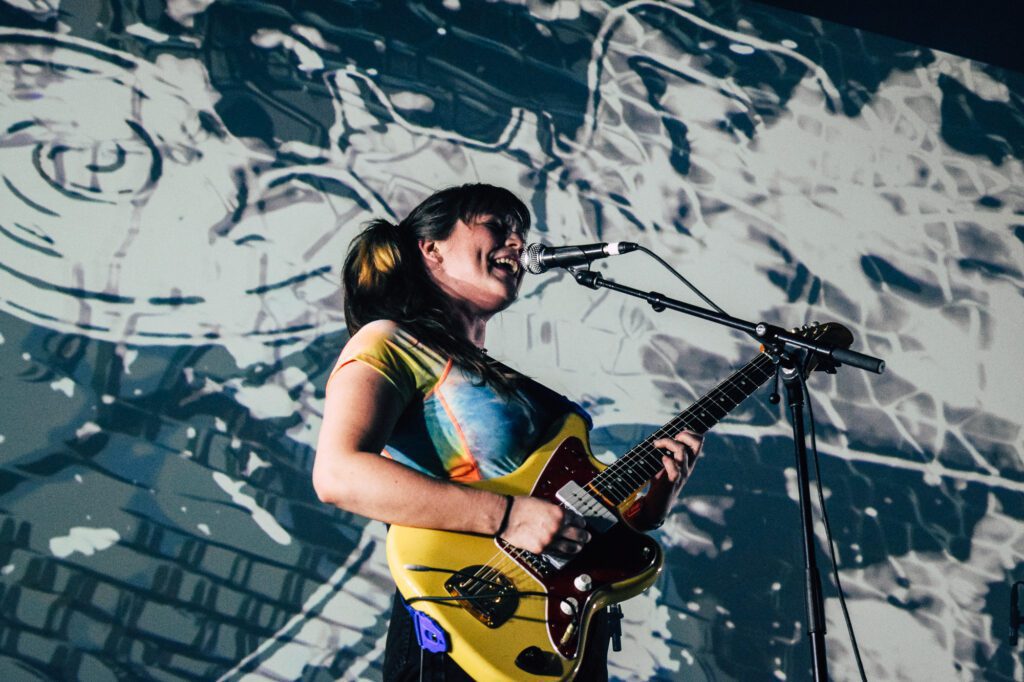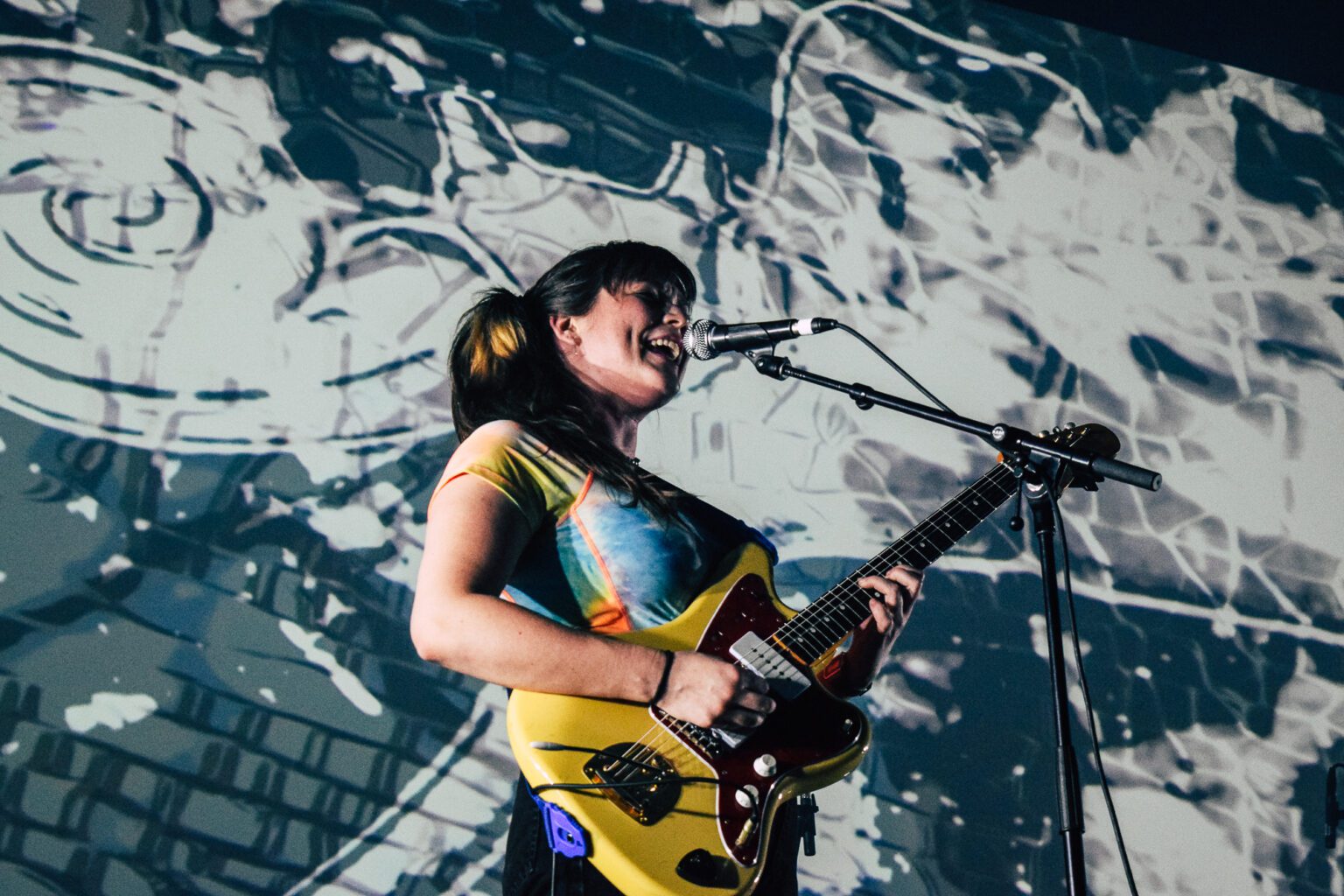 The main event of the evening was the experimental indie pop-rock of Deerhoof, a group from San Francisco. There's a huge childlike glee to Deerhoof's music which is a bit shoegaze meets indie rock and they're pros—being around since the mid-90s—of setting up an experimental ambiance. The projections for their set were quite static, focusing on a mutating sunset, and having the audience focus on the instrumentation of every song. This did change however during the last few songs when the projections turned into lips and colourful radiating teeth.
Each member looks like a bonafide rockstar with their own expertise—the combined guitar wankery of Ed Rodriguez and John Dieterich, sultry bass, dance moves, and hazy vocals of Satomi Matsuzaki, and manic batshit drumming of Greg Saunier.
"Last time we were here was 29 months ago at Sala Rossa," says Saunier to a cheering crowd. "We didn't know that it would be our last show for two years because of the state of the world, so this is really full circle for us."
Deerhoof played a near 15-song set and two encores and with that, Day 1 was complete.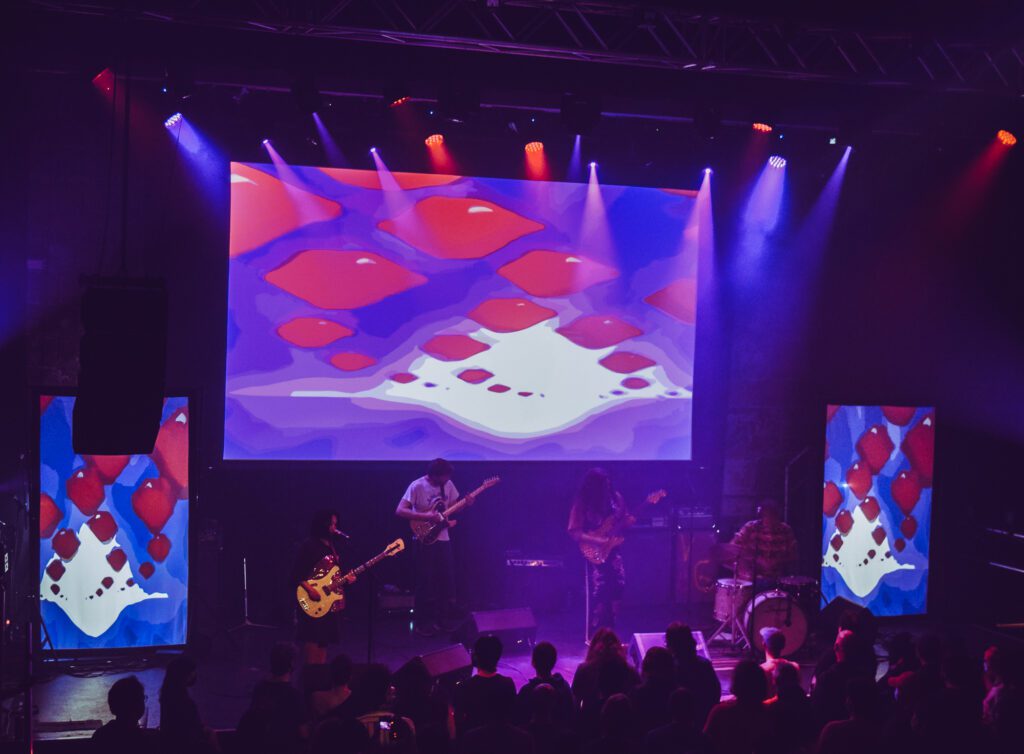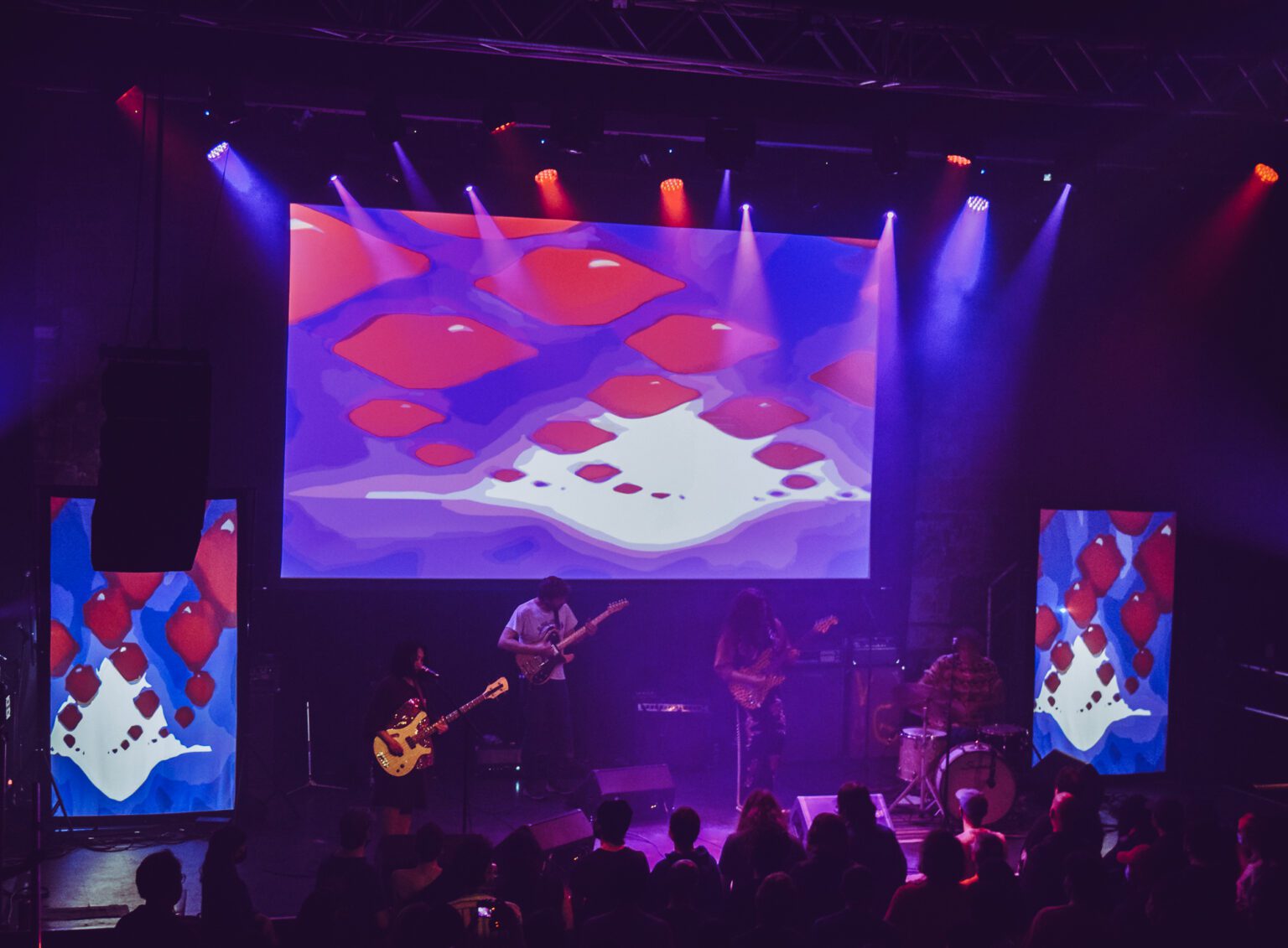 Day 2 (Meggie Lennon, Paul Jacobs, Fleece)
After a glass of brief champagne and cider (and one or two shots of vodka) cheers at the top of the skybox in Théâtre Plaza—made up of the performers, their friends, and the Mothland label—the people responsible for the diverse musical lineup of Distorsion and some of the best experimental music coming out of North America right now—it was time for some Meggie Lennon.
The sweet psych-pop, what she dubs "make-out dream pop" comes in waves, pairing nicely with the buzzing nature of the champagne. She and her band took the audience through a halcyon journey, playing many songs from her 2021 debut album, Sounds From Your Lips, as images of toucans, various fruits, summer waves, and floating eyes took up the screen behind her. Meggie has a bewitching quality to her. She comes off as coy and aloof when performing, cracking little jokes about being a "professional," after starting a song too early, but she is 100 % genuine and she and her band are a marvel to witness when they're in the zone. There's a bit of pageantry—to one of the guitarists sporting silk pajamas, somewhat matching Meggie's baby blue dress—but not too much. The show is about music and Meggie plays the role of as somewhat of a spiritual leader, inciting everyone to dance and feel the love. For that 40 minutes, we were all part of her imaginary cult.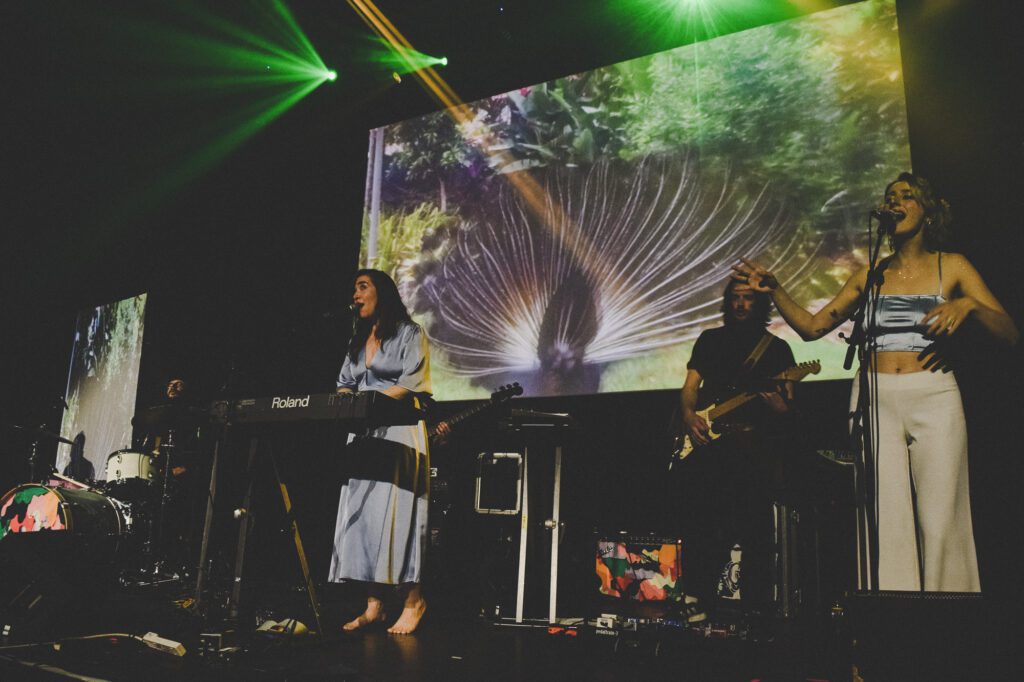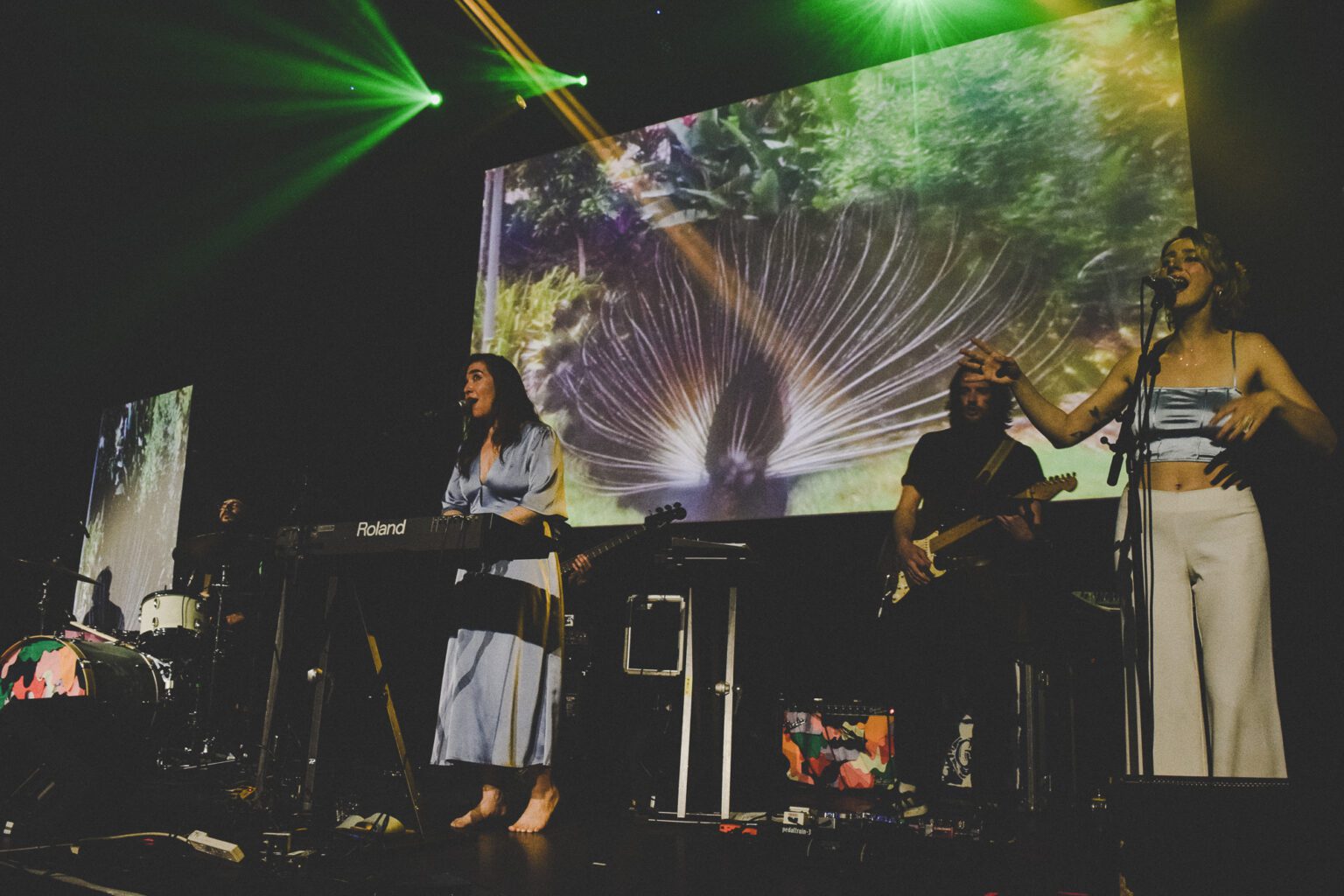 Paul Jacobs took the stage next, a perfect replacement for the booked Spaceface (you win again COVID), and played his wonderfully animated set of songs from his Pink Dogs on the Green Grass album. Much like Crabe, Paul Jacobs is a key figure in the Montreal psych scene, so this was my fifth or sixth time seeing him. Still, his show does not disappoint and the acoustic synth psych-jams he has carefully crafted with his band are incendiary. I still think of the dumb stupid grin I had when I saw him at FME last year for the first time and know some at Distorsion had the same.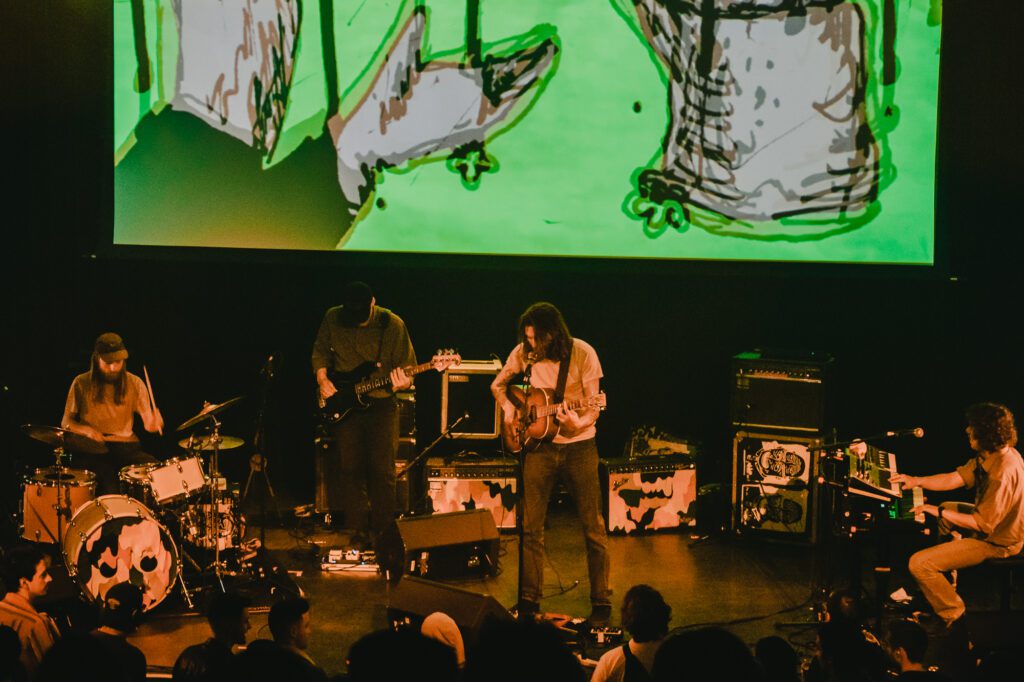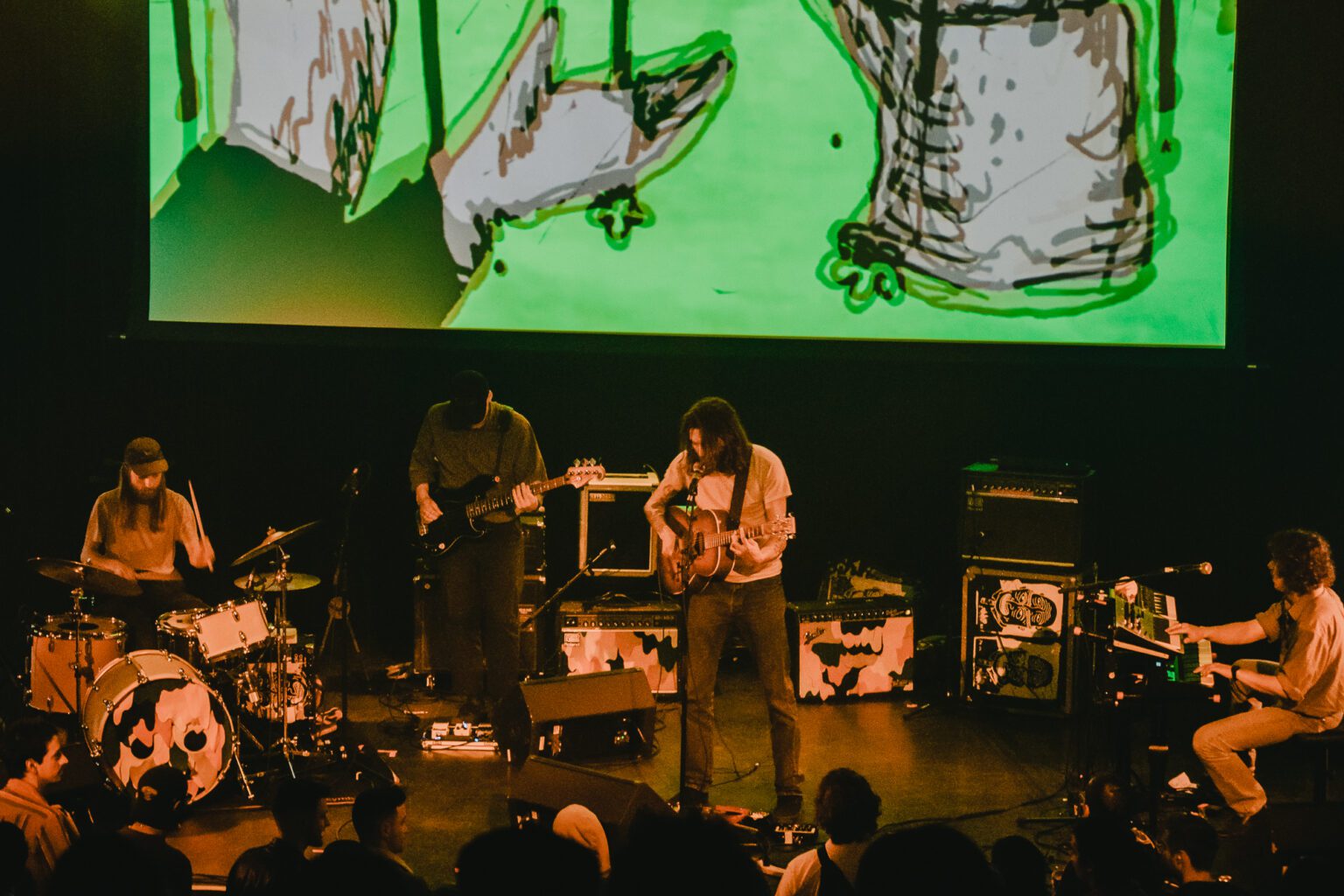 Fleece took the stage sometime later, a band I had no real knowledge of besides their "How to make an alt-J song," video that went viral, but I can say that their performance was one for the books. My colleague, Louise Jaunet, who was running around taking photos and grooving to their music, described Fleece as "generous and playful pop-rock a la Fleetwood Mac songs, exploring childhood memories or something. It is as if the unexpected meeting of a scary but funny monster hidden in the closet helped a little weird queer flower to bloom."
The scary and funny monster she is referring to appeared once before Fleece took the stage and during the encore. The outfit looked is supposed to be a sea monster, but looks more like a nightmarish flower (who is the centre of the band's 2021 Stunning & Atrocious album), who appeared with real flowers and began passing and throwing them into the crowd. This was after the Fleece members themselves went through three costume changes (tie-dye jumpsuits) as they played their lo-fi indie psych. By the end of the show, much of the crowd had their own flower and waved them in unison. Truly a magical night for the flower children.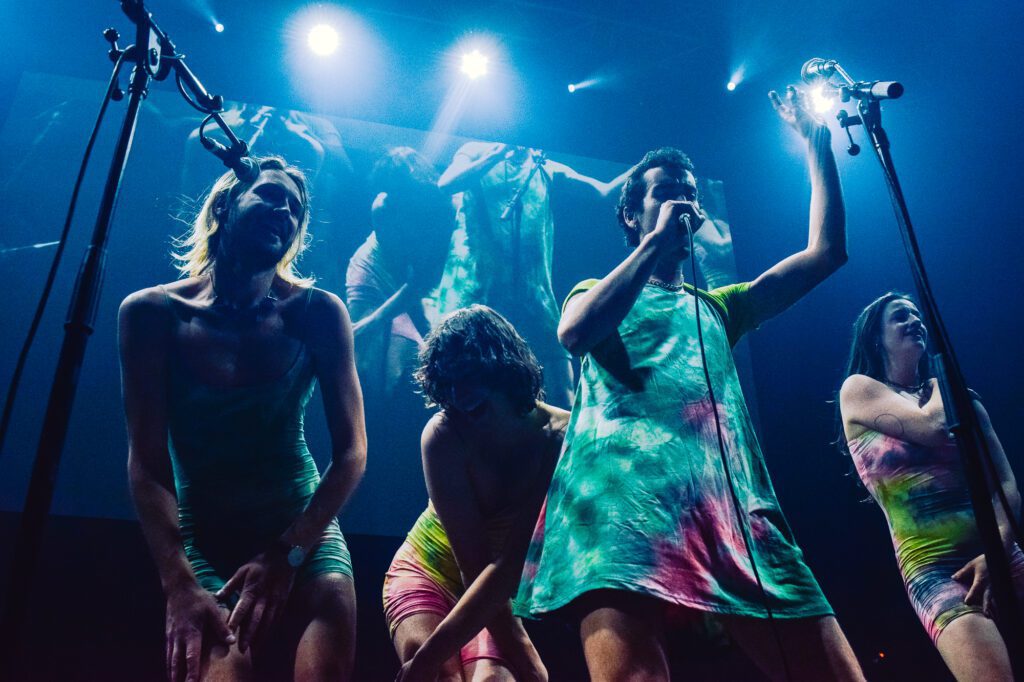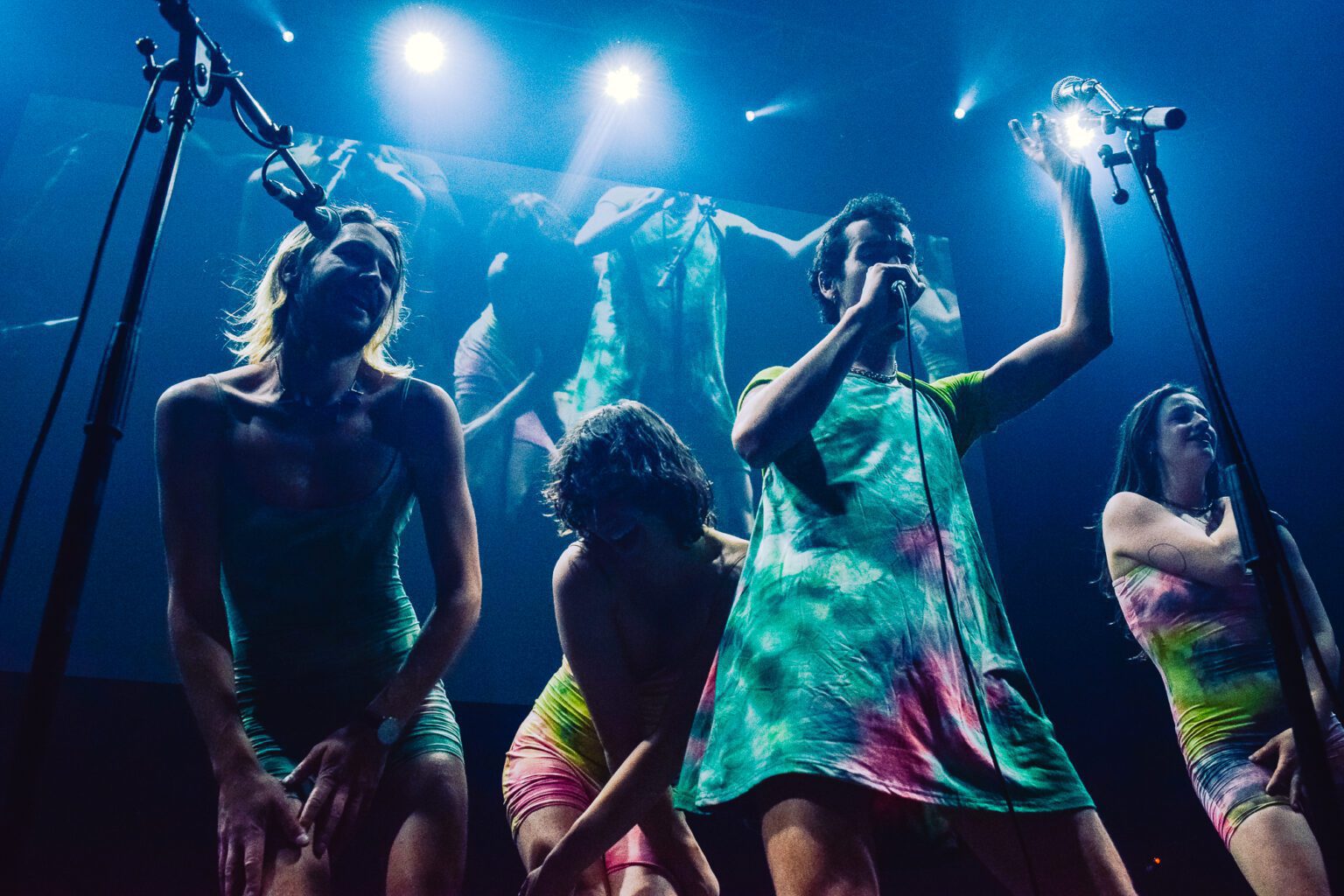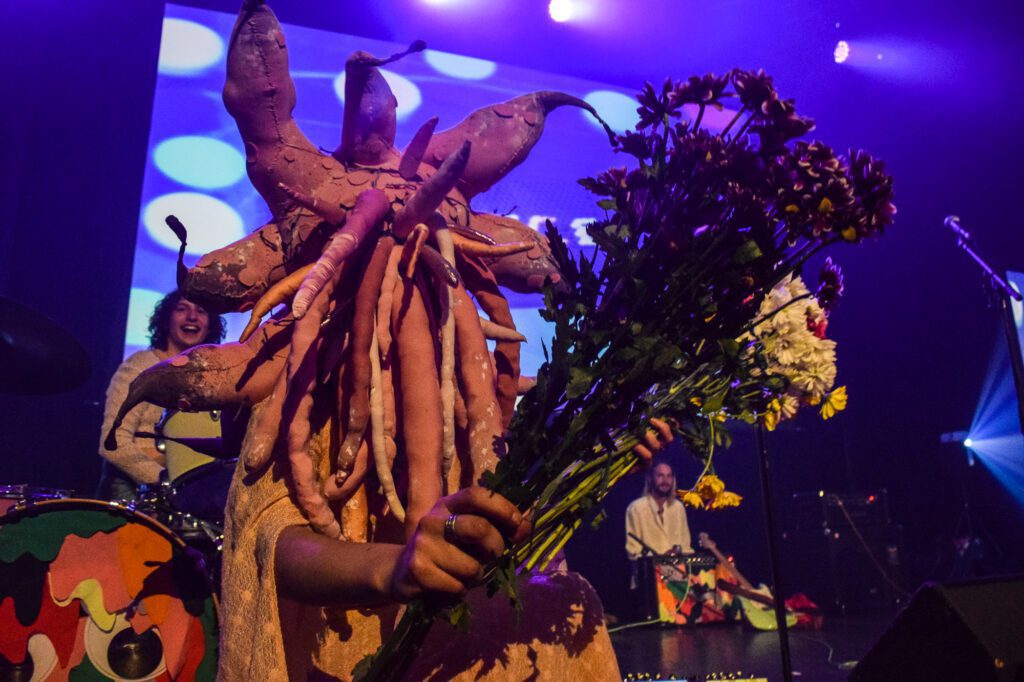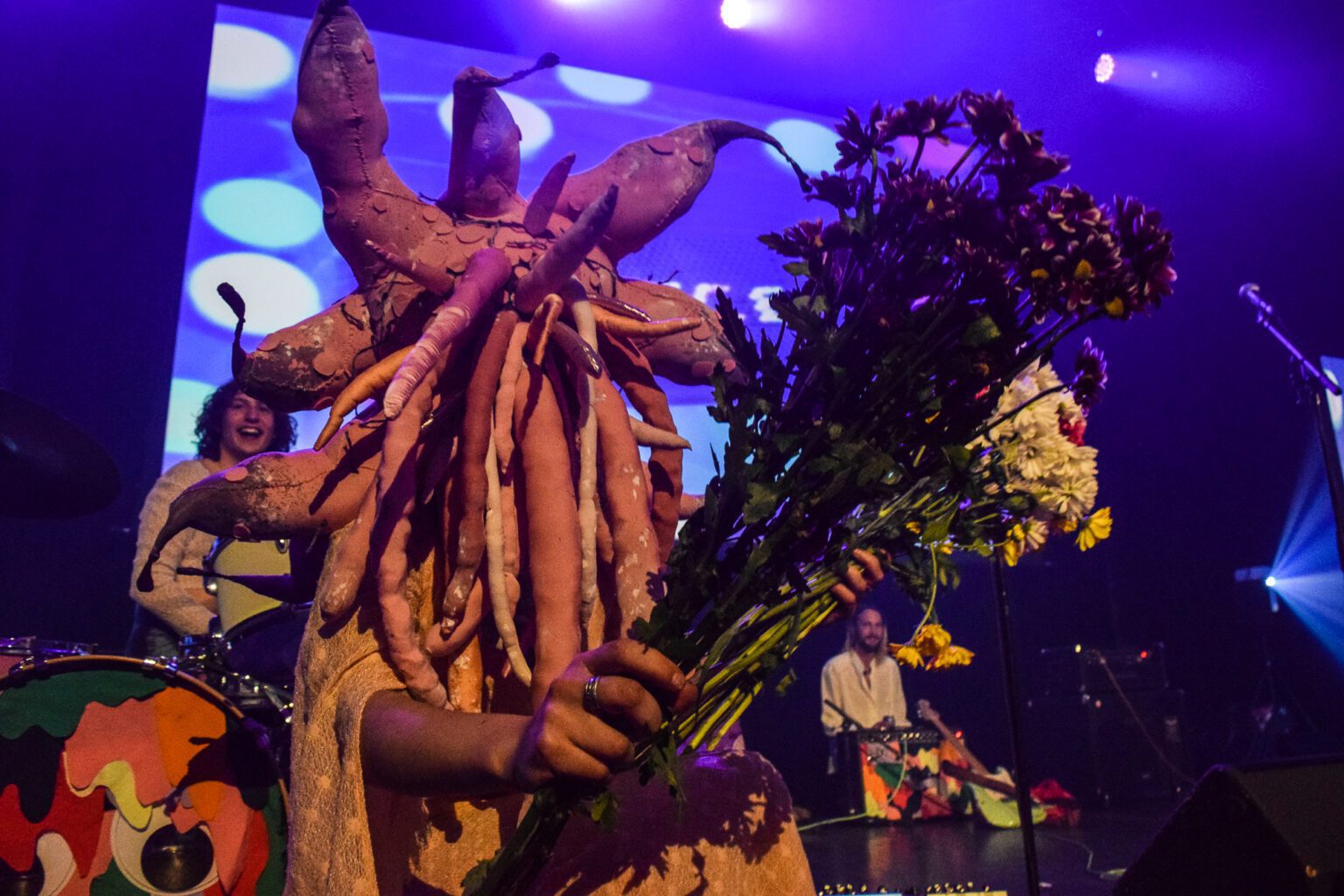 Day 3 (Celebrity Death Slot Machine, Pelada, The KVB)
In terms of attire, day two of the festival was all about colour (plaids, multicoloured dresses, shiny tube tops—you know, festival wear. But by Day 3, 80 % of the crowd was in black. It felt like a too cool underground German club inside the Théâtre Plaza. This is probably because this was the no-wave, coldwave, post-punk night of Distorsion and black has always seemed to be the outfit of choice. The merch table was full of The KVB albums and t-shirts, but behind, on a separate table was a multi-coloured toy slot machine and a bunch of t-shirts adorning crazed characters and smashed disco balls. This was the merch of Celebrity Death Slot Machine or CDSM, a new-wave, experimental dark disco group from Atlanta, making their international debut tonight.
As the band took the stage, a man in a white tank top with a blonde bowl cut grabs the mic and starts singing in a gothic baritone swagger about Joe Pesci, (the song's version of the boogeyman) kidnapping you for some torrid affair. It's called "Fresh Catch," from the debut EP Hell Stairs and the crowd was clearly not expecting it but danced into the madness of a disco-synth inferno. One synth player looked like a funkier Weird Al Yankovic, one bassist/guitarist looked like a '70s porno director with his shining gold pants. The drummer also wore a blood-red speed suit and cheetah print cowboy hat, because why not.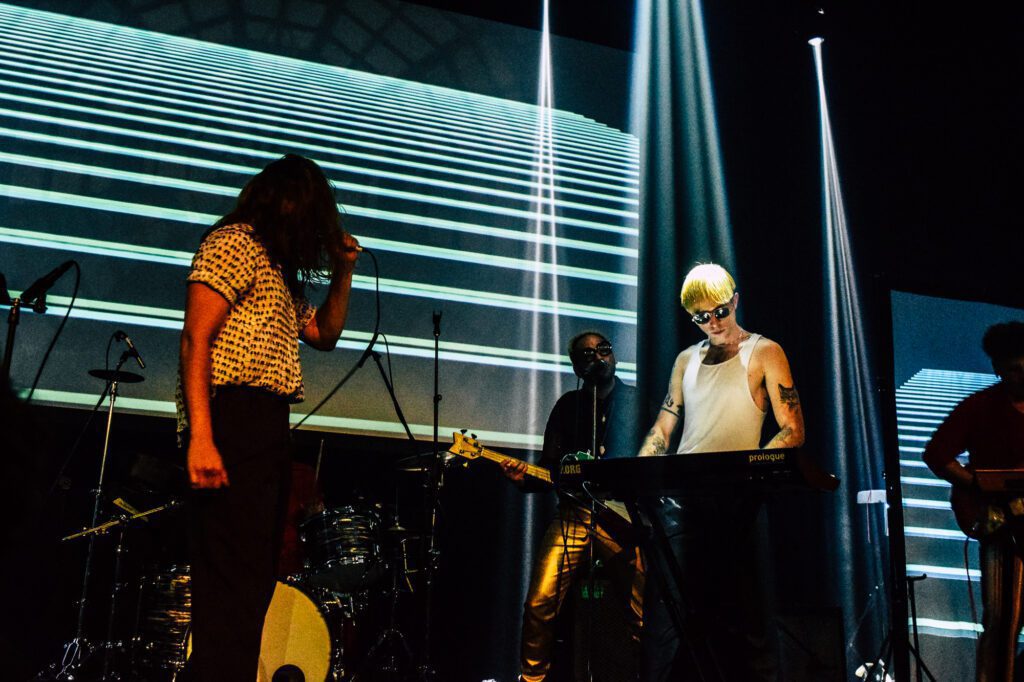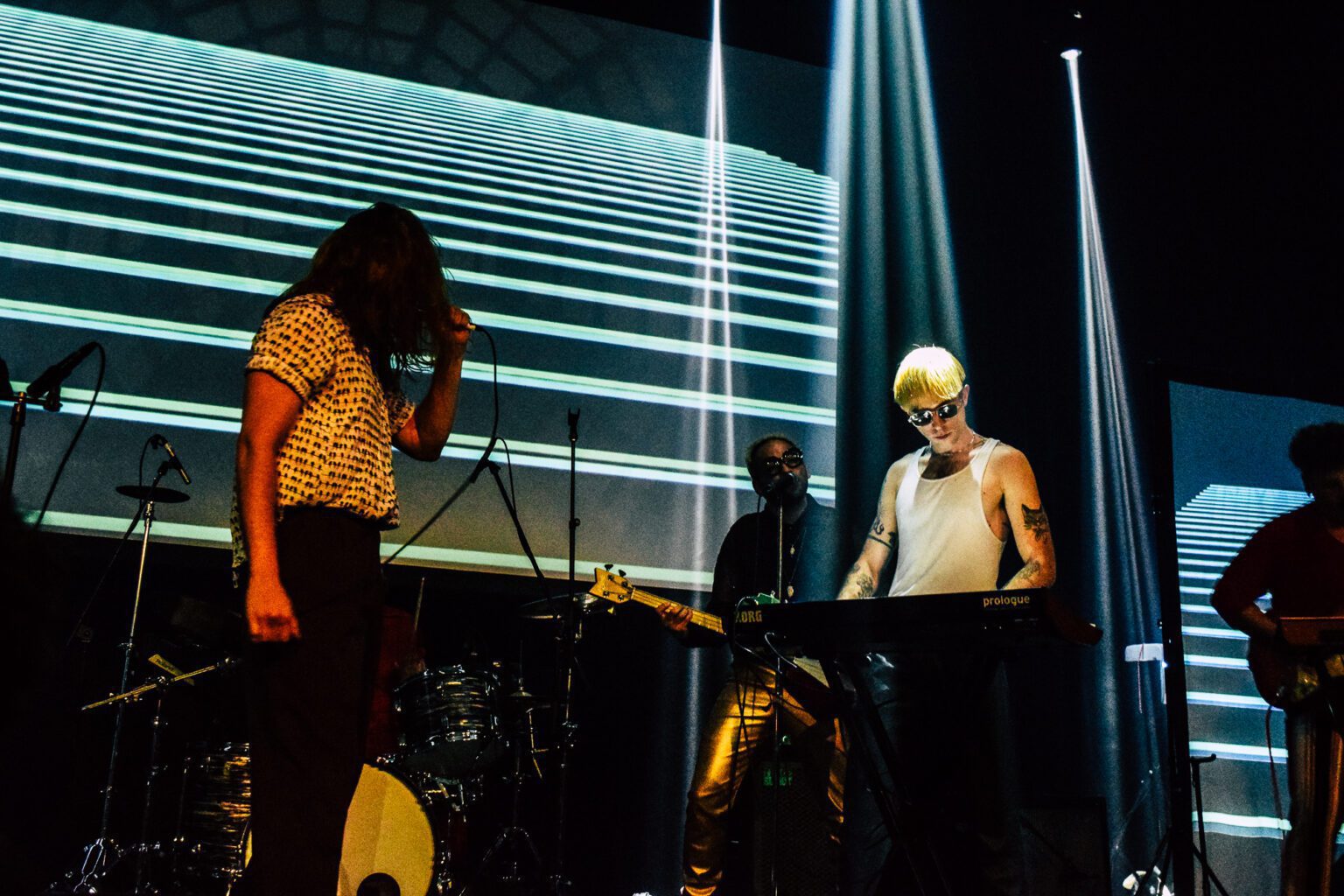 CDSM unleashed an onslaught of grooves that are on paper, farcical, and abstractly bizarre, but they work. They create a truly absurd atmosphere kind of like watching a surreal play unfold. This is in part thanks to the mesmerizing projections of Anthony Piazza—which played off of pentagrams, burning scenery, hypnotizing kaleidoscopes, slot machines, scratchy rats, and more.
CDSM would change up vocalists between songs, each with their own style. Much of the crowd was transfixed, watching the members switch instruments with ease—most notably Tyler Jundt holding the mic between his legs as he discharged a raucous saxophone solo. This band, although relatively new, could easily headline their own festival. They're that kind of band that will achieve cult status and steal the show from many of the headlining bands they're opening for. They're hard to follow up.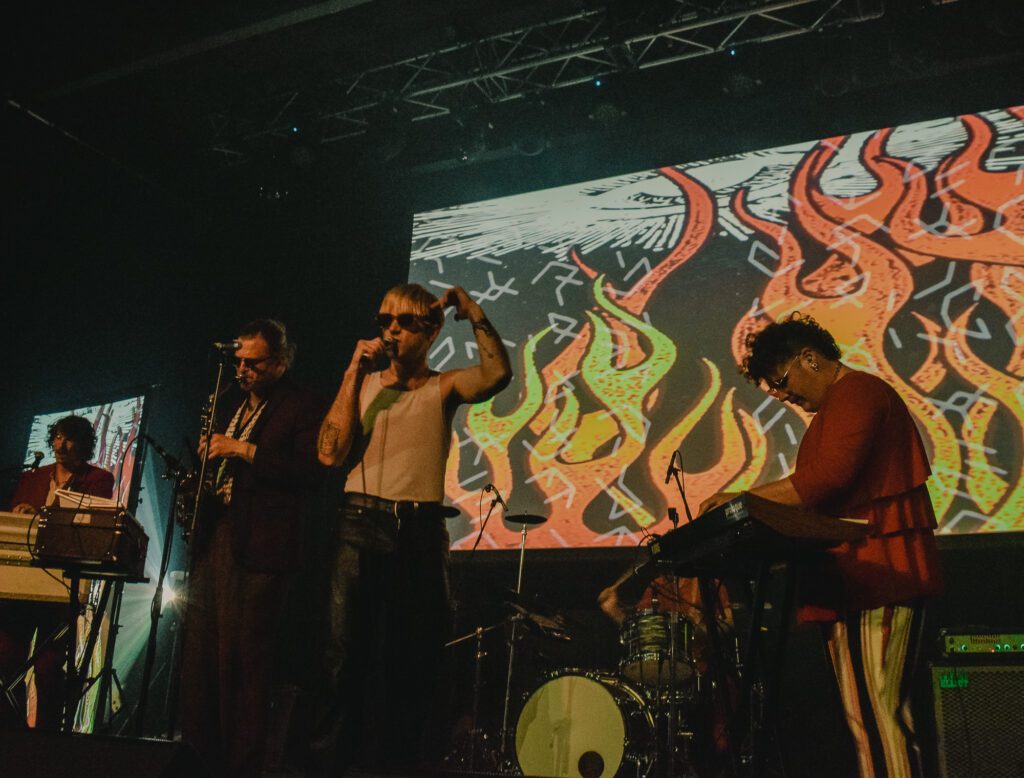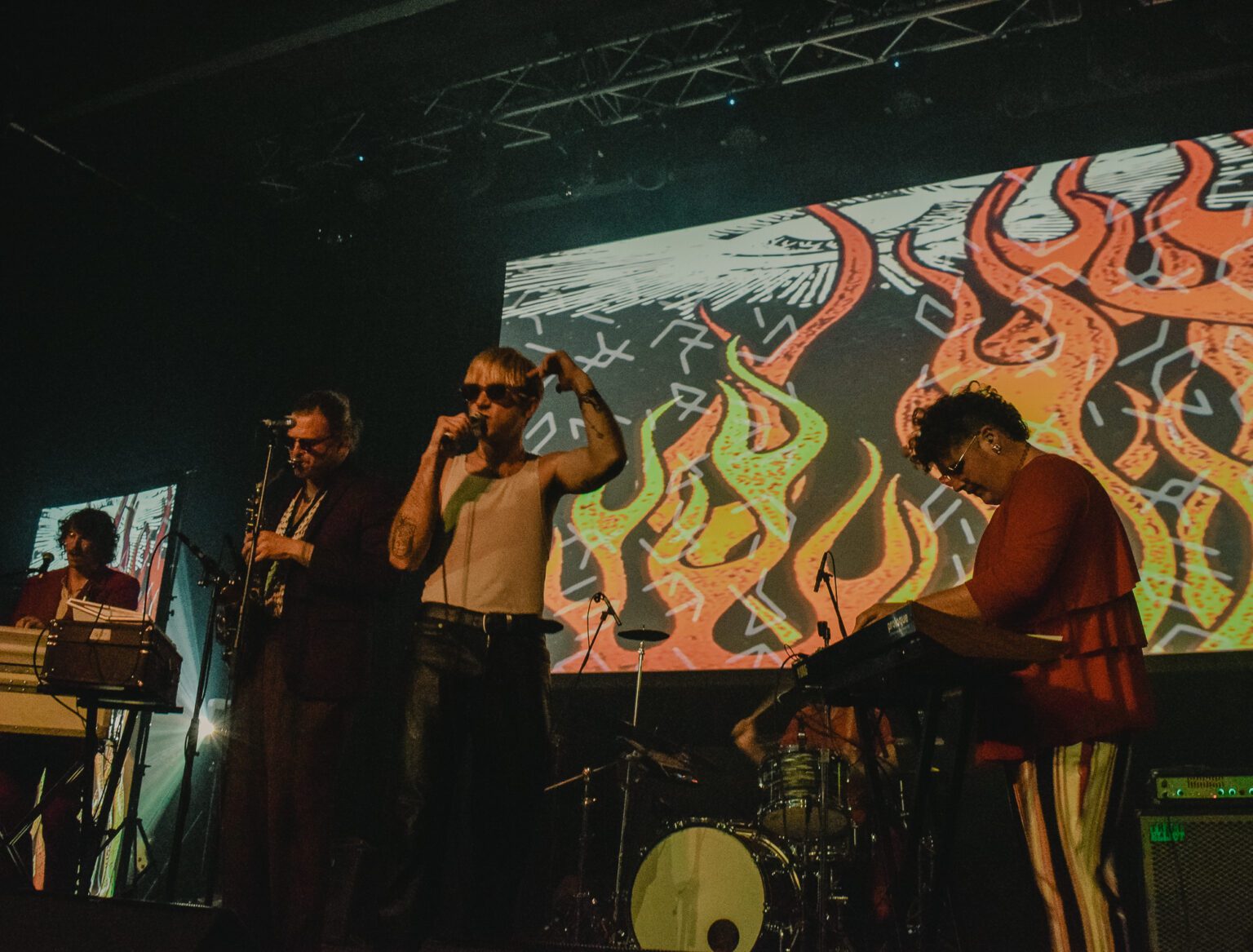 But the local Spanish acid techno house duo, Pelada, did with an unrivaled fury. The scenic backdrop was a carpet of flames as vocalist Chris Vargas called out systemic racial oppression, sexism, sexual harassment, and surveillance—donning, at first, a fuzzy purple coat and then becoming scantily clad in hard black leather. At one point Vargas told all of the men in the crowd to go to the back and make way for all of the women in the crowd. "
"I want this to be a safe space for all of my bitches in the crowd" Vargas chimed into the microphone.
Many men, out of respect did move to the back for a song or two, and Pelada launched into "A Mí Me Juzgan Por Ser Mujer ('I Am Judged Because I'm a Woman')." It was both a terrifying and gratifying set.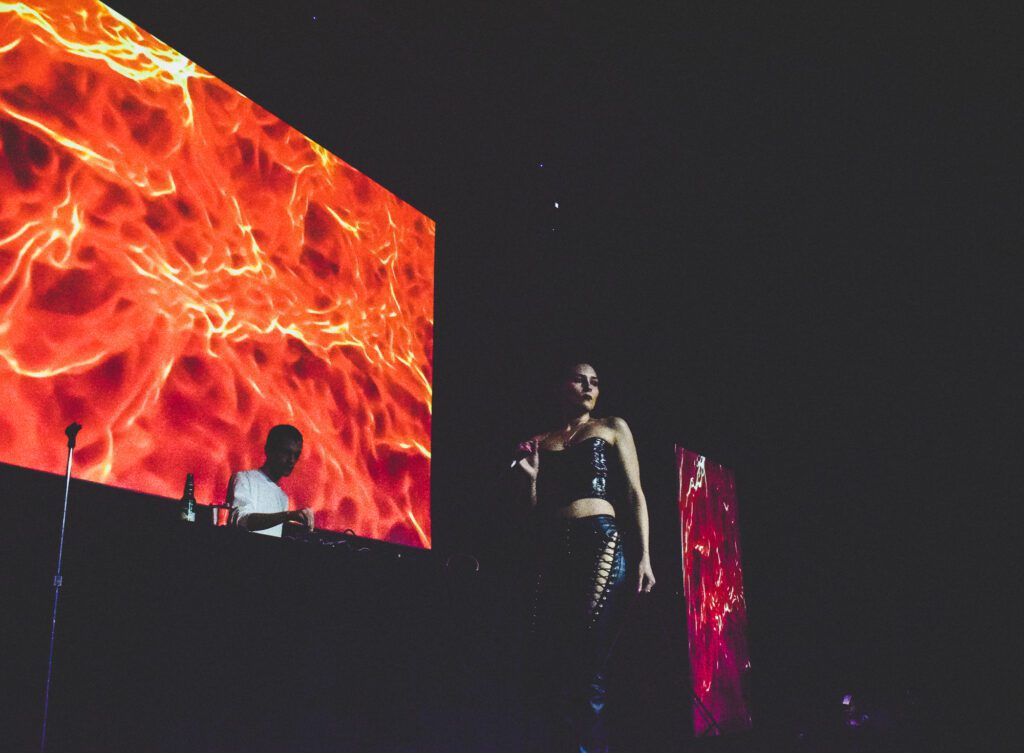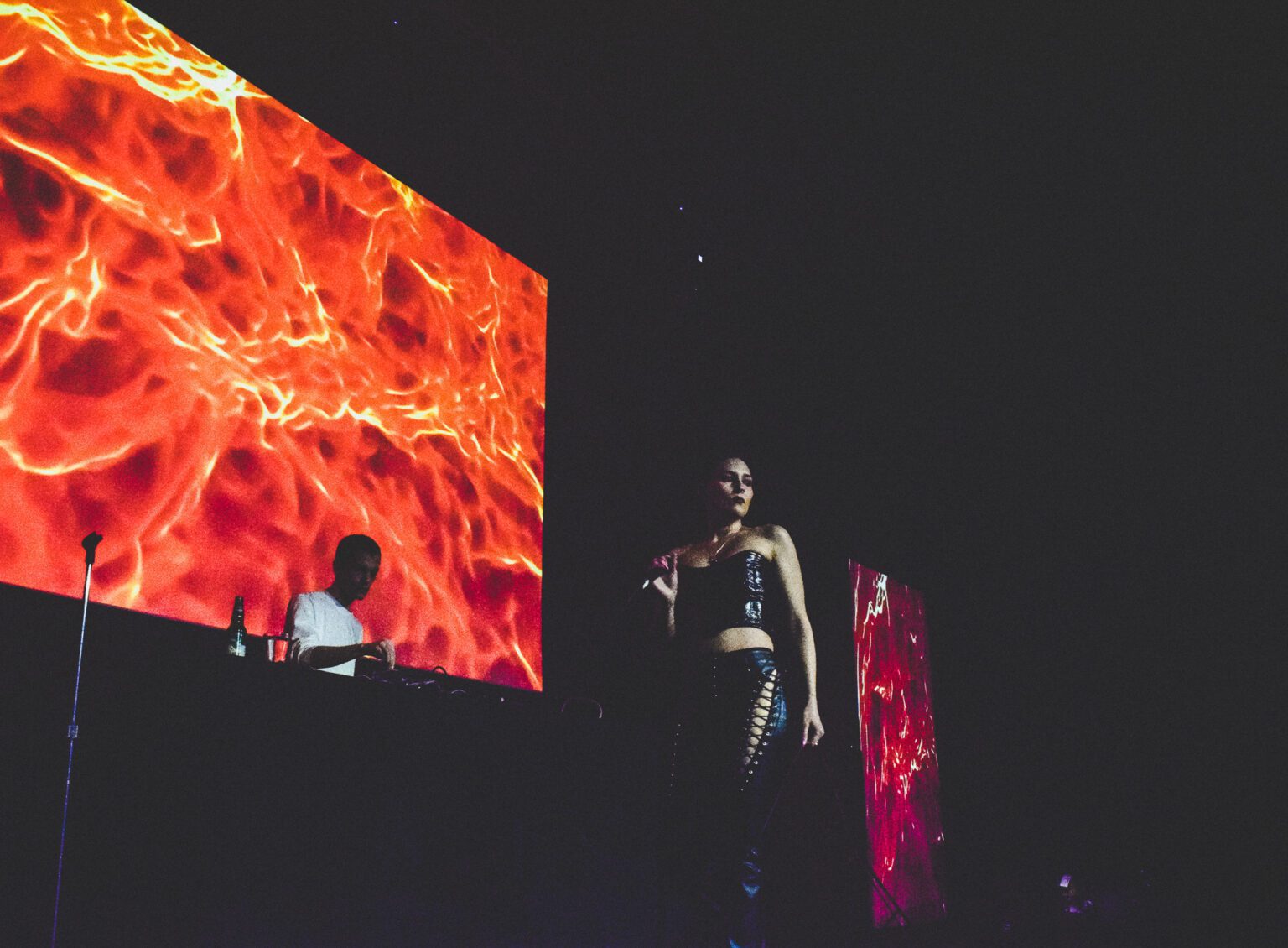 Last for Distorsion was The KVB, a Manchester, UK duo known for their distinctive blend of post-punk and shoegazey psych. Their set was grand and electric, filled with reverb and staircases of synthesizers playing old songs and new from the Unity album—a true performing band. A highlight was the visuals for the "Unite" single, where a futuristic industrial city blared as the band chanted "modular factory living." At one point, the mixing washed out the guitar and the set was significantly quieter, or maybe that was the gin and tonics—it's hard to say, but The KVB left the crowd feeling lighter.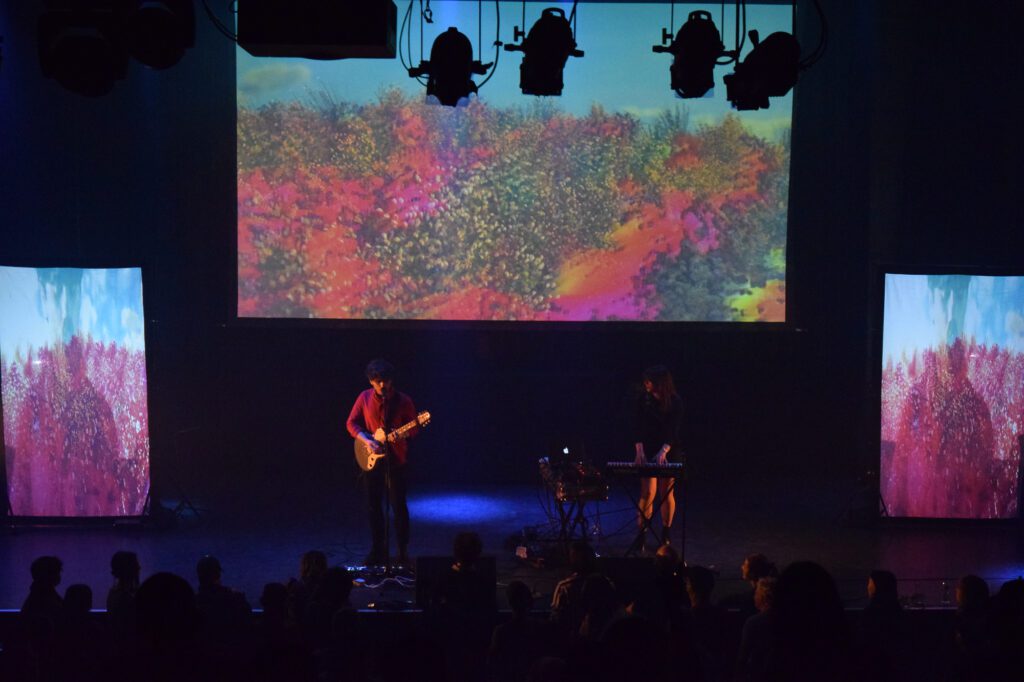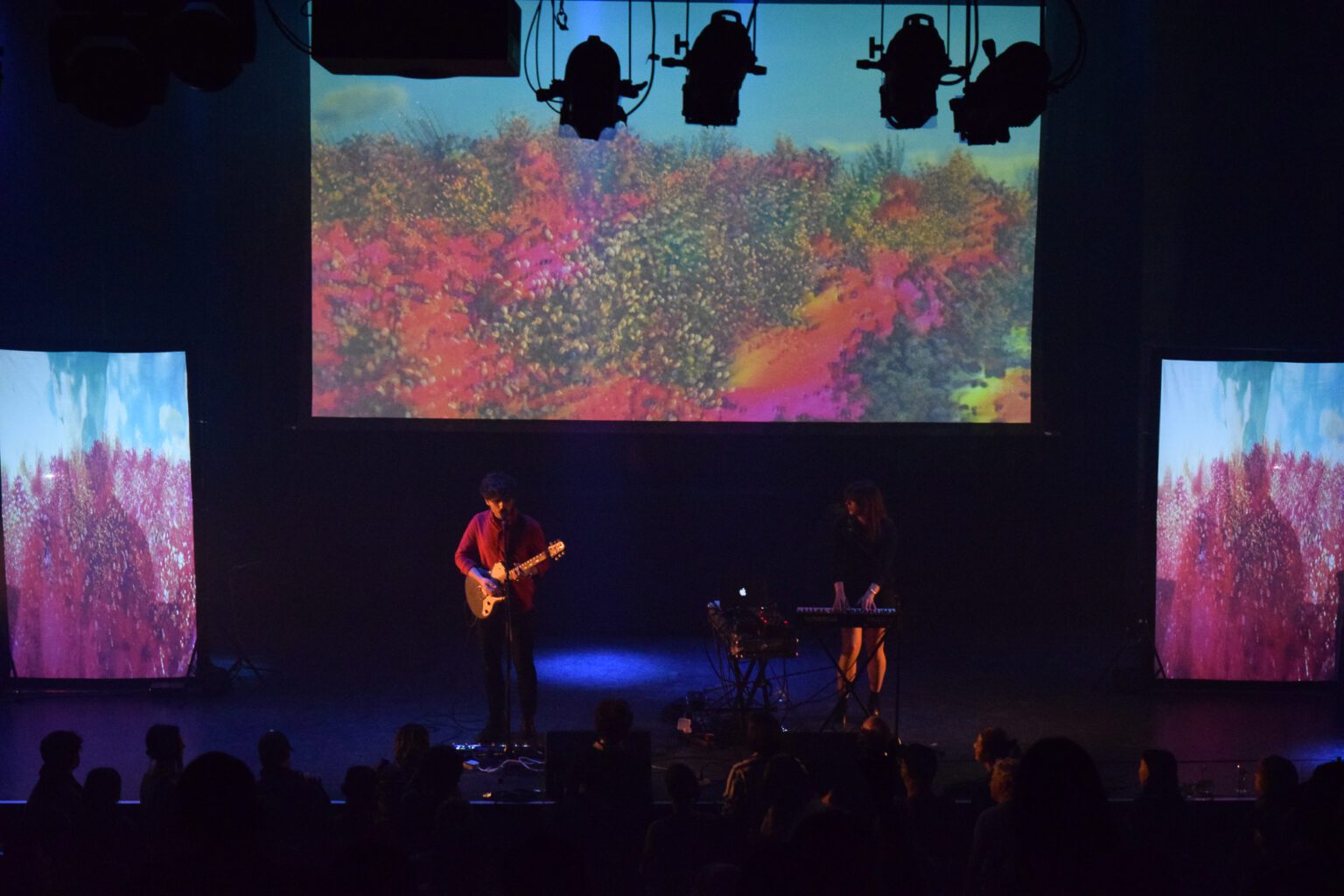 After the shows ended, many journeyed to l'Escogriffe Bar for the after-party, and into the wee hours of the night, the after after party at Mothland HQ. The whole series was an experience curated by knowledgeable music lovers who know how to set a mood. They have essentially curated not only a festival but a community of miscreants hell-bent on discovering the weird sounds ultra-talented musicians have to offer. Be lucky to be part of it, or if you're not already, do yourself a favour and sign up.