Photo: Roman Koval
Selective Timeline (Conclusion)
In 2005, Hassell took part in the Punkt festival in Kristiansand, Norway – two real-time remixes of his concert by Jan Bang and Erik Honoré can be heard on the album Punkt live remixes vol. 1, released in 2008.
In 2006, he took part in Hadouk Trio's album Utopies, on which he co-wrote two of the three pieces he played on.
In 2007-2008, he was among the musicians who interpreted Jon Balke's magnificent Siwan, amn encounter between Middle Eastern, Andalusian, and Baroque music, which was released by ECM the following year.
The year after saw the release of Last night the moon came dropping its clothes in the street. Hassel was supported by an ensemble he called the Maarifa Street Band, the core of which consisted of Freeman and Cox, who were joined by various others as the songs went on, including guitarist Eivind Aarset, fiddler Jan Bang, keyboardist Jamie Muhoberac and violinist Kheir-Eddine M'kachiche. On "Abu Gil", for example, he takes up the "Caravan" theme, while the rhythm section and the guitarist indulge in some gentle funk, onto which M'kachiche sketches Arabic patterns. Elsewhere, the melodic and rhythmic lines, and the live sampling layers Jan Bang injects into the mix, weave a shimmering, colourful web whose overall cohesion is so precise and delicate as to be transcendent. This album is a pure delight!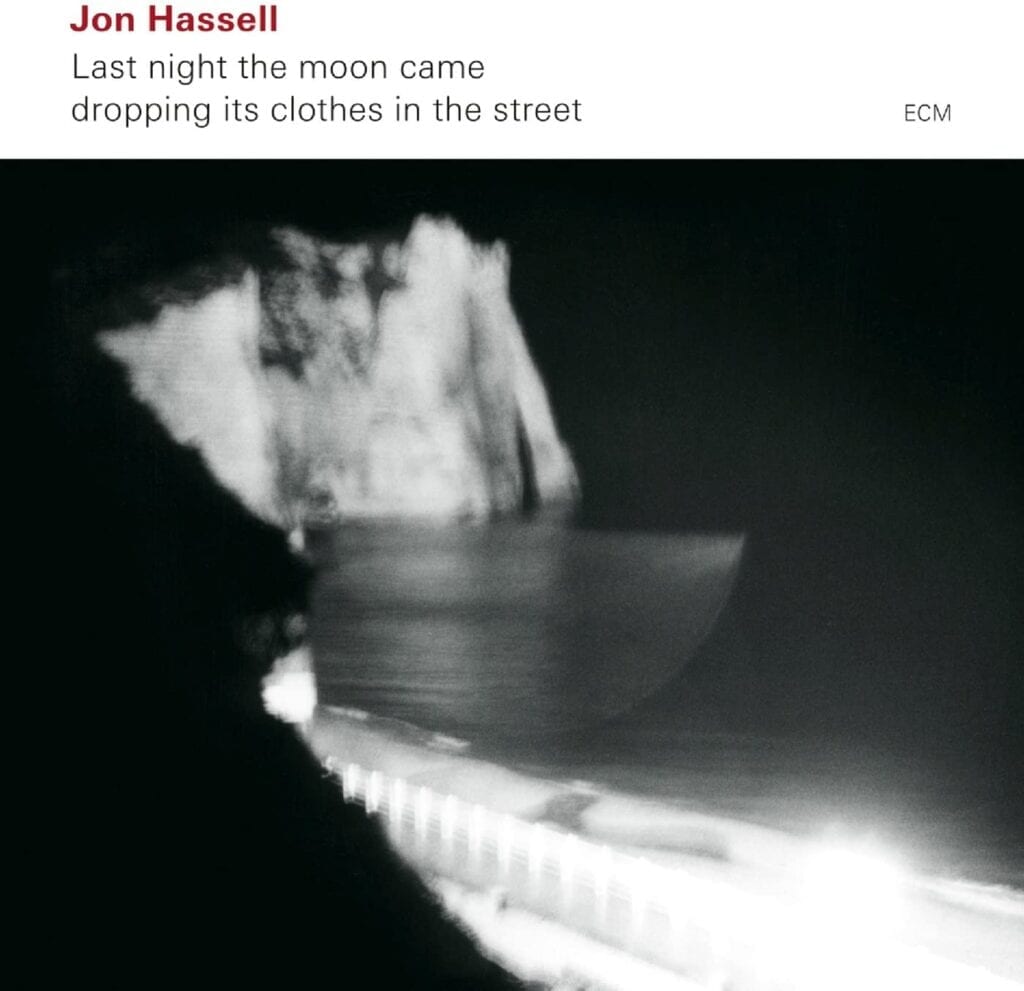 In 2010, Hassell took part in the production of Jan Bang's album And Poppies from Kandahar, on which he co-wrote the two pieces he plays on: "Passport Control" and "Exile from Paradise".
Innovating again
In 2018, he launched Listening to Pictures (Pentimento Volume One) on Ndeya, a label he founded with the collaboration of Matthew Jones of Warp Records. Tirelessly, he continued to explore on it. This time, it was by playing with the superimposition of images and sound fragments, by transparencies. We know that in a recording, there is relief, depth, a certain notion of three-dimensionality, but here the trumpeter pushes the exercise further. It's as if he manages to make another level appear behind the one we hear in the foreground. To achieve this, he sometimes uses a blurring similar to that of the aerial perspective that painters used to employ. On other occasions, it's by juxtaposing two frames, the second one being a trace rhythmically shifted in relation to the first one. This gives the impression at times that there are gaps in the music and another piece lying behind, creating striking synesthetic effects. One can imagine the precision necessary to create these illusions at the time of the mix – surgical!
In July 2020, he released the sequel, Seeing Through Sound (Pentimento Volume Two).
Rather than offering a single 75-minute disc (or a double album of two LPs, since vinyl has regained favour), Hassell preferred to split Pentimento's pieces into two volumes. Most of the tracks on this second volume were therefore recorded at the same time as those on the first, but when Hassell listened to them again after letting them rest for a while, he was not entirely satisfied. So he began to rework them. As a result, on this second volume, we can "see through the sound", as the title rightly indicates, these levels in the background. The elements in the foreground seem to stand out even more clearly, and the textures are at once better defined, more varied and even more abundant.
In the first piece, "Fearless", for example, there's the sound of flowing water, a raspy intermittent drone that sounds like a contrabass clarinet note, a rhythmic pattern provided by a guitar and keyboards, chords that evoke Portishead, some machine sounds and above it all, Hassell's hovering trumpet. Then in the back, at times, layers of another pattern appear and, in the distance, Hugh Marsh's violin… Some pieces are vaporous, like "Timeless" and "Moons of Titans", others are more rhythmic and bumpy, like "Unknown Wish" or "Reykjavik", with their more experimental sound fragments and glitch. On the gliding "Delicado", one might think they recognize, in the filigree, the echo of some of the trumpet player's old pieces. On the aptly named "Lunar", the judicious yet abundant use of echo really transports us to another planet.
The last one, "Timeless", is an utterly hypnotizing ballad with intersecting melodic lines, enhanced by all sorts of little rhythmic noises, some of which evoke teletype machines, with the various patterns seeming to fluctuate from one level to another. As long as you listen carefully, the whole thing will leave you dumbfounded.
If we've heard little of him over the last decade, and his concerts have become rare, it's because he's been at work on re-releasing some of his albums (Vernal Equinox, Dream Theory in Malaya and City: Works of Fiction) and has devoted himself to writing a book entitled The North and South of You. In it he analyzes the current North-South dynamic, with on the one hand the northern hemisphere, rational, logical and technological, dominating, and on the other hand the southern hemisphere, which is that of intuition, of samba… and the imbalance that exists between the two. He seems to still be seeking a publisher.
Financial difficulties
It's also that with age (he turned 83 in March), Hassell began to have health problems. Since he lives in Los Angeles with his dog Hendrix, and since in the United States, as everyone knows, health care is not exactly affordable, he has built up a pretty big bill in recent years. To wipe the slate clean, some friends have started a fundraising campaign.
If you would like to contribute to this campaign and show your gratitude for his tireless research and exploration, and the hours of delight you've spent listening to his music, just click on the link here.
Read our interview with Jon Hassell tomorrow.