Photo: Roman Koval
Selective Timeline (continued)
In 1983, Hassell released Aka / Darbari / Java – Magic Realism, with Daniel Lanois again producing. This time, Hassell took his exploration a little further, mixing elements of the polyphonic music of the Aka people, a pygmy population from Central Africa (which Ligeti and Steve Reich were also interested in), with motifs from Darbari's Indian ragas, and Javanese gamelan music with Senegalese percussion. By his own admission, he seeks to create a classical music of the future that was "coffee colour", i.e. of mixed race.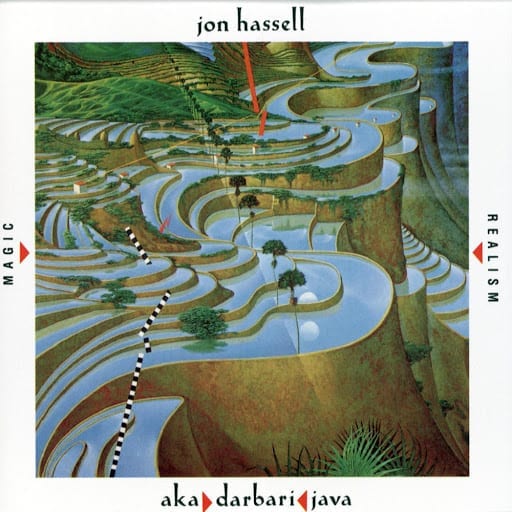 He then collaborated with David Sylvian, playing on the album Brilliant Trees (1984), of which he co-wrote two tracks ("Weathered Wall" and "Brilliant Trees"), and on Alchemy: An Index of Possibility (1985), of which he co-wrote the three-part "Words With the Shaman".
In 1986, he published Power Spot at ECM. Produced by Brian Eno and Daniel Lanois, this album is a bit like Fourth World vol. 1: Possible Musics, with more rhythm. The two tracks that start each side of the LP, "Power Spot" and "Wing Melodies" are so catchy, they're almost pop because. The other pieces are more ethno-ambient, but nicely arranged. Probably his most immediately accessible album. The sound quality is particularly enveloping.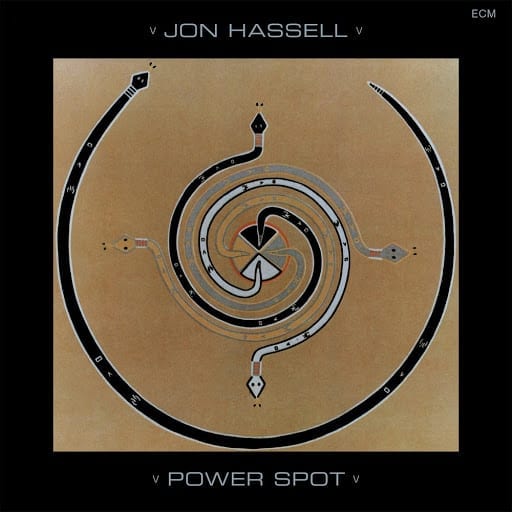 Hassell composed the piece "Pano Da Costa" for Kronos Quartet, which was released in 1987 on the quartet's album White Man Sleeps.
He composed the music, which he performed before an audience every night in the fall of 1987, for Zangezi; a Supersaga in Twenty Planes, a play based on the texts of the Russian futurist poet Velimir Khlebnikov, directed by Peter Sellars.
Because of the peculiar sound of his trumpet playing, pop artists began to ask him for help. He participated in the recording of Mainstream by Lloyd Cole and the Commotions in 1987, and The Seeds of Love by Tears for Fears in 1989. He was later pursued by Ani DiFranco, k. d. lang, Holly Cole, Baba Maal, and Ibrahim Ferrer, among others. He also collaborated with fashion designers Issey Miyake and Rei Kawakubo, and choreographers Merce Cunningham and Alvin Ailey.
After assisting with the soundtrack of Alan Parker's 1985 film Birdy, Peter Gabriel invited him again to work on the soundtrack of Martin Scorsese's 1989 film The Last Temptation of Christ.
A new twist
In 1990, Hassell took another turn with the album City: Works of Fiction. At that time, the arrival of MIDI systems and new sampling technologies made it possible to create increasingly labyrinthine music. At the same time, hip hop was revolutionizing the rhythmic dimension of music. Hassell was particularly impressed by the intricate collages of Hank Shocklee on Public Enemy's It Takes a Nation of Millions To Hold Us Back. The first track on Hassell's album, "Voiceprint (Blind From The Facts)", includes a sample of "She Watch Channel Zero?!" from that record. He realized that these collages, directly in the line of Stockhausen's work and musique concrète, had entered the collective unconscious, and decided to go all the way in that direction.
As its name suggests, this record is resolutely urban. The wefts of his music are still Hindustani ragas, but the new urban dimension he integrates into it is expressed in a more biting, rough, fragmented, bristling and dense manner, his textures even more kaleidoscopic. Rock, jazz, and African polyrhythm were now joined by rap, but it's as if urban chaos, with its traffic and construction-site noises, were added as well.
The substantially expanded 2014 re-release – which includes two more CDs, the first of a concert given at the time, mixed live by Brian Eno, and the second of demos, studio scraps and remixes – allows one to appreciate the full extent of this change of direction.
In the fall of the same year, under the direction of Hector Zazou, he took part in the recording and co-wrote a piece for Les nouvelles polyphonies corses, in which Manu Dibango and Ryuichi Sakamoto participated, among others.
Four years later, he came back with Dressing for Pleasure, this time with trip hop, acid jazz and breakbeats, on which he surrounded himself with numerous bass players from all horizons, including Flea from the Red Hot Chili Peppers, Trevor Dunn, and even Buckethead, who swapped out his guitar for the occasion, as well as Peter Freeman, who became a faithful collaborator.
In 1995, Hassell began a collaboration with Ry Cooder and participated on a number of his albums: the soundtracks to the films Primary Colors, Wim Wenders' film The End of Violence, Chavez Ravine, My Name Is Buddy and I, Flathead.
A remarkably clean record
In 1999, he released Fascinoma. Arriving in the middle of his career, this album is to be marked with a white stone. Not only because it is remarkably pure, but also because it is the only record where the sound of his trumpet is not tampered with by the usual effects, as if he had wanted to make a clean sweep. To capture the purity of the timbre of this one, and of the other instruments, the recording – entirely analog – was even carried out using three-electrode tube microphones designed expressly for these sessions, which take place in a chapel with exceptional acoustics in Santa Barbara ,on the Californian coast.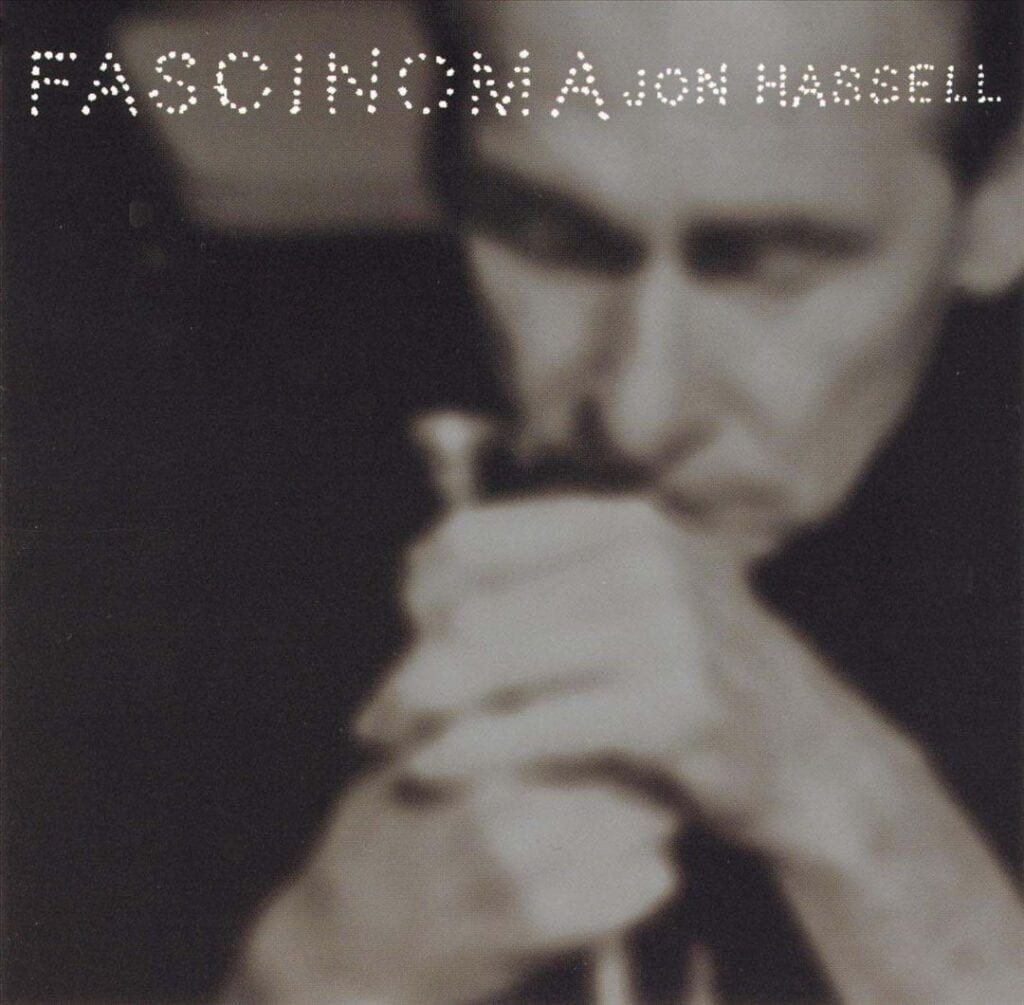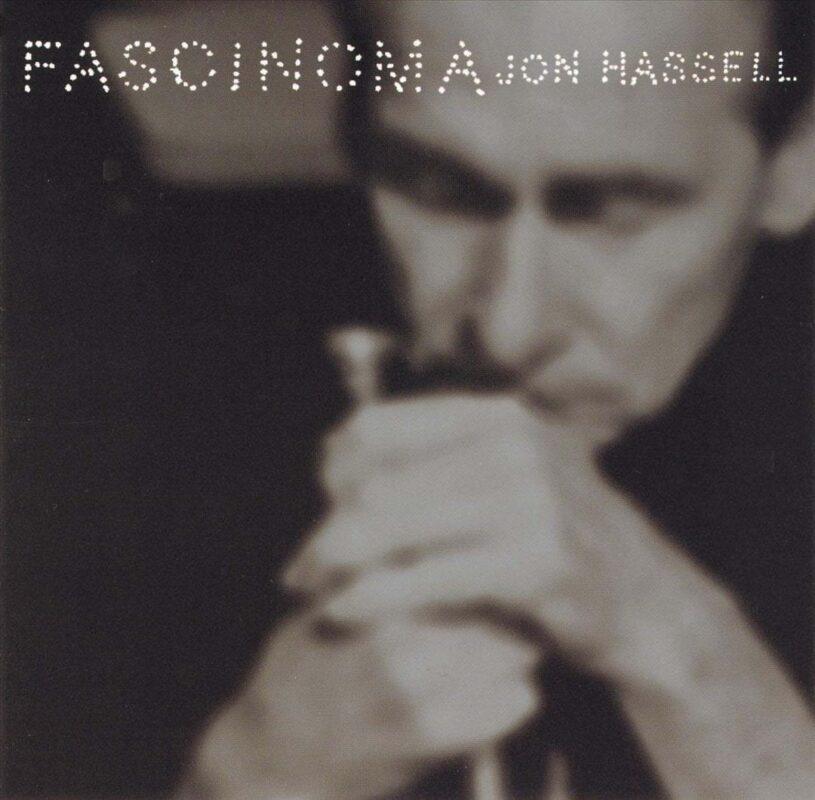 The magic begins in the first piece, a stripped-down version of Eden Abhez's "Nature Boy", popularized by Nat "King" Cole in 1948, in which the bamboo flute of India's Ronu Majumbar deliciously wraps itself around Hassell's trumpet. This is not the only cover, however, and there are also two slowed-down versions of the famous "Caravan" by Juan Tizol and Duke Ellington, which evoke even more admirably than the original caravan of camels undulating across the dunes at dusk. Your humble correspondent returns to these regularly, as they are so bewitching. The scattered, almost floating chords of the pianist Jacky Terrasson contribute a great deal. The production was assured by Ry Cooder, whom Hassell then described as a "spirit catcher".
In 2005, he released Maarifa Street: Magic Realism 2, which was, in a way, a sequel to his 1983 album. Maarifa means "knowledge" or "wisdom" in Arabic. This album is the first to be composed from three live recordings – one of which was at the Montreal Jazz Festival – but then reworked in the studio. Only one piece remained as it was, the very last, the encore given in Milan. Hassell's wish in doing so was to blend the spontaneous elements and imperfections of the concert with the precision and detail that the studio allows.
The results find Hassell's playing as silky and restrained as ever. As for his musicians, bassist Peter Freeman, keyboardist John Beasley, and guitarist Rick Cox, as well as singer and oud player Dhafer Youssef in Paris, and trumpeter Paolo Fresu in Milan, they constitute a model of precision. Together, they continued to perfect this blend of ambient and improvisation that, without the least bit of hurry, unfolds its splendours, as discreet as they are exquisite.
You can read the third part of PAN M 360's Jon Hassell dossier here.